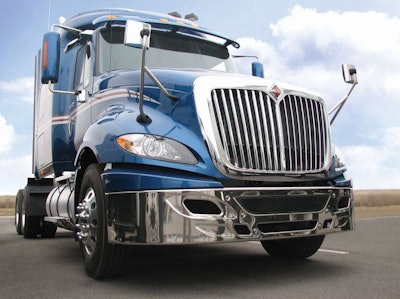 Hendrickson Bumper and Trim has rolled out coverage from its All Makes AERO CLAD stainless steel clad aluminum bumper to International ProStar trucks. AERO CLAD, the company says, offers the look and finish of chrome, is corrosion resistant and is lighter weight than traditional metal bumpers.
Hendrickson has designed its latest release to replace the standard three-piece plastic bumpers equipped on the units.
The AERO CLAD bumper includes mounting brackets and plastic bumper-to-hood trim. A mounting bracket kit is also sold separately.
Hendrickson Bumper and Trim also offers a complete line of bumpers for ProStar® trucks with a variety of materials, including AERO CLAD – stainless steel clad aluminum and AERO GUARD – resin bumpers with several mounting options.