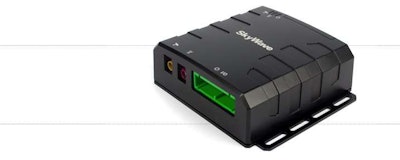 Orbcomm, a global provider of machine-to-machine (M2M) and Internet of Things (IoT) systems, has added a cellular-only fleet management system to its portfolio.
The new cellular-only SkyWave IDP-782 device connects to a viaFleet web application for tracking, monitoring and managing trucks, railcars and other mobile assets.
The SkyWave system helps with managing fuel costs, routes, driver behavior, and cargo and driver security. The new SkyWave IDP-782 device provides the same functionality as Orbcomm's dual-mode (cellular and satellite) version at a more economical cost, the company says.
The viaFleet application displays the location of assets on a map in real time, tracks asset movements with breadcrumb reports and reporting capabilities on speeding events, dwelling times, geofence access and asset health.
In addition, Orbcomm has recently introduced the following new products and services:
The OGi modem. With a footprint smaller than a credit card, Orbcomm says the OGi is the smallest and lowest cost IDP modem built to date and is targeted for mission-critical applications that require low latency.
The Orbcomm Connect subscriber management portal for customers to control their wireless services and connected devices. Its customers can access three satellite and seven Tier One cellular networks in one comprehensive platform.
Orbcomm Mobile, a mobile app that integrates with Orbcomm's M2M and IoT applications, which include a cold chain monitoring solution and the Orbcomm Connect portal.
Orbcomm Enterprise Connect is an end-to-end 4G xLTE wireless failover solution for distributed enterprise, financial, hospitality and retail locations that need reliable, high-bandwidth WAN connectivity for M2M and IoT applications.