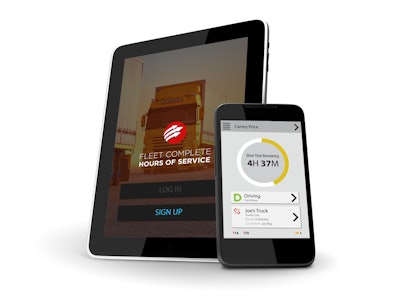 Fleet Complete, a software provider of fleet, asset and mobile workforce tracking and management applications, has released an updated Hours of Service (HoS) mobile app.
The company says its new HoS app offers a new design and intuitive navigation for drivers to easily record their duty status. An electronic vehicle inspection function is included. The app updates available drive time by monitoring engine hours, vehicle movement, distance driven and location information.
The app has Bluetooth connectivity and can display violation warnings, send emails to designated managers, share data and store logs for six months.
The Fleet Complete HoS is designed to be compliant with the ELD mandate from the Federal Motor Carrier Safety Administration (FMCSA).
The updated app will help simplify ELD compliance well in advance of the rule date, "while also offering the added value of combining the latest HoS app with Fleet Complete's wide range of fleet solutions under one platform," said Tony Lourakis, chief executive of Fleet Complete.