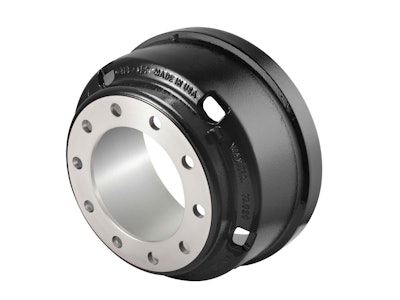 Webb Wheel Products has added a new, lighter trailer brake drum to its wheel end portfolio. The unit was announced at Heavy Duty Aftermarket Week (HDAW) in Las Vegas Wednesday.
The Webb trailer drum with patented Webb CRT (Cool Running Technology) vents was engineered specifically for 20K trailer axles.
Data suggests trailer side skirts can reduce crosswind and straight line airflow below the trailer, resulting in a 41 percent increase in brake temperatures. Webb's Vice President of Engineering Johnathon Capps, says that causes reduced braking performance and accelerated brake drum and lining wear.
The Webb 66764F brake drum with patented CRT vents increases air flow for superior heat transfer efficiency and cooler trailer wheel-end operating temperatures, managing heat 10 percent better than similar weight brake drums.
Webb says the Webb 66764F brake drum provides a high strength to weight ratio and at99 pounds offers the lowest weight in its class.
The Webb 66764F brake drum will be available on the market in 30 to 60 days.