Fairbanks Scales, the oldest scale company in the U.S., has enhanced its FB6000 weighing instrument and web interface for its truck scale to reduce calibration and custom ticket formatting time over previous generations and competing technology.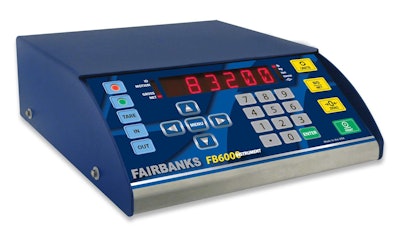 The company says the enhancements include an expanded loop ID field, ability to update expansion cards using a USB drive or integrated web utility, and a new configurable digital power supply with diagnostic capabilities.
The new Loop ID field has expanded from 3 up to 15 alphanumeric characters, allowing the use of more user-friendly IDs. The FB6000 allows for expansion card updates from the instrument's front panel keyboard or by using the integrated web utility. The new feature allows for quick updates as needed, "on the fly," it says.
Several updates to the integrated web utility have been added to calibrate by millivolts per volt (mV/V). When used in conjunction with Fairbanks' Remote Configuration Device (RCD), a technician can calibrate the FB6000 using their tablet or laptop from the scale platform.
Technicians will have a temporary wireless network between the FB6000 instrument and a hand-held portable device.
Enhanced web load cell diagnostics now show a representation of the scale platform, each individual cell with its specific stored zero counts and current zero counts, along with the scale's total gross weight.
To learn more about the latest enhancements to the FB6000, visit Fairbanks' YouTube page.