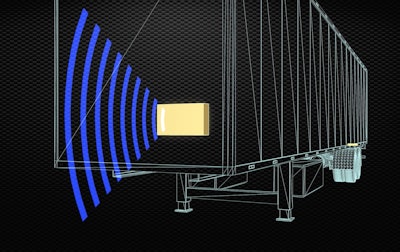 Peterson on Monday at the Technology and Maintenance Council's Annual Meeting & Transportation Technology Exhibition in Atlanta debuted its real-time status monitoring system for trailers.
The platform is set to be available January 2019.
Steve Meagher, Peterson's vice president of sales, calls the company's PULSE platform an intelligent system that brings CAN-Bus technology and telematic capability to trailers.
The system is engineered for fleet trailers and Peterson's Director of Engineering Cory Adams says it controls and detects trailer system vitals like lights, ABS brakes, door monitoring, tire pressure and cargo temperature, while also providing alerts to drivers and fleet managers through a Bluetooth or cellular connection.
Adams says PULSE brings trailers up to speed with today's smartest trucks.
"By signaling trailer issues as they happen, PULSE enhances the safety of driver and cargo, and helps avoid road incidents, CSA violations, and costly fines," he says.
Peterson says it developed PULSE, a factory option, in partnership with industry leaders in TPMS/ABS and telematic technology and says the system will work with other trailer diagnostic systems and can be integrated into a fleet's current telematics provider.
PetersonPULSE is engineered to CAN-Bus specifications, with high-speed, twisted-pair communication wires and sensors installed throughout the trailer, Adams says. All components are fully sealed and vibration tested.
The PULSE cabling links front and rear control modules, system sensors and communication components, much like computers in a network.
"Whether a trailer is parked or underway, PULSE enables real-time monitoring of all trailer systems anytime, anywhere," Adams says, adding the system includes a backup battery to power the system whether or not the trailer is connected to the tractor.