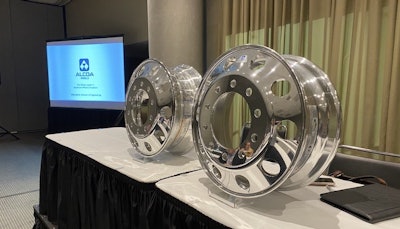 Alcoa Wheels on Sunday at ATA's Technology & Maintenance Council (TMC) Annual Meeting in Atlanta expanded its truck wheel portfolio with the next generation Alcoa Ultra ONE 22.5 in. by 8.25 in. wheel.
Alcoa's Director of Engineering Mike Baird says the 39-lb. wheel, affectionally named and available under part number ULT39, is now the lightest in Alcoa's portfolio. It maintain's Alcoa's classic look with 34 percent larger handholes versus competition for ease of valve stem access and features new patent-pending Alcoa Wheels Hub Bore Technology.
Available from all truck OEMs, the new Ultra ONE is available with a High Polish and Mirror Finish.
Baird says the High Polish is the predominant finish most fleets will purchase and is the go-to polish for hardworking trucks with its reflective finish and high gloss levels. The Mirror Polish defines the ultimate in quality and performance resulting in the premium wheel finish on the market. The ULT39 also is available with Alcoa's Dura-Bright and Dura-Black surface treatments.
ULT39 also comes with a five-year warranty and has the same load rating as the wheel it replaced, Baird says.
Regarding the Hub Bore Technology, Baird says proprietary technology reduces the hub-to-wheel contact area by up to 64 percent versus other aluminum wheels on the market, leaving less surface area for corrosion to form. This means faster, easier and safer wheel removal encouraging time savings and enhanced technician work environments; lower total cost of ownership and increased productivity and overall job efficiency.
"Anything corrosive that doesn't come off is just annoying, so we tried to address that," Baird says.
Alcoa says competitive wheels without Alcoa Wheels Hub Bore Technology have almost 100 percent hub-to-wheel contact which, over time, increases corrosion and creates more time consuming and difficult wheel removal.
"This is quite possibly the strongest wheel we've ever made, its also the lightest wheel we've ever had," Baird says.