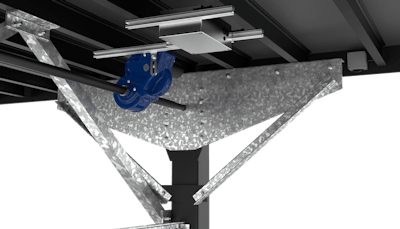 AIRman showcased its newest solution to the trucking industry Tuesday at ATA's Technology & Maintenance Council (TMC) Annual Meeting with the introduction of its Automated Landing Gear Deployment and Retraction Technology.
Developed to reduce the physical burden drivers face in handling landing gear multiple times per day, AIRman Vice President of Sales Jim Babbitt says the company's new deployment and retraction tool makes moving landing gear as easy as the flip of a switch.
"The fleets we've surveyed tell us that shoulder, back and rotator cuff injuries are at the top of their list for workers' comp claims, and that cranking landing gear up and down can cause or exacerbate these injuries," he says. "Truck driving is already a physically demanding profession, so our automated system focuses on one primary stressor, making trailer drops and hookup operations safer and faster, while improving the truck driver experience and as a result, driver retention."
Babbitt says AIRman's patent-pending device eliminates the manual cranking required to raise and lower a trailer's landing gear, thus reducing driver exposure to a variety of musculoskeletal injuries, including damage to shoulders, knees, the back and upper body. The 15-lb., electrically driven unit can be OE-installed or retrofitted in less than an hour, is compatible with all existing landing gear makes and models and features a manual override so a driver is never put in a position where they cannot alter their landing gear as needed.
Scheduled to be released nationwide in third quarter, Babbitt says early feedback from fleet trials has been overwhelmingly positive. When introduced, the system will come complete in kit form with all components and mounting hardware included. Installation is simple, and requires the removal of just two bolts on the landing gear crossbar, the attachment of the AIRman landing gear actuator and the reinstallation of the crossbar, the company says. Additionally, the electrical interface is uncomplicated, requiring only a simple 12-volt power supply.
The product will come with a five-year warranty standard, and a five-year warranty is available under a fleet agreement.