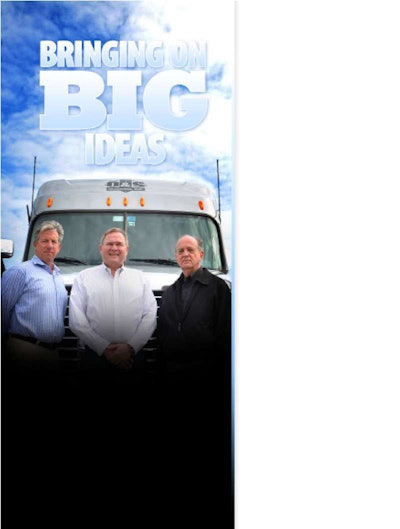 O&S Trucking's MegaTruck program is
the latest innovation for CCJ's 2010
Innovator of the Year
Key O&S Trucking personnel involved in developing the MegaTruck program include, from left: David Corsaut, chief executive officer; Jim O'Neal, president; and Rick Johnson, senior vice president of sales.
By the time you read this, it's possible that O&S Trucking has changed its business model once again. It's not that the Springfield, Mo.-based refrigerated truckload carrier is reckless; far from it. Rather, the company is bold and nimble. It acts decisively when its analysis of market conditions and the competitive landscape so dictates.
This corporate culture and its fruits – including a complete transformation of its operation and an initiative to boost productivity substantially – earn O&S Trucking selection as CCJ's 2010 Innovator of the Year.
Learning the game
In 1981, Jim O'Neal and partner Keith Stever launched the company that would become O&S Trucking. Although O'Neal was only in his late 20s at the time, he already had accumulated nearly a decade of experience in freight transportation, having joined R.T. French Co.'s Springfield operation at 19. He quickly landed in the traffic department and by the late 1970s had worked briefly for a local truckload carrier before moving to a sales position with CF AirFreight.
O'Neal enjoyed working in the air freight business, but it wasn't long before he fell victim to forces beyond his control. When President Reagan fired striking air traffic controllers in 1981, CF AirFreight reacted swiftly with a layoff that claimed the low-seniority O'Neal. That would prove to be the first and last time O'Neal would be unemployed. He turned down offers from several less-than-truckload carriers that no longer exist, and by the end of that year, O'Neal and Stever had teamed to form Ozarks Truck Brokerage with two customers and no equipment. Two years later, O'Neal and Stever started an owner-operator fleet and renamed the company O&S Trucking.
Through the early 1990s, O&S Trucking, which at the time was a dry van carrier, remained relatively small. O'Neal had bought out Stever in 1987 and a subsequent partner about four years later. In the mid-'90s as the overall economy rebounded, O&S Trucking grew quickly – as did much of the truckload industry – but with this expansion came growing pains.
"By 1995, we almost grew ourselves into bankruptcy," O'Neal says. The operation lacked focus and was pricing individual loads without much regard to building a network. "Our mantra was 'We'll haul your crap all over the map'," O'Neal quips today.
At the time, however, it was no laughing matter. O'Neal says the goal in trucking is simple: Make a profit and don't run out of cash. "We nearly ran out of cash."
But for all the strain – or, rather, because of it – 1995 was a pivotal year for O&S Trucking. To understand why, you need to know what happened at another Springfield-based company, SRC Holdings. By the early 1980s, the International Harvester division that remanufactured heavy-duty automotive parts was almost bankrupt when Jack Stack and a dozen other managers decided to take it over in a leveraged management buyout. Stack turned the business around with a corporate culture that revolved around open-book management and the notion that all employees must feel they have a role in the company's success and a stake in the outcome. Stack outlined this philosophy in the influential business management book, "The Great Game of Business," which was published in 1992.
O'Neal, who had known Stack since the early 1980s "before he was a rock star," began implementing "Great Game" principles in 1995. Five years later, he took the most far-reaching action in this vein when he executed an employee stock ownership program, or ESOP. Since 2000, O&S Trucking has been an employee-owned company.
This approach to business – measuring, sharing, knowing the rules and keeping score – has been key to O&S Trucking's success, says O'Neal, the company's president. While most of the trucking industry was hurting from 2000 through 2003, the company made money. "We knew our numbers, and all of our people knew our numbers."
Looking ahead
A big part of O&S Trucking's "Great Game" culture is frequent business planning. The company undergoes a rigorous annual planning effort and an intensive midyear review to ensure that executives confirm or adjust their strategy in light of emerging market conditions. And throughout the year, there are weekly management "huddles" to ensure that everything is on target.
O'Neal believes this forward-looking approach is essential if a company is to remain nimble and responsive to change. Too many executives run their businesses based on last month's – or even last quarter's – results, he says. "That's like driving with your rearview mirror."
The planning process proved critical in 2003 when managers learned that O&S Trucking's largest customer was about to rebid its freight on price without regard to incumbency or service history. With about 40 percent of its freight on the line, O&S Trucking was at risk.
The midyear review in July 2003 focused on a contingency should the trucking company lose the customer, and the top opportunity identified was refrigerated foodstuffs, which lacked the cyclicality of much of O&S Trucking's existing book of business. By the beginning of 2004, the company had acquired three refrigerated trucking companies and had created a refrigerated division that instantly represented a major chunk of the company's overall business; the largest of those acquisitions was Stever Trucking, which had been founded by O'Neal's original partner. Afterward, O&S Trucking steadily shifted resources into the refrigerated business and as of 2009 was fully refrigerated.
The conversion from dry to refrigerated freight is not the only recent transformation of O&S Trucking's business model. Several years ago, the bulk of the trucking company's fleet was company-owned equipment. Today, all drivers are independent contractors or drivers for independent contractors.
O'Neal cites several factors in the decision to move completely to the owner-operator model, including an inability to provide quality, affordable health coverage. "Premiums go higher and higher," he says. "This national health care situation has to be resolved."
"When maintenance costs, fuel and out-of-route miles are yours, you will pay more attention to them." – Jim O'Neal
Although O'Neal concedes that the cost of health care was a driving factor in the company's move to the independent contractor model, there was a more fundamental concern at work. The ownership mentality O&S Trucking had been seeking with its "Great Game" principles and the ESOP simply wasn't working well in the driver force. Part of the problem was that many people didn't understand that an ESOP is really a pension plan, not a near-term incentive.
O'Neal believes that the company was up against too many challenges in selling the idea of employee ownership to drivers, including high turnover and the fact they were on the road and not in the office. Some drivers got it, but not enough. "It wasn't a total failure," O'Neal says. "It just didn't have the impact we were hoping for."
The solution was to make ownership closer to home by converting the entire work force to owner-operators. "When maintenance costs, fuel and out-of-route miles are yours, you will pay more attention to them," O'Neal notes. Owner-operators get more immediate gratification by managing their business well than company drivers do through an ESOP, he says. O&S Trucking already was growing its owner-operator force and completed the transition through a lease-purchase of company equipment. The carrier also offers educational opportunities to owner-operators to help them improve their business skills. (For more on O&S Trucking's interactive business training efforts, see "Gaming the business," page 45.)
Thinking big
O&S Trucking's most recent "big idea" also grew out of its ongoing analysis of market trends, several of which seemed to be related. Political opposition and concerns over aging infrastructure likely would thwart any significant loosening of current truck size or weight restrictions for years to come. Diesel prices likely would continue to rise. Trucks likely would continue to become more expensive. And shippers increasingly would want to show a reduction in carbon emissions.
Recognizing these trends, the management of O&S Trucking coalesced around an effort to improve the productivity of their equipment and gain a competitive edge with customers. So in late 2007, the company began working with several Fortune 500 customers on an initiative that would provide shippers lighter equipment and greater payload provided the equipment would be used in a profitable freight network. MegaTruck was born.
Increasing payload isn't rocket science, but doing so while maintaining – or even increasing – profitability is a true challenge. By ensuring 48,000 pounds or more of payload, the MegaTruck program essentially eliminates one load out of every 10. So it's imperative that O&S Trucking takes full advantage of that additional capacity, and that's why collaboration with customers to form a captive network is essential, says Rick Johnson, senior vice president of sales.
O&S Trucking managers recognize that it's not always possible to capture the full payload benefits of lower equipment weight due to varying density of freight, although that's rarely a worry for the dense refrigerated foodstuffs that the trucking company hauls. But in limited cases where O&S Trucking cubes out first, there would at least be some fuel economy benefit to lower-weight equipment.
O&S Trucking has achieved most of its MegaTruck weight savings in the tractor by using wide-base single tires on aluminum wheels and aluminum crossmembers. The company has traded the commonly spec'd 72-inch sleeper for a 48-inch mid-roof sleeper equipped with a roof fairing for aerodynamics. The MegaTruck spec also calls for fuel tank capacity of 150 gallons. O&S Trucking even limits the driver and his belongings to 600 pounds.
The major change regarding the trailer is the specification of 2-inch insulated walls. Also, O&S Trucking has shortened its trade cycle on refrigerated trailers because moisture seepage into cracks and other gaps accumulates in trailers over time. Not only might a trailer gain 1,000 pounds in water, it would lose thermal efficiency.
To capture the payload benefits of reduced weight, axle loading is critical. The MegaTruck has a redrilled frame rail to allow the trailer to be moved 6 inches closer to the tractor.
Altogether, the MegaTruck combination weighs about 30,000 pounds compared to 34,500 for normal O&S Trucking tractor-trailers. With a new loading pattern, some loads have been as large as 49,500 pounds.
As with the rest of the fleet, Mega-Truck tractors are operated by independent contractors, who typically obtain them through the carrier's lease-purchase program. But in theory, an owner-operator could provide its own tractor as long as it meets the company's weight specifications.
Building the future
Today, O&S Trucking operates 80 MegaTruck tractors and has demand for more. But there are some major challenges ahead, company executives believe. For example, the latest U.S. Environmental Protection Agency emissions regulations have resulted in hundreds of pounds of additional weight from selective catalytic reduction hardware and diesel exhaust fluid. While there's a federally authorized 400-pound exemption for auxiliary power units, only about half of the states honor it. Meanwhile, the cost of equipment is going up by about $9,000 – tough for most trucking companies and certainly for owner-operators. And while EPA's SmartWay program encourages technologies that individually improve fuel economy, together they make the tractor-trailer heavier and reduce freight efficiency.
"We're going the wrong way," says David Corsaut, O&S Trucking's chief executive officer. "A $125,000 truck in this pricing environment doesn't make sense."
So O&S Trucking is looking for a way to make the MegaTruck program more attractive to all parties involved. One consideration was a glider kit – remanufactured components and a new cab – but with federal excise taxes and other factors, that option doesn't make economic sense today, Corsaut says. If the price of new equipment rises, however, that might be a viable alternative.
For now, O&S Trucking literally is bringing all the parties to the table to discuss the future of MegaTruck. Last month, the company held a two-day MegaTruck conference with key partners – truck and trailer manufacturers, component suppliers, financing companies and shippers. The challenge O&S Trucking executives put to those business partners – about 25 or 30 people representing 10 companies – was to find ways to make the equipment lighter, more productive and available on attractive financing terms, Corsaut says. "We are going to ask everybody within a finite period of time to come back with solutions if they want our business," he adds.
Johnson notes several steps that substantially could reduce equipment weight and/or cost. "What about carbon fiber? It's lighter than either steel or aluminum." And today's tractors are built with power dividers for traction that rarely if ever is needed, but truck buyers are scared into buying the technology for safety reasons, Johnson says. Or consider cab climate control; today, refrigerated carriers have three cooling units – the truck's air conditioning, the APU and the reefer unit – all in the span of a few feet, Johnson says. Couldn't the reefer unit do double duty as a cab cooler when the engine is off? That would eliminate the expense and weight of the APU and the cost of moving it from an old to new tractor, he says.
Shippers, too, need to understand they have a role in this discussion, Corsaut says. "We need to tell them, 'You are the biggest reason we need APUs,' " he says.
O&S Trucking's executives understand the challenge to increase or even maintain payload is great, but the company doesn't shy away from change just because it's difficult. "This is the right business model going forward," O'Neal says. And to naysayers who think O&S Trucking's MegaTruck program is just giving shippers more without charging for it, he has a clear if unspecific answer. "This is making more money by far than what we were doing before." And for a trucking company, that might be the ultimate measure of innovation. n
Springfield's leading man
O&S Trucking's O'Neal also serves as mayor
In "The Simpsons," the mayor of Springfield is a bit of a buffoon – disengaged, self-centered and not very bright. Jim O'Neal, mayor of Springfield, Mo., and president of O&S Trucking shares nothing with television's Mayor Quimby.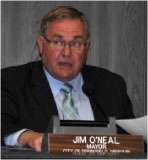 O'Neal has long been civic-minded and politically active. He first served on the Springfield City Council in the late 1980s and had intended to run for mayor in 1992 until a number of key O&S Trucking employees prevailed upon him not to do so. O'Neal left elected office when he moved his family into their dream house, which happened to be just outside the city limits.
At O'Neal's request, the City of Springfield annexed the land surrounding the O'Neals' home several years ago. After a two-year residency, O'Neal threw his hat into the ring and last year was elected mayor. The position is part-time; a full-time city manager is the day-to-day executive. Still, being mayor takes up much of O'Neal's time, and he is quick to acknowledge a seasoned O&S Trucking management team that has allowed him to become so involved in public service.
After serving as a consultant for about a year helping to organize a board of directors, David Corsaut joined O&S Trucking as chief executive officer in early 2008. Corsaut grew up in a family-owned trucking company in Michigan and had run Distribution Services Ltd., a transportation and logistics firm based in Hong Kong and Los Angeles.
Supporting Corsaut are veterans of trucking and business. Rick Johnson, senior vice president of sales, has more than 40 years' experience in transportation and has been with the company for about 12 years. Chief Financial Officer Anita Christian has been with O&S Trucking for nearly 25 years, and Chief Operating Officer Charlotte Eckley – a veteran of Jack Stack's SRC Holdings in Springfield – has been with the company for about eight years.
"I'm less of a boss than a coach," Corsaut says. But decades of experience haven't constrained O&S Trucking to old ways of thinking, he adds. "This ship turns very quickly."
City government is not quite so nimble, O'Neal has found. He worked months to line up support for funding to fix the city's pension plan. And he struggles sometimes to maintain revenue streams to support city services that are central to Springfield's quality of life. At a City Council meeting on March 8, O'Neal reported efforts by city officials to persuade state legislators to preserve the city's ability to impose sales taxes to support programs its citizens wanted.
And, of course, like any mayor, O'Neal must deal with all the usual political issues that have little to do with running a city government. At the same City Council meeting, council members debated more than 30 minutes over a resolution to recognize the efforts of citizens to petition the federal government in support of the right to bear arms.
O'Neal believes he is a better mayor for having led a business for so long. And the experience has been good for O&S Trucking, he says. For one thing, O'Neal is able to look at "bigger-picture" aspects of the business. "My being mayor has been a big source of pride for our employees," he adds. "And I put someone in the CEO position who runs the company better than I ever could."
Gaming the business
O&S Trucking finds an engaging way to help owner-operators
great driver isn't automatically a great owner-operator. The capacity to manage revenues, expenses, cash flow, insurance, taxes and so on is hardly a natural outgrowth of the ability to steer a big rig safely through narrow city streets or to execute a flawless blind-alley dock.
When O&S Trucking executives decided to convert the company's entire operation of about 350 trucks to owner-operators, they knew that they needed to offer as much support as legally possible. But many drivers find traditional classroom learning to be tedious and respond better to hands-on education.
Charlotte Eckley found part of the solution in a board game she created called Truckers' Challenge, which helps new owner-operators understand the financial implications of their decisions, such as purchasing unnecessary cosmetic items for their trucks, driving off route, choosing not to haul as many loads or incurring speeding tickets. Eckley, O&S Trucking's chief operating officer, had worked many years at Springfield, Mo.-based SRC Holdings, where she had incorporated gaming into her training. O&S Trucking's orientation and 60-day follow-up include education on several business-related topics, including budgeting, the income statement, the cash statement and trip planning. There's an interactive element to each topic.
O&S Trucking began using the Truckers' Challenge in its orientation about a year ago and has found that owner-operators respond well to the fun and interactive board game. Eckley had considered a computer version instead but concluded that a board game would appeal more to the owner-operators involved. "So much has gone to technology, I think there's a real advantage to hands-on," she says.
Other trucking companies have taken notice of O&S Trucking's efforts with business education, and the company now is forming an interactive business training division to market its game-based business education not only to other trucking companies but also to businesses in other industries.
This wouldn't be the first time that O&S Trucking has commercialized an internal product. In 1996, the company launched Show-Me Software to market the Operations Manager transportation management it had built for its own use. Even in today's competitive software market, 50 trucking companies still license Show-Me Software's products.
About the award
Commercial Carrier Journal's editors recognize innovators throughout the year and select one for special recognition as Innovator of the Year. Innovators considered for the current award were those recognized in the magazine in 2009.
Innovation in any aspect of the operation is eligible for recognition. To qualify, the carrier must operate at least 10 power units in Classes 3-8 and maintain a satisfactory safety rating, if rated. Selection of innovators for recognition is at the sole discretion of CCJ's editors.
This year's award was announced and presented at the CCJ Innovators Summit, a networking event for previously recognized innovators that was held Feb. 3-5 at the Hawks Cay Resort in the Florida Keys. Representatives of innovative trucking operations shared best practices and updated one another on the results of their initiatives.
The CCJ Innovators program is sponsored by PeopleNet, Castrol, J.J. Keller and ACS. For more information on the program, links to previously recognized innovators or a copy of the nomination form, visit www.ccjinnovators.com. Or contact Jeff Crissey, editor, at 800-633-5953 or jcrissey@rrpub.com.