Used recession as an opportunity to review and improve its offerings to capitalize as the economy recovers.
No time like the present
Estes Express not afraid to grow during tough times
By all accounts, 2009 won't be remembered as a banner year for most businesses, especially trucking companies fighting for few-and-far-between shipments. But one company found ways to use last year's slow economy to its advantage.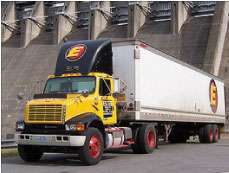 Estes Express certainly is no stranger to difficult business environments: The company was founded in 1931 during the height of the Great Depression when W.W. Estes bought a used Chevrolet truck and started hauling farm produce and supplies in Southwest Virginia. Estes' truck had no driver's seat or windshield, and he ran his first load sitting behind the steering wheel on an upturned crate.
Fast-forward to the 21st century, and the Richmond-based company has grown into the nation's largest privately held less-than-truckload hauler, with nearly 13,000 employees, more than 6,000 drivers and a fleet of nearly 8,000 tractors and trucks and more than 22,000 trailers. With a network of more than 200 terminals, Estes Express' reach extends to all 50 states, the Caribbean and Mexico. The multiregional company's affiliation with TST Overland Express adds coverage throughout Canada, and its Air Forwarding Solutions expands Estes Express' reach worldwide.
W.W. Estes' grandson, Robey (Rob) W. Estes Jr., is now the company's president. "We have maintained an attitude of fiscal responsibility and a steadfast commitment to our customers for nearly 80 years," he says. "During that time, many carriers have come and gone, but we're still here."
Estes Express' mission statement stresses maintaining the highest possible level of quality and to meet and exceed customers' expectations 100 percent of the time. To achieve this objective, the company developed Estes Partners in Quality (EPIQ), an ongoing process for employees to make customer satisfaction their top priority and to perform their responsibilities to the fullest – a process that likely served Estes Express well in 2009.
Time to think
In March 2008, Estes Express became a nationwide LTL entity with the addition of 13 terminals in Iowa, Minnesota, Nebraska, North and South Dakota and Wisconsin. When the recession's impact was apparent, the growing company wasn't immune to its effects, but Rob Estes says it was better prepared to weather the economic storm than most.
Although the company is always interested in investments that make it more financially stable, Estes Express is extremely conservative about carrying debt. "This means the credit crisis has relatively little impact upon our stability," says Estes. "As a privately held company, we are not susceptible to stock-market swings. The bottom line is that we are rock-solid."
Estes Express viewed the recession as an opportunity to re-engineer its freight network and enhance operational efficiencies – and to make sure customers were aware of these improvements.
Last September, the company reduced its standard LTL transit times by a full day from 26 terminals in the Northeast, Midwest and Southwest regions. The company also cut standard LTL transit times by a full day from 15 terminals in the Upper Midwest, primarily by converting its terminal in Des Moines, Iowa, into a hub.
"Since fourth quarter 2009, we have reduced transit times by a day to more than 75,000 destinations in the U.S., and we aren't finished yet," Estes says.
Estes Express also enhanced its global offerings when its Forwarding Worldwide division opened six U.S. facilities in San Francisco, Los Angeles, Dallas, Chicago, Miami and New York, and an office in Hong Kong. Estes Air Forwarding also adopted a new tagline – "We Bring It!" – to more accurately reflect the broader array of services the company offers in the global logistics and transportation markets.
Estes Express re-engineered its freight network and improved operational efficiencies.
"Global shippers want local contacts that can provide solutions to their unique and critical transportation and supply chain requirements," says John Eastland, vice president of operations. "This regional expansion allowed us to deliver a more comprehensive global transportation solution."
To enhance customer awareness of the company's growth, Estes Express earlier this year realigned its offerings and branded them as its Five Core Services: LTL, Time Critical, Volume & Truckload, Global and Custom Solutions. The company revamped its corporate website (estes-express.com) so that customers could easily find information and quickly choose the shipping solution that best met their needs. The redesign was approached from the customer perspective by first analyzing how customers used the website and then making enhancements based on the data.
"Updating our image through the realignment of our Five Core Services helps educate customers on our complete line of services and helps them find the shipping solutions that fit their exact business needs," says Billy Hupp, executive vice president and chief operating officer.
Faster data
In tandem with its now-faster network and enhanced customer awareness, Estes Express recently upgraded its onboard pickup-and-delivery system to provide detailed 24/7 real-time data to terminals and drivers, enabling them to more efficiently plan the pickup-and-delivery process as well as respond quickly to changing customer needs.
A proprietary management system developed entirely in-house includes a robust data warehouse that processes data up to 200 times faster, while a business intelligence interface provides management with reporting data as it occurs; an interactive map feature then allows managers to analyze the most efficient routes.
"Millions of records from our system need to be processed quickly," says Michael Lackey, director of operations technology. The company's new data warehouse specifically built for the new system processes data within 30 seconds to 2 minutes to provide Estes Express management with almost instantaneous data.
The upgraded system already is in place at 132 company facilities, with five more terminals to be added by the end of June and additional locations under evaluation.
The company's growth and faster network haven't come at the expense of the environment or safety. Estes Express was one of the first to join the U.S. Environmental Protection Agency's SmartWay Transport Partnership, a collaboration between the freight industry and the government to improve energy efficiency, reduce air pollution and greenhouse gas emissions and improve energy security.
Last year, the company received four awards for its safety record, including two first-place awards, at the annual American Trucking Associations Safety and Loss Prevention Management Council conference. "Safety is our number-one priority at Estes Express, and the ATA awards are a nice recognition of the efforts put forth every day by our employees to ensure safe on-time delivery of our customers' freight," says Curtis Carr, vice president of safety. n
Innovators profiles carriers and fleets that have found innovative ways to overcome trucking's challenges.
If you know a carrier that has displayed innovation, contact Jeff Crissey at jcrissey@ccjmagazine.com or 800-633-5953.