Andrews Logistics Inc.
Irving, Texas
Created a safety management system that promotes participation at every level.
All hands on deck
Andrews Logistics turns its safety program into a companywide effort
With a background in supply chain management, J. Darron Eschle wanted to create a business of his own. After some research, he saw an opportunity to provide an array of bulk logistics services with a core focus on dedicated contract carriage and private fleet replacement.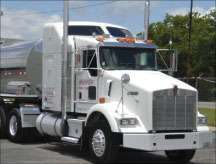 To obtain financing for his new business venture, Eschle tried an unorthodox approach; he contacted tank truck carriers – his potential competitors – with an investment opportunity. He found it in Bill and Gary Andrews, the owners of Andrews Transport, who agreed to a 50/50 arrangement. In 1997, Andrews Logistics Inc. (ALI) was born.
The Andrews name gave the new Irving, Texas-based entity instant industry recognition, purchasing power and the expertise of a larger organization. Thirteen years later, the two companies provide comparable services in the tank truck industry, with several key differences. Andrews Logistics offers nationwide liquid bulk, dry van, cryogenic gas and flatbed transportation, whereas Andrews Transport is a liquid bulk transporter in the Gulf States region.
The strategy that began in 1997 has gone according to plan, says Eschle, ALI chairman and chief executive officer. "Most of our customers don't want to buy trucks and be in the private fleet business," he says. For those customers that do operate a private fleet, the cost savings of using dedicated contract service from Andrews Logistics is hard to resist.
"One of the things we've done a good job at is helping (customers) understand that equipment utilization is what drives their costs down," he says. Working with customers to improve dedicated fleet utilization – instead of looking to reduce the operating costs of a private fleet through savings on equipment, labor, fuel, etc. – is a more effective strategy to reduce delivered cost per gallon. In some cases, the company is able to cross-utilize its dedicated fleets among customers to achieve across-the-board cost savings.
"If I can improve utilization, I can show the customer how that impacts my costs," he says. "We have reduced rates and foregone rate increases if we can do certain things."
Safety first
Operational and sales strategies have been a factor in the success of Andrews Logistics, but the company's safety program is its real competitive advantage, Eschle says. Management always has made every effort to operate safely since the company began, but prior to 2006, the company lacked a systematic safety approach.
In 2003, Griff Odgers joined the company as vice president of safety and risk management. Odgers had a long background in safety management, but his previous experience did not include tank trucks. "I jumped in feet first, but I knew where to get the answers," he says. In 2006, Odgers created the company's first safety management system that was fully implemented in 2007.
As part of the implementation process, management involved drivers in the creation of safety training procedures by using a strategy to "learn from the bottom up and manage from the top down."
As part of this strategy, management asked drivers to help in the creation of training manuals by freight type: flatbed, dry van, cryogenics and tanker. The safest drivers in the fleet detailed how they inspected equipment, why they did certain things and what could happen if they didn't do them. This information was used to create step-by-step training procedures.
Driver involvement also helped increase awareness and accountability. "We brought drivers in who were the experts," Odgers says. "It makes a driver accountable for his actions, instead of us trying to cram it down his throat."
The master trainer
An integral part of the company's new safety program was establishing the role of a driver "master trainer." To become a master trainer, a driver must be with the company for at least a year, have no moving or roadside violations, and be able and willing to teach. New drivers must spend a minimum of one week with a master trainer, who then has to sign off before the driver's training is complete.
"We take what the master trainer says to heart," Odgers says. If a trainer believes that a new driver is not ready to be on his own, the company relies on the master trainer's advice for how much more training is needed – or whether or not the driver ever will be ready.
Master trainers receive a quarterly bonus if the drivers they train stay accident- and violation-free, which is an incentive for the master trainer to follow up regularly with drivers in the field. Master trainers also have a monthly quota for field observations, which involves following drivers to make sure they are operating safely according to company policies. The trainer also has the authority to report a driver to management at any time.
The company's safety program involves a combination of formal training programs and getting more people involved in the process – both drivers and managers, Eschle says. Operations managers at each terminal also have a monthly quota for field observations. Most of the time, a manager will conduct a field observation without the driver knowing. Management then meets with the driver within 24 hours to review his performance.
Driver involvement increases awareness and accountability.
"We are working hard to not focus on negatives," Eschle says. "It is real easy to get involved in negative aspects when something goes wrong." A terminal manager is responsible for making sure the driver is doing a good job, and not focusing on a particular negative unless it becomes a repeat offense.
Last year was the best year in ALI's history in terms of safety performance. As a result, management decided for the first time that it was not going to make any major changes to the program other than continuing to try and raise the level of compliance. "Even last year, which was our best year ever, we still had a percentage of employees that didn't buy into it 100 percent," Eschle says. The company also is instructing drivers on the Federal Motor Carrier Safety Administration's Comprehensive Safety Analysis 2010 safety regime.
Industry recognition
ALI has received many awards for its safety achievements. This year, the National Tank Truck Carriers association recognized ALI for outstanding achievement in five categories, including the organization's top prize, the 2009 Outstanding Performance Trophy, which recognizes a company for its outstanding safety record, safety preventive maintenance programs, personnel safety program and record, involvement in industry issues and contributions to highway safety.
ALI ran 10.7 million miles in 2009 and had a frequency of 0.093 accidents per million miles. In addition to winning the industrywide Outstanding Performance Trophy, the company's safety record led to Grand Awards from NTTC in three specific categories in the 10 to 13 million miles class for Competitive Safety, Personnel Safety and, for the sixth year, Annual Safety Improvement. NTTC also recognized Odgers as the 2009 Tank Truck Safety Director of the Year. n
Innovators profiles carriers and fleets that have found innovative ways to overcome trucking's challenges. If you know a carrier that has displayed innovation, contact Jeff Crissey at jcrissey@ccjmagazine.com or 800-633-5953.