Integrated Freight Corp.
Sarasota, Fla.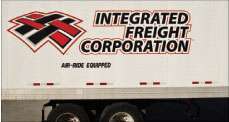 Company formed solely to consolidate motor carriers plans to run nearly 1,000 trucks before its third anniversary.
All in the family
Integrated Freight uniting separate regional giants into one national player
With the anticipated economic rebound, trucking companies no doubt will seek opportunities to secure freight rates and lanes while growing their businesses. One company understood at the outset of the recession that tough times wouldn't last forever and has capitalized.
In May 2008, Integrated Freight System was formed for the sole purpose of acquiring and consolidating motor carriers. When its current fiscal year ends in March 2011, Integrated Freight plans to operate more than 1,000 trucks that provide dry van, hazardous materials and temperature-controlled truckload services.
The company's beginnings were as unconventional as its rapid-fire growth. With such ambitious growth plans, access to capital was essential. Integrated Freight's management believed it would be able to obtain equity and debt financing more easily as a publicly traded company than as a privately held one. For one thing, it probably would be easier for Integrated Freight to convince the stockholders of carriers it wanted to acquire to accept its own stock as payment – at least in part – if it were publicly traded. Indeed, the company's agreements with the owners of its first companies it acquired in the fall of 2008 – Morris Transportation of Hamburg, Ark., and Smith Systems Transport of Scottsbluff, Neb. – obligated Integrated Freight to become a publicly traded company. But starting from scratch and launching an initial public offering didn't seem to be the right path. Fortunately, an opportunity soon presented itself when Integrated Freight discovered PlanGraphics, a publicly traded information technologies company that needed an exit strategy.
In May 2009, Integrated Freight System acquired more than 400 million shares, or 80.2 percent, of the common stock of PlanGraphics in redemption of 500 shares of PlanGraphics' preferred stock, which that company had sold in 2006 for $500,000 to the Nutmeg/Fortuna Fund, a private investment company.
PlanGraphics was unable to pay upon demand, and Integrated Freight paid Nutmeg/Fortuna Fund 1.3 million shares of its common stock and a one-year promissory note in the amount of $167,000 to purchase PlanGraphics' preferred stock. In June 2009, Integrated Freight and PlanGraphics merged, and the part of the business that previously had been the PlanGraphics information technologies company was sold to PlanGraphics' then-CEO.
Morris Transportation and Smith Systems Transport, Integrated Freight's first two operating units, formed the core of the newly revamped company, which rebranded itself as Integrated Freight Corp. (IFC) in July 2009. The company since has purchased Triple C Transport in Doniphan, Neb., and Bruenger Trucking in Wichita, Kan., and has announced its intent to acquire Cross Creek Trucking in Medford, Ore., and Texas Star Express of Rockwall, Texas.
Separate identities
Companies that become part of IFC by way of acquisition leverage the buying power, technology and customer relationships of a national company, but they retain their identities as well as the benefits of being a small carrier.
"These business combinations with Integrated Freight allow us to expand and strengthen our excellent customer service while providing their employees with more opportunities within the larger IFC platform," says Butch Bruenger, chief executive officer of Bruenger Trucking.
IFC strives to maintain the same culture and one-on-one interaction that previously existed within the companies it acquires. Because drivers want to feel like part of the same organization, the company keeps driver-assigned dispatch unchanged. While driver management and customer service remains local, all back-office functions such as insurance, billing, payroll, etc., are moved to the corporate office in Sarasota, Fla.
After acquiring carriers, IFC converts their existing information systems to a unified platform for dispatch and mobile communications. Each company gains visibility to all assets in the system. "All assets and personnel are able to be shared by each organization," says Steven Lusty, chief operating officer. "That's what gives us national coverage."
Criteria that IFC uses to evaluate acquisitions include past financial performance, location, customer mix and company culture. The company also evaluates how a company uses technology; if the company is using technology successfully, employees will be capable of migrating to a new platform once an acquisition is made. "Without technology there, or the ability to use what we have, they are not meant for integration," Lusty says.
"Whenever there is change, everybody is nervous. We've taken the time to do it the right way."
– Steven Lusty, chief operating officer
Once the deal is closed, one of the most critical tasks is to inform all stakeholders – not just the owners and managers – of what is expected. "Whenever there is change, everybody is nervous," Lusty says. "We've taken the time to do it the right way. We are not going in there and looking for quick effects. We are looking at the long-term effect. We have a 5-year plan, which is what we share with employees."
Big plans
IFC's three most recent acquisitions are indicative of the company's strategy and scope. The $11 million purchase of Bruenger Trucking, one of Kansas' largest refrigerated and dry freight operators, added $24 million in revenue to IFC's platform. Bruenger's fleet of 160 tractors, 187 refrigerated units and 30 dry vans hauls aviation materials, canned goods, foodstuffs and numerous general commodities across the Unites States and into Canada.
"The addition of Bruenger Trucking marked a significant milestone for IFC as we continue to assemble a high-quality national freight network," says Paul Henley, CEO of IFC. "Acquiring a company with the reputation and longevity of Bruenger in such a strategic geographic area was a watershed event for us."
Cross Creek Trucking, founded in 1989, operates a fleet of more than 115 trucks, 170 utility refrigerated trailers and 20 dry utility trailers providing service primarily to the U.S. West Coast. "We feel the potential merger with IFC will add to our strength in customer service and increase our productivity and value proposition to our customers," says Mike DeSimone, president of Cross Creek.
In 2009, Cross Creek had revenues of more than $28 million and EBITDA of $3.9 million. "Their management team is very strong, and their overall business fits hand in glove with our current operations," Henley says.
Texas Star Express, founded in 1987, is a subsidiary of Epes Carriers Inc., which was No. 91 in this year's CCJ Top 250. With a fleet of 315 tractors and 1,100 trailers, Texas Star Express provides regional and long-haul dry van truckload and dedicated services. Areas of service include Texas and surrounding states to and from the Midwest, Southeast and intra-state Texas. Texas Star Express's 2010 revenues are expected to exceed $58 million.
Texas Star Express is by far IFC's largest acquisition to date. Assuming IFC successfully completes the Cross Creek and Texas Star Express acquisitions, it will go from having barely 100 trucks in early 2010 to being in the top 150 carriers in the nation by the time CCJ publishes next year's Top 250 ranking. Another one or two acquisitions could put it in the top 100. n
– Aaron Huff and Avery Vise contributed to this story.
Innovators profiles carriers and fleets that have found innovative ways to overcome trucking's challenges.
If you know a carrier that has displayed innovation, contact Jeff Crissey at jcrissey@ccjmagazine.com or 800-633-5953.