Marten Transport
Mondovi, Wis.
Refrigerated carrier realizes significant fuel savings by raising the shipping temperature without compromising its cargo.
Finding a cool solution
Marten Transport kicks it up a notch to lower fuel use
Sometimes finding ways to be innovative can be as simple as asking the question "Why?"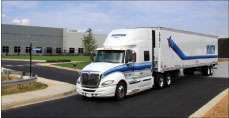 That's what Douglas Petit, executive vice president of operations for Marten Transport, did in 2008 when tasked by company president and chief executive officer Randall Marten to find additional ways to save fuel. It was 2008, and unprecedented high diesel prices were wreaking havoc on the Mondovi, Wis.-based refrigerated carrier's bottom line.
"Marten has always been a green fleet," Petit notes. "But in our world, 'green' is not just about the environment. It's about saving money, too. And we don't feel those two goals contradict one another."
Petit already had enacted a wide range of measures to control spiraling fuels costs, most notably with the early adoption of auxiliary power unit technology in 2006. In 2007, Marten Transport made use of state grants to offset some of its investment in APUs and began installing the units in its fleet of more than 2,000 tractors.
The company's fuel cost reduction was substantial, with $22.3 million in fuel cost savings directly attributable to APU use versus an investment of $19 million to install the units throughout the fleet. "When we first started putting APUs on our tractors, our average idle time was between 40 and 50 percent," Petit recalls. "By May of 2008, we had dropped that figure to below 5 percent – and it has remained that low ever since. The fuel savings have been dramatic by any standard."
Other fuel-saving measures Marten Transport employs include managing driver behavior regarding excessive pre-cooling of trailers; using telematics programs to monitor reefer engine shutdowns, temperature control and sudden changes; and tracking trailer hookup/unhook times and when power in tractor-trailers is turned on and off. All of this new data – as well as conventional telematics duties such as dealing with alarm codes – helped squeeze extra miles out of each gallon of fuel the fleet was buying.
9 degrees to savings
To remain profitable and ride out the economic storm, both Randall Marten and Petit felt more could be done to control fuel costs and began to consider new solutions. Petit considered the fleet's frozen food shipping operations – or, more specifically, the temperature settings in the reefers that Marten Transport uses to haul frozen food regionally all over the country for customers like McDonald's and other Fortune 500 companies.
Since the early days of the refrigerated trailer in the late 1930s, frozen food always has been transported at -10 degrees Fahrenheit, Petit notes. Bills of lading generally specified shipments "below zero degrees Fahrenheit," and -10 "simply became the default setting and eventually the way things were always done," he says.
What would happen, Petit wondered, if Marten Transport changed that temperature setting to something higher? Clearly a relatively warmer temperature would place a lighter demand on reefer diesel engines. They would burn less fuel if duty cycles were switched from the continuous use setting required to maintain -10 degrees to sentry cycle settings used for a warmer shipping temperature. But would moving to a higher shipping temperature affect food quality in any way? And would Marten Transport's quality-obsessed customers be amenable to such an action? Petit resolved to find out.
With a slightly higher reefer temperature, the company has lowered its fuel and maintenance costs.
Initial beta testing of the concept proved promising. Petit ran two identical shipments of frozen food side-by-side on loads with bill of lading requirements to maintain temperatures of zero degrees Fahrenheit or below. One load ran at -10 and the other at -1, and the company compared the gallons burned and hours the units ran while in transit. Pulp testing proved that product temperatures were not impacted. The subsequent 11 tests saved 200 gallons of fuel and 151.4 reefer engine hours. Even better, Petit notes, the tests showed "zero" food quality control issues when shipped using the higher temperature settings.
Crunching the numbers led to other conclusions as well. From the newly discovered information the company was receiving from its asset intelligence tied into the reefers' microprocessors, Marten Transport saw that its reefer engines ran significantly more when set at -10 versus -1. "It was at this point that the concept really took on life among the Marten management team as we realized the significant cost savings that could be generated by championing this initiative," Petit says.
Customers warm to idea
But how would Marten Transport customers respond to the new temperature settings? The biggest hurdle the company faced was fighting the stereotype that frozen loads had to be protected at -10. Initially, customers were skeptical, but Petit says once those customers reviewed the beta test data, they quickly became converts. "We were even able to work with one of our largest shipping partners during the beta test phase," he says. "They really championed this cause along with Marten."
Marten Transport implemented the change across its business in March 2009. Today, it ships 78 percent of all frozen foods at that setting compared to just 10 percent when the process first began. And the cost savings that the 9-degree temperature difference has made have been dramatic – to say the least.
Recalling the beta tests that verified the concept, Petit says the improvements in fuel economy the company sees today with the majority of its trailers running at -1 degrees translates to a fuel savings of about 130,000 gallons per quarter. At today's national average of $3.07 a gallon, that translates to quarterly savings of $399,100. Additionally, maintenance costs for reefer engines have dropped – just as Petit anticipated when he first conceived the higher temperature setting concept.
With such dramatic fuel savings gained by such a simple idea, Marten Transport today is working hard to increase the number of customers who will allow for shipping at the new temperature settings. Clearly they've found a way to be "green" in both senses of the word – saving fuel and money simply by examining the way things always have been done and looking for ways to do them better. n
Innovators profiles carriers and fleets that have found innovative ways to overcome trucking's challenges.
If you know a carrier that has displayed innovation, contact Jeff Crissey at jcrissey@ccjmagazine.com or 800-633-5953.