CCJ Innovators profiles carriers and fleets that have found innovative ways to overcome trucking's challenges. If you know a carrier that has displayed innovation, contact Jeff Crissey at jcrissey@ccjmagazine.com or 800-633-5953.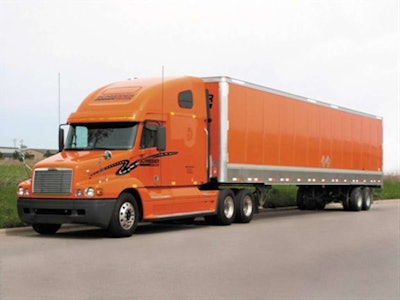 Today's shippers realize that nearly any cargo in transit is at risk of being compromised by ever-more sophisticated criminals. If a customer is shipping trailers filled with pharmaceuticals or the latest high-tech gadgets such as cell phones or tablets, it's likely the dry van will be a target.
According to Schneider (CCJ Top 250, No. 7), that's exactly what was happening to one of the world's largest mobile phone manufacturers. The consumer electronics provider had identified a need to revise its security procedures and policies to keep up with the latest criminal activities and trends. In doing so, the company found that a gap with its providers was not able to be closed.
The company was looking for a more stringent security process that would ensure that its high-value shipments would make it from its distribution centers to their final destinations –securely and safely.
It turned to Schneider, which has celebrated declining cargo thefts for several years. However, 2014 marked a milestone for the truckload, intermodal and logistics provider: The company had zero cargo thefts last year.
Making that accomplishment even more significant is the fact that Schneider has more than 13,000 drivers who last year moved more than 4 million loads with the company's familiar orange-colored equipment that includes nearly 12,000 power units and 50,000 trailers.
Schneider also serves the majority of U.S. ports of entry, maintaining and managing more than 6 million square feet of warehouse space that provides public and contract warehousing and cross-dock services.
Brian Bobo, vice president of enterprise security, says the Green Bay, Wis.-based company has been able to beat the cargo theft odds because of its holistic, layered approach to security.
"To be successful, we can't rely solely on doing one thing flawlessly," Bobo says.
How they do it
Schneider has been in business for 80 years, and today its portfolio of transportation solutions includes regional, long haul, expedited, dedicated, bulk, intermodal, brokerage, cross-dock logistics, supply chain management and port logistics. The privately-held company provides services throughout North America and China.
To solve the consumer electronics provider's transportation security problem, Schneider's Expedited Services Team worked with the customer's security team to put its transit security protocols to work, deploying a series of solutions to tighten security within the client's supply chain.
The manufacturer's freight began traveling only on trucks with team drivers, a move that helps reduce freight vulnerability because the load is rarely at rest.
Schneider's team drivers also received security briefings before starting a high-value load assignment, reminding them to be aware of their surroundings at all times while reviewing standard security procedures, including:
Having a full tank of fuel when arriving for a delivery and avoiding breaks in the first 250 miles;
Stopping only at secure locations, including Schneider's network of 35 facilities that are equipped with advanced security technologies and monitored continuously;
At each stop, communicating with dispatch and inspecting equipment to confirm that the load is intact; and
Reviewing weekly security updates to keep them informed about truck stops that recently have been hit by thieves and help them adhere to safer and more secure routes.
While these steps may sound like common sense, it takes a carrier that values safety first and always to turn common sense into common practice and lock down security for shippers.
Bobo emphasizes the importance of preparing and educating drivers and owner-operators. "We apply a three-prong approach," he says. "We address expectations during onboarding, we regularly communicate the locations and types of thefts that are occurring, and we incorporate cargo theft-preventable measures into our quarterly training sessions."
In addition to educating drivers to be smarter and savvier, Schneider's Expedited Team uses the latest technology to keep freight safe. For the consumer electronics provider, Schneider's trailer-tracking system continuously monitored each of the company's trailers, sending alerts when a door had been opened or otherwise had been compromised.
This technology also can determine if a trailer is loaded or empty, and for customers who want to imbed covert tracking capabilities into the actual product being moved, Schneider can monitor for irregularities and receive alerts when the freight itself is altered or disturbed.
For the record, Schneider's Expedited Services Team has had zero load thefts – none ever.
"Yes, we have the right technologies in place, but it's just as important that our drivers and operations teams are consistently doing the right things," Bobo says.
Results speak for themselves
CargoNet, a cargo theft prevention and recovery company, says that Schneider's year-over-year drop in thefts is indeed a remarkable accomplishment – especially in light of current statistics that reveal an ever-increasing sophistication among criminals.
CargoNet's 2014 findings indicate that the overall number of stolen freight loads that occurred throughout the transportation industry continue to decline. However, the company's research points out that the value of stolen freight actually increased, especially in the food and beverage and pharmaceutical categories.
Food and beverage accounted for 22 percent of cargo thefts within the transportation industry in 2014 – making it the most stolen commodity. The average loss value of truckload thefts of pharmaceuticals in the industry increased by more than 23 percent.
CargoNet says this data demonstrates that thieves are getting smarter and more selective when targeting high-value loads, making Schneider's banner anti-theft year in 2014 even more impressive. In fact, Schneider has not encountered a pharmaceutical load theft since 2004.
"Having no cargo thefts over the last year sets the benchmark for the rest of the industry to work toward," says Anthony Canale, CargoNet general manager.
For the consumer electronics manufacturer, deploying Schneider's enhanced security protocols made a significant difference within the manufacturer's supply chain: That company has not had one single full-load theft since Schneider was brought on as a carrier in 2006.