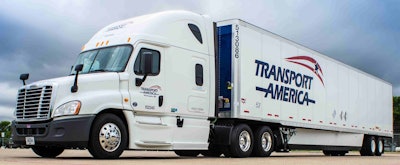 Transport America, an over-the-road, dedicated and local transportation fleet based in Eagan, Minn., has been named the 2016 CCJ Innovator of the Year by Commercial Carrier Journal for the development of a truck-specific weather alerting system that has resulted in fewer weather-related accidents and improvements in customer service.
The announcement was made by CCJ at the annual CCJ Innovators Summit in Duck Key, Fla. The event gathers current and previous-year CCJ Innovators for three days of networking, presentations and idea sharing among some of the trucking industry's most forward-thinking fleets and leading executives. CCJ, a national leading business magazine for truck fleet executives, highlights one forward-thinking fleet each month as part of its CCJ Innovators program.
Transport America's weather alert system overlays truck route data with weather information from the National Weather Service to identify trucks that are currently in or headed into the path of severe weather, including large weather events such as winter storm, blizzard, and high wind warnings. Fleet Leaders and the affected drivers now receive a truck-specific alert providing the driver with all of the weather related information for their route. Drivers can change their trip plan accordingly to assure they stay safe and minimize the impact of the weather as much as possible.
The system also alerts the customer service department about loads that have not yet been picked up. The alert includes the estimated number of miles the load will be traveling in a warning area. With this information, a customer service representative can communicate with the shipper about changing the date or time of pickup or rerouting the load.
Previously, employees in the operations department were in charge of monitoring the weather and sending macro messages to drivers, but this manual alerting system was very time consuming and was not location-specific to trucks and loads; everyone received the same messages.
"We are very excited and honored to receive the CCJ 2016 Innovator of the Year award," said Tom Benusa, chief information officer for Transport America. "The Weather Alerts project was a great collaborative project that helps keep our drivers safe and our customer service engagement high. Our entire team is committed to continuing to innovate and improve the quality of life for our drivers and the quality of service to our customers."
The company uses the data to send specific data only to affected trucks that are moving into the affected area. The weather-alerting tool has allowed the 1400-truck company to keep drivers out of harm's way and minimize utilization loss.
Click here to see all of the finalists for the 2016 CCJ Innovator of the Year award and to read about their innovations.
"Transport America's innovation was particularly compelling because it checked a number of boxes, including driver safety, measurable reductions in weather-related accidents, better asset utilization as well as greater visibility by shippers and receivers on the status of specific loads," said Jeff Crissey, CCJ editor. "We are thrilled to highlight Transport America's innovation because of its broad applicability to the rest of the industry at a time when asset utilization is critical to fleet profitability."