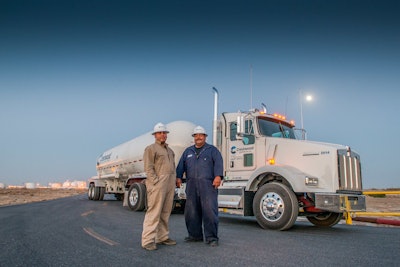 CCJ Innovators profiles carriers and fleets that have found innovative ways to overcome trucking's challenges. If you know a carrier that has displayed innovation, contact CCJ Editor Jeff Crissey at jcrissey@ccjmagazine.com or 800-633-5953.
Crude oil prices fell rapidly during the fourth quarter of 2014 as global output exceeded demand. The change of events led Crestwood Transportation in a new direction.
Before this period, the Kansas City, Mo.-based carrier had acquired a number of small regional carriers amid surging growth. The carriers operated without a common technology platform and performance metrics, however.
As lower energy prices set in, the company began to re-engineer business systems from "tip to tail" to drive greater efficiency, profitability and safety, says Jason Meares, senior manager of logistics systems.
Moving upstream
Today, Crestwood Transportation operates an integrated, nationwide fleet of 350 trucks that distribute natural gas liquids (NGLs), crude oil, condensate and water products for Crestwood Equity Partners LP and its customers.
Crestwood Equity Partners LP, based in Houston, is a publicly-traded master limited partnership that owns and operates assets in the midstream energy sector, primarily in the Marcellus Shale, Bakken Shale, Delaware Permian Basin, PRB Niobrara Shale, Barnett Shale and Fayetteville Shale.
Like the petroleum industry, Crestwood Transportation's business systems are transforming crude data into information using upstream, midstream and downstream components.
Most of these systems have been implemented in the last three years to give users at all levels the information they need to make real-time decisions.
In the upstream, Crestwood uses telematics, Internet of Things (IoT) devices and mobile applications to collect real-time data from assets in the field. The technology has significantly expanded the volume and richness of data; just as fracking technology created a boom in oil and gas exploration.
Midstream is where data processing takes place. Crestwood has deployed new enterprise platforms and integrated applications that optimize load planning, scheduling and routing. Together, these systems automate processes in the quote-to-cash cycle for orders and loads.
The downstream technologies make information visible and easily accessible to users. Crestwood has deployed new data warehousing and business intelligence tools that enable management to quickly identify exceptions and take corrective actions.
An enterprise approach
For Crestwood, the re-engineering process began midstream by deploying an enterprise system to standardize business processes and centralize the scheduling, dispatch and billing functions.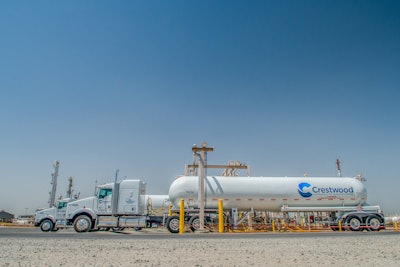 Crestwood also deployed an integrated load optimizer to automate regional planning decisions and a fuel and route optimizer to provide drivers with plans. New management tools also help to monitor actual performance against those plans.
The load, fuel and route optimizers have made it so "we are not dependent on institutional knowledge," he says. "Our loads are built and planned based on heuristics and algorithms to maximize capacity."
Besides standardizing business processes, the company deployed data warehouse and business intelligence tools to give downstream users real-time information "to make good decisions that drive the business forward," he says.
The data warehouse and business intelligence tools assimilate financial and operational data and provide real-time visibility to profitability for every order by lane, commodity and customer.
Crestwood uses Great Plains financial software with Microsoft SQL Server Reporting Services, proprietary dashboards and data visualizations built using TMW BI and other proprietary BI tools. The carrier also uses the Microsoft Azure cloud computing platform, Microsoft Power BI and the Microsoft O365 environment to expand the depth and breadth of its financial data visualizations, he says.
"We have implemented the most robust operational and financial tools available in the trucking industry, providing visibility into what is happening within the fleet at all times, creating opportunities to create greater efficiencies, ultimately driving profitability," Meares says.
With the real-time profitability tools, users can instantly determine what adjustments are needed to increase margins by lane, commodity and customer. Meares says insights have led Crestwood Transportation to cross-train drivers to haul multiple commodities in certain lanes to increase profitability.
First responders
In the upstream of fleet management technology, Crestwood — like many companies — uses mobile devices and applications to send and receive operational data to servers in the cloud. The company has focused on solutions that give drivers a better work experience while improving safety and efficiency.
A new mobile application the company is rolling out is designed specifically for crude and tanker workflows to create more efficiencies for drivers and the back office. The application also captures critical load information important to customers.
The technology also improves systems and processes that only require an intervention from drivers or managers when an exception occurs.
When the mobile systems detect critical engine fault codes, for instance, email alerts are sent directly to maintenance shop managers with all the information they need to assess the situation. Shop managers can respond directly to drivers if immediate action must be taken or work with fleet management to schedule maintenance in one of Crestwood's six maintenance shops located throughout the United States.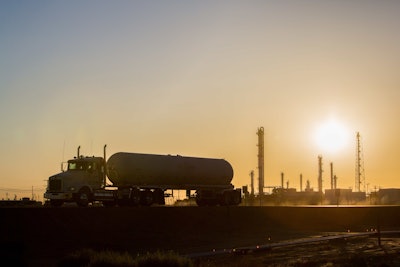 For detention events, drivers complete a macro message that automatically communicates their current location, detention status and other important information to fleet management and to the customer.
The system, referred to as "First Alert," is more than a detention tracking tool; it is designed to notify fleet management and customers of the potential demurrage or delivery delay before detention occurs. Fleet management and customers are able to work together to reroute trucks to alternate locations to pick up or deliver product, which saves the carrier and customers time and money.
If the customer decides to accept the detention event and pay the charge, the system automatically calculates detention time based on geofence data from the mobile units.
The technology provides supporting documents and details in the invoice. The documents are collected and saved in an imaging system through LoadDocs during the First Alert process. Through in-cab scanning technology integrated into Crestwood's imaging system, the carrier is able to bill customers within hours of completing a delivery, which has a positive impact on DSO, Meares says.
Protecting drivers
Crestwood also developed a Site Safety macro to instantly identify exceptions that need a manual intervention. When a driver pulls up to a customer site and notices something that is unsafe, like a valve leaking, the driver completes a macro that triggers an email to Crestwood's Environmental Safety and Regulatory (ESR) department.
The ESR contacts the driver, customer and other appropriate party based on severity.
"The site safety macro enables ESR to provide assistance to drivers and customers within minutes of reporting a problem," Meares said.
For ongoing safety training needs, Crestwood Transportation uses event recorders in its trucks that capture video and data when triggered by risky behaviors detected from internal and third-party sensors. The triggers include critical safety events such as speeding, harsh braking or activation of a vehicle's anti-rollover system.
ESR and management use the event records to provide drivers coaching and training to improve safe driving behaviors and awareness, Meares says.
Embedding technology
One of management's strategies in implementing all of the new technology is to have its IT group embedded in operations.
"Our IT team is integral part of the Crestwood Transportation family and are in the trenches of the business helping as we continue to work to identify opportunities to create synergies and enhance the experience of our customers and drivers," says Meares, who sits in the middle of the operations floor.
Anyone in the company can request new software enhancements, configurations and reports through a browser-based virtual suggestion box. Crestwood uses the Microsoft SharePoint platform for online collaboration and the IT group meets regularly with management to rationalize and prioritize requests, he says.
By making investments in all areas of fleet management technology, Crestwood has made it possible for drivers and managers to make instant data-driven decisions. As energy prices ebb and flow, the company is now able to instantly refine data into information and empower users to positively change the outcome.