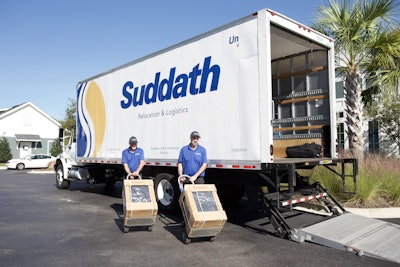 CCJ Innovators profiles carriers and fleets that have found innovative ways to overcome trucking's challenges. If you know a carrier that has displayed innovation, contact CCJ Editor Jeff Crissey at [email protected] or 800-633-5953.
Labor and truck rates always dominate the conversations in transportation and logistics.
In the moving and storage industry, a prospective customer can obtain rates quickly for a truckload or less-than-truckload shipment of household goods. Van lines typically publish their rates, and the only information a company needs is the approximate weight, miles and package counts.
The sales process is far more complex for commercial moves. Moving companies send a salesperson on site to count file cabinets, desks, computers and other furnishings and to walk off distances.
Notes from the sales visit are used to calculate the man-hours to move an office. The calculations may rely on tribal knowledge, gut instinct and experience. Proposals may take hours and even days to complete. The work may be all for naught if the customer finds a better rate.
Times have changed, and competing on the basis of labor and truck rates is "a recipe for going out of business," says Mark Scullion, president of the Workplace and Commercial Services business line for Suddath Companies (CCJ Top 250, No. 169).
Suddath's legacy business is household goods moving and storage, but the privately held company in Jacksonville, Fla., is now the largest commercial moving company in North America.
That growth has come by reinventing itself with technology that steers conversations beyond rates. In the past five years, Workplace and Commercial Services has gone from a labor and transportation business to one that provides a unique integrated sales and execution experience for customers.
In the meantime, revenue for the business unit has grown by 600 percent.
Digital revolution
Workplace and Commercial Services moves offices, data centers, research laboratories, government bases, hospitals and other facilities with its own fleet of equipment and drivers coupled with domestic and international brokerage capability.
In addition to moving people and businesses, Suddath transports products of all types through its Global Logistics division. Suddath has eight divisions total with more than 30 locations in the United States and over 2,000 employees worldwide. Its combined 2018 revenues were nearly $600 million.
The transformation began in late 2014 when Suddath hired Len O'Neill as its chief information officer.
"Len joined the company at a time when it was really tough to make money in this business," Scullion says.
Coming from the financial services industry, O'Neill saw an opportunity to transform the 100-year-old business with technology after having a conversation with Mike Brannigan, president and chief executive of The Suddath Companies.
"Mike sees technology as an enabler, not an expense, and is willing to invest in it," says O'Neill. "He has challenged every business unit to be the easiest company to do business with."
The Estimator
The sales process is one area where technology has made an immediate impact. Five years ago, the conversations Suddath had with customers were focused on transportation and labor rates, Scullion says.
The sales process also was inefficient. Salespeople would spend hours each day preparing quotes with standard office tools such as Microsoft Word and Excel. "It was a tremendous amount of effort," he says.
Perhaps more importantly, Suddath was not easy to do business with. The proposals sent to customers for review had to be printed, signed and returned. Once this step was complete, the contracting phase began with yet another set of manual documents and negotiations.
"It was painful for us and painful for the customer," Scullion says.
Nearly two years ago, O'Neill began working with in-house developers and Jacksonville-based software firm Feature [23] to create a modern commercial move estimator. The goal was to save the company time and make it easier to conduct business.
Within four months, they had created a "minimally viable product," O'Neill says. They continued to evolve and test the new Estimator platform before it went into production last year.
Estimator delivers a lean, standard, digital customer experience for project proposals using digital calculations based on accurate, well-tested technology and algorithms.
With the patented technology, salespeople go into customer offices with a tablet device and enter data in a sequential fashion. Once the quote is complete, customers have an instant digital acceptance process.
"The hard part was to give (salespeople) a working document that can be electronically signed at the point of sale," O'Neill says. "No one else can do that. The accuracy of the engine is pretty amazing. From machine learning, we are able to get the dimensions and weights of a lot of things from past jobs and have accurate measurements."
Overall, Estimator reduces data entry and administrative tasks by 51 percent, Scullion says, and it has increased the sales conversion rate by 15 percent.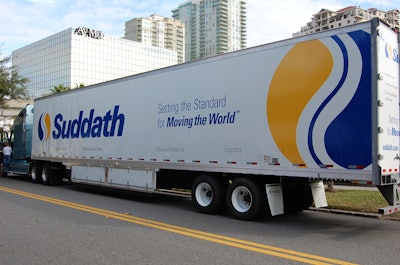 He attributes the higher conversion rate to the quality and details of proposals. Estimator makes it "very clear for the customer what is included and what is not," he says.
Those detailed, digital proposals are imported directly into Suddath's operating system to drive execution according to plan.
Granular visibility
Estimator is one of several elements in Suddath's new technology culture.
Two years ago, the company also developed a new Tracker application that since has transformed office moves with real-time inventory controls and visibility of critical business property. The application runs on a tablet and lets customers generate and attach QR codes to inventory, giving them visibility of the move as it happens.
"No one else in the market can do that," O'Neill says. "This is what is winning RFPs for us."
The patented Tracker system eliminates disruption that corporations have when moving across a campus or across the continent by keeping precise track of even the smallest items. Suddath clients know exactly where their inventory is and receive alerts when it's been delivered and set up.
With this visibility, customers' managers know exactly when their employees can get back to their workspaces to eliminate unnecessary downtime.
The information from Tracker also closes the loop for Suddath by giving the company information on how long the moving process takes to complete to further refine the estimation process, O'Neill says.
Internal collaboration
Estimator, Tracker and other proprietary technologies developed for Suddath's commercial line of business are moving to the company's other operating groups. Suddath plans to customize the technologies to help with managing logistics projects for restaurants and hotels, for whom it delivers fixtures during new construction and renovations.
"Every business is a digital supply chain," O'Neill says. "It is all about visibility."
"We will get to the point, at least in our commercial business lines, where Estimator is the standard for how we project resource hours and prices," Scullion adds.
Suddath's Global Logistics business unit has witnessed similar transformation by using technology to drive conversations with customers beyond rates.
"We are definitely into broader discussions looking at the entire supply chain," says Scott Perry, president of Global Logistics. "A lot is being enabled by technology that either is evolving in the market or privately."
With technology, Suddath's logistics unit has been able to better match capacity in its network with the specific storage and delivery needs of its customers, from the first to the final mile. Some customer products may need to be stored at facilities with medical or food-grade certifications. Others require bonded facilities and free trade zones.
"Visibility is key," Perry says.
The relationships that Suddath has with carriers through its van line carry through to Global Logistics. Carriers specializing in household and commercial moves are well equipped to handle logistics projects with special requirements such as pad wrapping, tailgate deliveries and installation.
"As we've seen an opportunity to expose more products to our customer base, we've opened up opportunities for much greater collaboration," Perry says.
As e-commerce is evolving, "traditional logistics companies have zero interest in going into residential areas," Perry says. "We live in that environment and are comfortable performing services in that capacity."