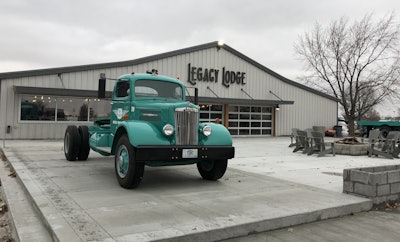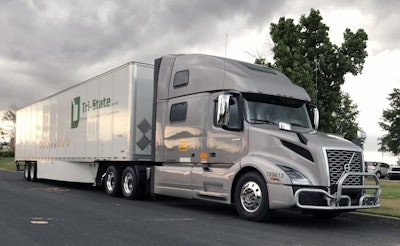 Since taking the helm at Roadmaster in 2011, interim CEO John Wilbur has guided the company from $28 million in revenue to more than $150 million today. The journey toward explosive growth has meant implementing big changes to become more driver centric and diversified.
When Glendale, Arizona-based Roadmaster Group acquired Tri-State Motor Transit Co. in 2016, it became the group's largest division. Raking in upwards of 90% of its revenue transporting high-security loads like ammunition, explosives and arms for the U.S. military, Wilbur wasn't comfortable having all of his eggs in one basket and set out to expand Tri-State's reach just as he had five years earlier with Secured Land Transport which Roadmaster later folded into Tri-State.
"Whether it was starting out with Secured Land Transport or Tri-State, both operations were heavily dependent on the military and we diversified the customer base significantly," Wilbur explained. "Almost all of our ammo competitors work exclusively for [the Department of Defense]. We've diversified significantly. Most of our growth in the last eight years has come in the commercial sector."
Tri-State's customers now include more mining and construction companies that rely on explosives. They've also expanded into hazardous waste, electronics and other high-value commodities.
Roadmaster proved once again its determination in driving even more company growth with the acquisition of an ammo competitor, R&R Trucking in Joplin, Mo., which was also incorporated into Tri-State.
Of their roughly 500 trucks, 400 are outfitted with team drivers, making expediting high-security loads easier.
"We're not sitting in a truck stop for eight hours on a load of explosives waiting for your hours of service to reenergize. You're just switching drivers and continuing to move that truck," Wilbur said. "The team format fits for both high-security, hazardous and expedited. We do work for expedited even if it's not hazardous shipments. It's something that needs to get half-way across the country fast, well you can't do that with a solo driver. You've got to have teams to keep the trucks moving. It's really those three categories: high-security, hazardous and expedited are the reasons for our team format."
Tri-State, which covers the 48 contiguous states and Alaska, also makes runs to all Canadian provinces. In addition to team drivers, they also rely on solo drivers and owner-operators.
An overhaul in pay leads the way
While diversifying the customer base resulted in impressive revenue growth, the first big change for the better at Roadmaster started with driver pay.
"In January of 2012, we made the most impactful move that we've made in 8 and a half years," Wilbur explained. "We essentially threw away traditional mileage pay, which I believe is essentially the biggest systemic flaw in this industry and we put in a hybrid salary structure."
No matter the miles, the hybrid model guarantees a weekly paycheck between roughly $1,200 and $1,500 depending on driver qualifications. Mileage bonuses follow.
"When I started at SLT (Secured Land Transport) there was a 160% turnover," said Wilbur, who was a partner in a private equity firm prior to joining Roadmaster. "The first thing I ever did, because obviously the turnover was an issue, was I looked at driver pay."
The hybrid pay approach paid off. Turnover in their owner-operator fleets is now under 10% while turnover in their regular fleets is below 50%.
"That stabilized everything," Wilbur said. "It allowed us to go and chase down high-value freight and have the confidence that we could serve it. And we've won the game over the last 8 and a half years by capacity. We've just been able to throw capacity at high-value customers."
While their hybrid pay model gets most of the credit for tackling the huge problem of driver turnover, other factors have helped along the way.
"Our turnover is dramatically less than national averages. Dramatically. But I'm not going to tell you it's because we're teams," Wilbur said. "It's generally because of the other things that we do. The guaranteed pay would be at the top of that list, a focus on great equipment, and we have a real focus on providing state-of-the-art facilities, driver facilities around the country. So, it's a whole package of what we provide for the driver that I think leads to our lower turnover and just a direct engagement with them. But at the top of that list it's the guaranteed pay format."
Keep your eyes on the driver
Roadmaster has expanded their driver-centric approach to include newer trucks, improved terminal facilities and regional relays to help get drivers more home-time.
Last year, Roadmaster began expanding opportunities for regional relays.
"We're a specialized hazardous carrier so we're not operating in the general freight Amazon world like so many van carriers are," Wilbur said, "but the concept's the same in that we have facilities all around the country and where we can we do relays or hand-offs."
"We're in the infancy stages of identifying opportunities for these regional relays. We've two of them up and running now," Wilbur added. "They were 2019 initiatives so we'd like to get more of those set up over the country. We're cutting our teeth a little bit on this situation so we have a little bit of a learning curve still. Unfortunately, the vast majority of our drivers are out for quite a while and they're home for a week or 10 days. We're just getting started. We've always had a heightened focus on getting drivers home when they're supposed to get home. We're just trying to shorten when they're supposed to get home by instituting these regional relays but we're really in the infancy stages."
Providing newer equipment has also helped to improve driver satisfaction.
"We turn our trucks usually at around four years or 500,000 miles, so nobody's driving an old truck in our environment. But also it goes to the trailers," Wilbur said. "We have heavy investment in our trailer fleet and keeping that new with a young age, it's really almost as important as the truck itself because if the trailer breaks down — it doesn't really matter which one breaks down — you're broken down. So we have a strong commitment to driving new trucks and trailers and that helps."
New truck safety features, improved fuel mileage and increased reliability provide an extra element of comfort.
"I think a lot of the bells and whistles and accessories that are on equipment today is important to drivers," Wilbur said. "And a lot of that can just be our safety-related equipment, like lane avoidance and collision detection and all those things. But really it's the new element and the fact that the trucks are higher miles-per-gallon and more reliable with less downtime. At the end of the day that's what drivers—they really don't want to be broken down."
To further demonstrate their dedication to driver comfort, Roadmaster unveiled its Legacy Lodge last year at Tri-State's headquarters in Joplin, Mo. A 10,000-square foot building that sat unused by Tri-State was renovated with half of it being transformed into a new training center while the other half was dedicated to something akin of a country club.
The lodge features a custom kitchen, fitness center, theatre rooms, laundry center, hand-hewn beam chandeliers, polished metal ceilings, men and women locker rooms and a club room anchored with a 20-foot-high stone fireplace.
There are areas for gaming, billiards, shuffleboard, darts, ping-pong, cornhole, and even an old classic checkerboard table. The club room has two large overhead glass garage doors that open and connect to a 2,500 square foot landscaped and lighted outdoor patio with a gas fire pit and barbecue island, which showcases the company's historic 1947 White semi-truck and trailer that is periodically used for parades.
"I looked at all these terminals and truck stops and places where trucking companies expected their over-the-road drivers to hang out and shower and rest and eat. And it's like 'Oh my God. You wouldn't send your kid to some of these places.' It's kind of what the industry did but we just went the complete opposite way," Wilbur said.
Tri-State drivers have been pleased.
"The feedback has been fantastic — not just for our existing drivers who use it when they're in that area, but also for our classes. We hold a class almost every week," Wilbur said. "They're training in the same building so that's their first impression of the investment we're willing to make to support our drivers. Yes, we do have a commitment to not necessarily build new lodges across the country, but to have top-drawer, best-in-class driver facilities at every one of our terminals and we're kind of attacking those one at a time."