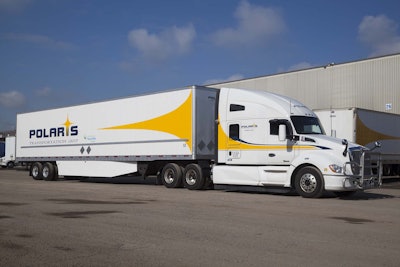 Commercial Carrier Journal has named Mississauga, Ontario-based Polaris Transportation Group as the 2020 CCJ Innovator of the Year for the deployment of robotic process automation to automatically read emails and process attachments, create broker packages and send them to brokers, as well as machine learning to facilitate classification of required documents and data extraction.
Polaris Transportation Group's innovation shifted the company from a manual labor-intensive process of pushing paper in silos to a better workflow utilizing the latest technology to take on the rigors of document processing, data extraction and a connected environment.
By leveraging robotic process automation and machine learning, Polaris Transportation Group was able to reduce manual workload by 60 percent with plans for further reduction, as well as the ability to automate 80 percent of its processes and a reduction in processing time per order by 33 percent.
"It does provide for efficiency for scalability but the most important impact it has had is on our people," said Dave Cox, president of Polaris Transportation Group. "We've been able to take away the mundane and the minutia and free up those talents to think about solutions for our internal and external customers."
"There are a lot of people that have established a successful roadmap for successful transportation," said Dave Brajkovich, chief technology officer, of the carriers attending the 2020 CCJ Innovators Summit. "To be part of this group is an absolute honor, and we are thrilled that we were selected as the 2020 CCJ Innovator of the Year. CCJ has a fantastic framework and focus on bringing great information and talent together. Being part of this group is a thrill."
Polaris Transportation Group was selected by CCJ editors as the 2020 CCJ Innovator of the Year at the 16th annual CCJ Innovators Summit in Key Largo, Fla. The event gathers current- and previous-year CCJ Innovators for three days of networking, presentations and idea sharing among some of the trucking industry's most forward-thinking fleets and leading executives. During the year, CCJ, a national leading business magazine for truck fleet executives, highlights one fleet each month as part of its CCJ Innovators program.
Polaris Transportation Group was in a class of other industry-leading fleets recognized by CCJ editors throughout 2019 including Smokey Point Distributing, Suddath Companies, Hub Group Trucking, Atlas Trucking, Nussbaum Transportation, Andy Transport, C.R. England, Reddaway, DHL and Carbon Express.
The CCJ Innovators program is sponsored by Comdata, Freightliner Trucks, Omnitracs and Shell Lubricants.