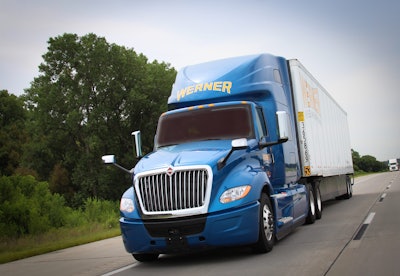 Despite the memes, t-shirts, political firestorms and late-night monologues, 2020 wasn't a total wash. For longtime trucking giant Werner Enterprises (CCJ Top 250, No. 11), last year proved to be the right time to roll out its cloud-based propriety mobile fleet management program, Werner EDGE.
The multi-faceted program, which constantly aims to aid man and machine alike, resides in the Microsoft Azure cloud and thrives on the growing inner-connectivity and data pool offered through the Internet of Things (IoT). It's there that sensor-equipped machines communicate amid ever-improving artificial intelligence, delivering increasingly accurate analyses to help steer fleets to a better bottom line.
Announced in May, Werner EDGE has been helping drivers, carriers and shippers gain a better handle on the complex world of trucking, which got even tougher during the coronavirus pandemic. Electronic bills of ladings and touchless orders – paperless approaches that had been up against plenty of pushback prior to COVID – suddenly were more popular as EDGE stepped up to meet demand.
The egress enabling that greater flow of valuable data is EDGE Connect, Werner's new telematics device, which is expected to be in the hands of all drivers by the first quarter this year.
In the meantime, Werner Chief Information Officer Daragh Mahon, who joined the company in May to spearhead EDGE's rollout, is pleased with ROI, which continues to open doors and offer some nice surprises along the way.
"We've been really happy with the ROI that we're seeing," said Mahon who previously served as senior vice president of global IT and business applications at Vonage before joining Werner, "but some of the ROI is what I call the no-brainer stuff. When you move off of old technology, like for example, what Werner Edge Connect replaced, there's just no way we could have continued using that old technology. There's no way we could scale or grow the company to the extent that we want.
"So sometimes the ROI is just a no-brainer – you've got to go do it because you need to have that newer technology and those newer platforms in place," Mahon continued.
Once implemented, EDGE delivered ROI in areas that weren't anticipated. "We saw a lot of that," Mahon said. "Stuff that wasn't included in the original ROI that just popped up. 'Hey, we never even thought of this, but there's a cost savings here.'"
One area where savings have added up is through EDGE's Breakdown Management solution, which creates a more effective communication link between drivers and agents during a breakdown.
"We launched our breakdown solution earlier this year and we're seeing incredible benefits of getting our drivers back on the road," said Danny Lilley, Werner's vice president of fleet systems and technology.
A critical step to improving truck uptime depends on getting truck-centric data into the cloud where Werner is "seeing benefits of doing that even before you get to machine learning opportunities," Lilley said. "Just triggering data from this IoT and identifying, 'Here's something that needs to be fixed.' There are incredible opportunities that we're trying to act upon and we see that it can go so much further."
Pushing for improved maintenance under warranty
Mechanical failures are inevitable. Keeping trucks in top shape and addressing problems before they get worse can help prevent costly roadside breakdowns, but not all mechanical issues are caught early enough. With more precise sensors and cloud-based monitoring, Mahon and Lilley are excited about EDGE catching mechanical issues before they strand a truck and its driver. Better still is the idea of catching the problem while equipment is still under warranty.
"We gather all of this data off trucks and we have all this data that comes into our system, and we make good use of some of our data, but we don't make enough use of all of it," Mahon said. "We have many IoT devices on trucks and trailers. If you just take the base truck itself, there are 80 or 90 systems reporting data points that could all add up to better maintenance.
"You've got that warranty for example," Mahon continued. "There are components on those trucks that are in warranty that may be about to fail. If we could get ahead of that then we could do some predictive analysis using AI or machine learning that says, 'Hey, it looks like all of the indications from the onboard sensors are saying your alternator's going to fail in the next week or two and it's in warranty.'"
Parts could be ordered ahead of an anticipated failure and swapped out to avoid a costly breakdown on the road.
"Even just on warranty opportunities we think there's a pretty substantial opportunity to have more visibility and to capture more warranty dollars for some of the work that's already being done," Lilley said. "If we can get in front of these breakdowns before they happen, we'll have more time on the road and higher utilization of our assets."
Drivers embracing high-tech approach
Omaha, Nebraska-based Werner has more than 8,000 trucks, 24,000 trailers and more than 13,000 employees. Switching to a new management system is no easy task for any company let alone one of the largest carriers in the country.
Lilley said it took about six months to put together a strategy on how best to take EDGE to market. Communication and training were key in paving the way for a successful roll out.
"I think the biggest part of any one of these roll outs is just communication and change management," Mahon said. "As soon as you start the rollout processes, as soon as you start developing a new solution, and whether it's a configuration or application you buy off the shelf, you've got to start communicating that to people. So I think even prior to me getting here I think the communication loop was really, really good. Drivers were involved from day one and remained involved the entire way through."
So far, EDGE Connect has been installed in roughly 95% of Werner's trucks. Drivers are trained on how to use a tablet to utilize EDGE's features, which automates tasks that once required manual entry.
"With Edge Connect we replaced very outdated technology and so that overall user experience, the driver workflow, just the ease of use of working with a modern tablet and having a platform has been very well received by our drivers," Lilley said. "It eliminates a lot of those unnecessary day-to-day tasks, things like auto arrive and auto depart. Just taking a lot of that day-to-day manual entry out of the system and providing better tools and capabilities for our drivers.
"At the same time with our Drive Werner platform, some of the same concepts we've been improving and providing more visibility to our drivers," Lilley continued.
Mahon said drivers have been helping other drivers learn the ropes and that feedback "has been really good." EDGE has also helped to win over tech-savvy younger drivers.
"The tablet intelligently recognizes where [the driver is] along the route, where you are along in the process of delivering or picking a load up," Mahon said. "You're not having to scroll through 60 or so different screens or macros that you had to know previously. So that's what the drivers really appreciate – this intelligent workflow that tells them where they are."
Carriers can get tailored help through EDGE's Trucker Tools platform. Werner deployed the Trucker Tool app and services for real-time shipment visibility, predictive freight-matching, automated booking and electronic document capture.
The engagement with Trucker Tools is part of a strategic game plan the company is executing to improve process efficiency, gain access to a deeper pool of independent truckload capacity, and position itself as the broker of choice.
Trucker Tools brings a set of app-based features and functions to small carriers and owner operators that are not typically available from a single 3PL.
Lilley and Mahon, a former truck driver himself, are quick to credit drivers for helping to improve EDGE during beta testing. A road team stayed in touch with 25 to 30 drivers who offered up their thoughts.
"They gave us feedback and we expanded it as we drove the past six or seven months," Mahon said. "We keep that feedback loop going. We have a team that did nothing but talk to drivers, kept their feedback and then we made improvements and enhancements based on that. Almost universally, we've had positive feedback from drivers. But it's also partly because they know we take so much of the feedback and then incorporate it into improvements and enhancements."
Mahon said the entire Werner team has remained dedicated to making EDGE a success.
"We've got a long way to go but we've come a long way," he said. "One of the things we're most proud of is the team. The team has worked so hard. They've always worked hard but they're working especially hard right now and there's a lot to do [in 2021] and you can't do it without good people and we've got good people."
Mastering a mountain of data in the cloud
For Werner, building EDGE on cloud-based IoT connectivity made sense, especially considering that most other industries already started down this road years before.
"I'll be very honest and open here," Mahon said. "I think the real technology leap that needs to be made in the transportation industry is the cloud. I think the transportation industry, the carrier industry in general is behind the curve in this. They're seven or eight years behind most other industries.
"So I feel like we're adopting the 'try it first, try it now strategy,'" Mahon continued, "and that simply means that for every application and every use we have, we're going to deploy it first, and when we find the application we're going to use we're going to go there now."
Mahon said the cloud offers flexibility to help fleets quickly find the paths that work best for them, particularly as it applies to using application program interfaces, or APIs.
"What it does for you is it gives you this amazing expansible network where you can add applications using APIs at any point and time or remove applications and replace them at any point and time," Mahon said. "So I think the real technology leap here is to move to the cloud and then use the cloud to its fullest, which is pretty impressive."
Lilley agreed.
"All of these capabilities exist and I think there's a lot of the smaller fleets out there just kind of waiting but every day you wait, the technology keeps moving forward," he said. "So you've just got to move forward and get started."
While some fleets have raised concerns of being inundated with data that they just can't seem to use, Mahon said that's not been a problem for Werner since they regularly stay in tune with their IT folks and other key players who utilize various data streams.
"I don't really subscribe to the fact that we give them too much data," Mahon said. "I think we're giving them the right amount of data but what we're also doing is listening to them about what's good and what's bad and what data is sort of superfluous. And we're removing that data if they don't need it. But then we're also adding data that they feel that they do need."
Training has been key in helping make EDGE a success.
"We're investing heavily in retraining and providing all kinds of resources and new opportunities for our team," Lilley said.
The training push has meant that Werner can keep familiar faces on board.
"We are hiring different skill sets when people leave," Mahon said. "We might not replace an infrastructure engineer with an infrastructure engineer. It might be a cloud ops engineer. But the reality is that everybody here at Werner – it's a very, very smart bunch of IT people that are willing to re-skill and retrain and learn new things. They're all very technology savvy people."
CCJ senior editor Aaron Huff contributed to this report.