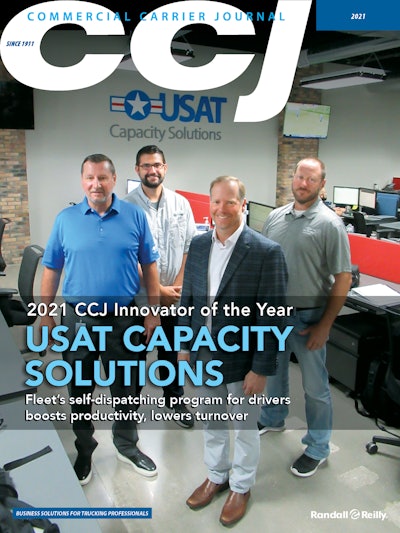 James Reed became chief executive of USA Truck in January 2017 and applied the same type of financial discipline he had used while working for technology companies like T-Mobile, Intel and Dell.
With a new cadence and governance, the publicly traded carrier reversed a decade-long stretch of subpar financial results. The company's profitability returned in 2018 under a new name, USAT Capacity Solutions, and a broadened suite of transportation and logistics services.
Reed created an enterprise project management (EPM) forum for management to discuss and dissect ideas with cross-organizational implications. When making decisions for what projects to start, stop or continue, "my default position is 'what's the ROI?'" Reed told CCJ in his office on July 14.
Renovating the operations department was one of many projects that passed through the EPM forum. Completed in January 2020, the change gave the department floor a modern, industrial, playful vibe.
Load planners, driver managers and other employees had previously been separated by walls and cubicles. Rows of workstations now extend along brick pillars on a sealed concrete floor. Senior managers work behind transparent glass panels and office doors lining one side of the room.
The new layout fostered impromptu meetings. In March 2020, Josh Schader walked over to the desk of Sam McCain with an idea. Both had been encouraged by results from an internal load board the company launched in 2018 for leased and independent owner-operator drivers.
The change improved the work experience for drivers. Turnover dropped significantly and productivity went up as drivers gained more power and visibility to choose their loads.
During this meeting, Schader, director of network execution and planning, expressed his belief to McCain, senior director of truckload, that USAT could offer a similar experience to employee drivers. Schader remembers the glisten in McCain's eyes.
"As we kept talking about it, we're like — 'well, this could work,'" McCain said.
When a team from operations presented the idea at the next EPM meeting, Reed didn't need to be convinced. He didn't ask for an ROI analysis to move forward.
"It was just like common sense that said, 'you know what? This is probably a great thing for the driver experience,'" Reed said. "Let's go try it."
USAT Capacity Solutions has earned the distinctive honor as the Commercial Carrier Journal 2021 Innovator of the Year for developing and rolling out a unique program in 2020, Drive Your Plan, that leverages the company's tight freight network and proprietary technology to give drivers the power to self-dispatch.
The power to choose
Developing a load board in late 2018 was a strategic move by USA Truck to proactively mitigate the risks of having a leased contractor model, which had been under scrutiny by California state assemblies and courts.
USA Truck developed a private load board to put more distance between the company and owner-operators in terms of control over their work. The web app helps owner-operators plan their way into and out of freight markets to maximize revenue. With the technology, drivers can select loads from USAT's asset and brokerage divisions after viewing load origins, destinations, rates per mile, empty miles and other details.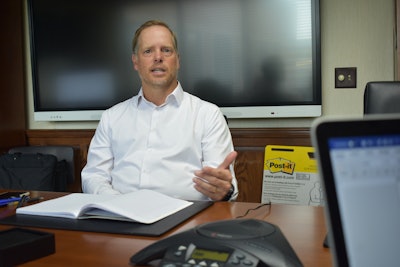 The mobile app can run on drivers' personal devices as well as the company's tablets.
When discussing the possibility of applying the load board approach to company drivers, Schader and McCain knew the traditional approach for load planning and dispatch creates friction with drivers. A common hot spot is when drivers are assigned loads to areas they would rather avoid, such as New York City. Drivers also may not know what their next load will be, Schader explained.
The time seemed right to use technology to put the power of choice in drivers' hands.
"We looked around and not very many other people were doing this," Schader said, but that was only more reason to pursue the idea. "Who knows [drivers'] hours better than they do? Who knows when they need to get home more than they do?"
USAT revamped its freight network after 2017 to focus on the eastern half of the United States with I-35 as the boundary line. The changes led to a tighter network and more freight density. This made it possible for drivers to hit terminal locations more frequently and simplify their load planning decisions.
The company did not put any controls or restrictions on what loads owner-operator drivers can choose, Shader said, and its freight network gave management confidence that company drivers could be trusted with the same freedoms.
"We knew what freight we were going to be giving them the options to choose," Schader said. "They were going to be picking loads going to where we needed them to go."
Bringing ideas to life
USAT leadership decided to put the plan into action by starting with a test fleet. Drivers in the "load board" fleet were assigned to a driver manager in June 2020. The manager was hand-picked for his willingness to put in the work necessary to make the project a success, Shader said.
The role of the driver-dispatcher manager changed to that of a coach. The manager helps drivers select loads either by talking through options by phone or answering questions from drivers who use the web app.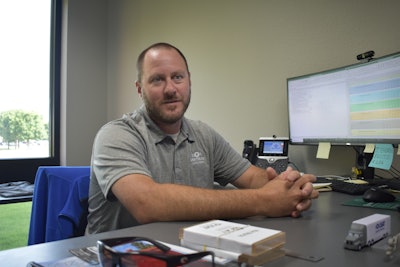 Unlike owner-operators, company drivers do not see rates or have have visibility to loads from USAT's brokerage division. USA Truck also controls how far in advance company drivers can plan themselves, and "we don't generally let them change their geography without a load," to prevent deadheading to a different area, said Blair Ewell, senior vice president of operations.
Drivers also have a certain number of weekly miles they are expected to reach to stay in a load board fleet, but the test fleet showed drivers were getting significantly more miles by planning their own loads. Driver satisfaction improved, McCain said, and "that's what sealed the deal for us."
USAT added a second load board fleet and saw the same results. At this point, the company began recruiting drivers to participate in the new Drive Your Plan program. By September 2020 three load board fleets were running.
The web app for the Drive Your Plan load board was developed principally by Ana Yaron, USAT's programmer analyst. The technology has data integrations with the TMWSuite fleet management system that USAT uses from Trimble and other tie-ins.
When drivers select a load, fleet managers have instant visibility of the selection in TMWSuite. Managers can approve the selection after they run the load through a "load checker" tool to ensure the choice fits within a driver's hours of service limits.
Once the planning is complete, USAT's custom mobile driver app, from Eleos, takes over with trip-planning tools such as turn-by-turn navigation as well as access to payroll settlements and other tools. The load board is embedded in the Eleos app to give drivers a single sign on, pass-through user experience.
Creating opportunities
The Drive Your Plan program from USAT has become an integral part of the company's driver retention strategy by offering a path for career advancement.
If drivers perform well as an over-the-road driver, they are given an opportunity to qualify for a load board fleet based on tenure and safety records. New recruits need at least 12 months of experience and no more than five jobs in three years to qualify for the program.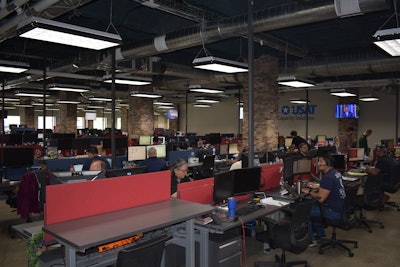 Once in the load board fleet, it may yet take several months for drivers to learn USAT's network to achieve their desired number of miles and home time. As drivers learn freight patterns, fleet managers take note and share information internally to further improve the network by targeting bids for certain lanes, freight and customers that are driver centric, Shader said.
With a program in place, USAT is looking at new load board features and enhancements that will improve search features for drivers and make the load selection process smarter and automated, Yaron said.
Load matching optimization tools and machine learning algorithms could be applied to the selection process to give drivers recommendations that are best for them and for the company.
Another possibility is to create "zone" searches for owner-operators, Yaron explained. Instead of drivers having to search for individual loads that are closest to their current location, they could search for round-trip loads by choosing an origin and destination to find the combination with the highest net revenue.
"We're going to add some of that in there," she said.
Satisfied with results
Since rolling out the Drive Your Plan program, USAT has seen driver turnover fall to all-time lows. Drivers participating in the program have a 50% lower turnover rate. They are also 30% more productive in terms of mileage.
Just as importantly, USAT has seen a difference in using its technology and program for career advancement opportunities. Conversion rates from company drivers to owner-operators have increased significantly.
"I didn't expect it to have phenomenal results," Reed said, but he now clearly sees the return on investment.
USAT Capacity Solutions' revenues are up more than 30% in the first half of 2021 and net income is up 123.7%. Quarterly earnings per share (EPS) for the publicly traded company have been at record levels for the past year.
The CCJ Innovators program is brought to you by Comdata, Freightliner Trucks, Omnitracs and EOX Vantage.