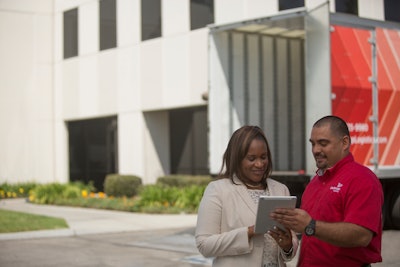 UniGroup
Making phone calls. Sending text messages. Keeping team members all on the same page can be tough in the trucking business, particularly when you're dealing with older technology.
That was the case for UniGroup (CCJ Top 250, No. 25), which in 2019 decided it was time to start considering a replacement for an older transportation management system that was looking increasingly obsolete.
"The system itself was a bit outdated green screen technology and we saw that as a competitive disadvantage within the business," said UniGroup Executive Vice-President Scott Kluesner. "So we set forth a group to explore what the options were to develop logistics-oriented technology."
[Related: Software battles empty miles and increases revenue]
UniGroup, based in Fenton, Missouri, is mostly known as a household goods carrier through subsidiaries United Van Lines and Mayflower Transit. But the 33-year-old company has other brands including UniGroup Logistics, which offers supply chain solutions through global services like less-than-truckload, truckload, brokerage, flatbed, final mile, intermodal and third-party logistics.
To help improve its competitive edge in logistics, UniGroup partnered with Rose Rocket, a Canada-based software company that develops transportation management software by the same name. The two companies went to work in 2019 to tailor a system for UniGroup that would help smooth out the kinks common to the supply chain business.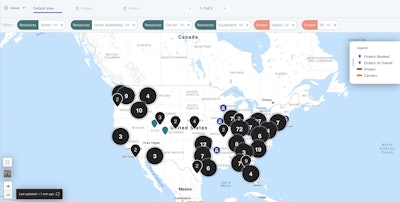 Key stakeholders, including brokerage agents, agreed to participate in a pilot last year. It didn't take long to see that they had landed on a much more efficient system that was easy to use.
"We saw in our pilot was that it's very intuitive," Kluesner said. "The platform itself, it's logical. It speaks to our business."
Kluesner said it became clear that the new system was a good fit and agents were eager to see its adoption.
"The agents involved in the pilot really became advocates for the platform, influencing not only other agents about its capabilities, but really playing a heavy role in influencing the board that this was the right decision, the right investment that we needed to make for our business," Kluesner explained.
The board gave a thumbs up to the UniGroup Logistics Platform this past December. The official roll-out kicked off in April.
The end-to-end single platform features a new agent transportation management system, which improves real-time and all-mile visibility and increased connectivity at all levels. The platform provides new efficiencies like real-time order updates, track and trace abilities, electronic logging devices, mobile app usage and interconnected partner systems, enabling shared visibility throughout the UniGroupenterprise.
A single-source solution for tracking, ETA and invoicing, the platform has made it easier for UniGroup to be transparent with operations, customer service, accounting and its customers.
"The feedback has been great," said Javier Medina, agile product owner at UniGroup, who led platform development. "The order management process is just a lot better and a lot more fluent."
[Related: USAT Capacity Solutions named 2021 CCJ Innovator of the Year]
The UniGroup Logistics platform allows connected agents to collaborate, gain insights and maximize opportunities for accelerated growth. Agents can also gain and win new business and increase customer retention and growth through features like self-serve portals and a chat functionality. Since its launch, UniGroup reports that its logistics platform has already enabled a 20% efficiency gain in UniGroup Logistics order creation process, further positioning agents, customers and partners for increased success.
Drivers are among those benefitting from the platform.
"The feedback that I've heard from them is that it's logical, it's sequential," Kluesner said. "It takes information easily, like electronic proof of delivery, a task in prior platforms that was challenging. It's just very streamlined. Now, it's as simple as taking your phone and snapping a picture of the bill of lading, uploading it into the system and you're done. The drivers love that type of capability. It allows them to be more efficient and reduces their paperwork time. It's been a huge win."
Striving for more buy-in
While those who have used the system have been impressed with its efficiency gains, getting more people on board to make the switch to new technology can prove challenging.
"That's probably been our biggest hurdle, especially this time of year," said Eily Cummings, UniGroup's director of communications. "With all the labor challenges and all the environment challenges in the transportation industry right now, everybody is very stretched from the drivers to our frontline workers, to our order-dispatchers—everybody's stretched right now."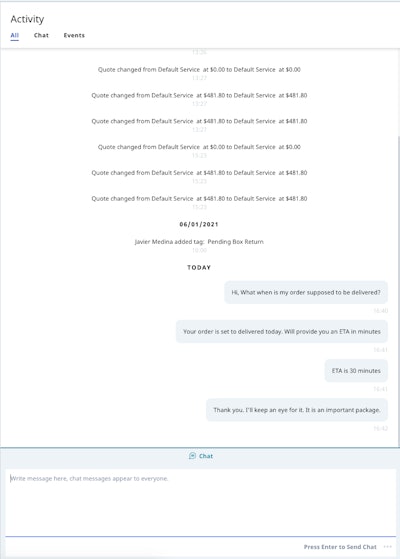 To help stakeholders make the transition to the new platform, UniGroup developed a multi-tiered training program that addresses a wide range of job descriptions.
"We have created very in-depth training," Medina said. "We have orientation webinars. We have created a virtual academy for our planners, dispatchers, for customer service. We have created a driver academy for drivers to know how to use the mobile app and we have a lot of recurring meetings."
Cummings said a virtual learning conference centered around the platform was held in March prior to the launch in April. In addition to the webinars, which were recorded and made available online, UniGroup publishes a weekly digital newsletter where Cummings said they're "frequently sending updates on what new features and integrations Javier and his team have been rolling out" for the platform. Platform updates in the newsletter "gives people more reasons to adopt because it adds even more efficiencies to their business," Cummings added.
While training is helpful, it isn't necessary for everyone, particularly for those that would rather dive right in and learn by doing. Kluesner said the platform's ease of use has enabled quick adoption for first-time users.
"Even though they go through five hours worth of training, what we found is that they break away prior to the five hours being completed because they're comfortable with it," Kluesner said. "So they're beginning to use the technology right away. That's really been exciting to see as an outcome. We didn't anticipate that, but it has been a huge win within the business. They can literally turn this thing on and register an order—and we've even done it here at St. Louis at the home office—without going through training at all."
Chris Anderson, operations manager at Safeway Logistics, said his team adjusted quickly to the platform.
"The learning curve was not too steep," he said. "It was easier than a few other systems we tested. Functionality is fairly smooth, which allowed my team to learn quickly. The mobile app was very easy for the drivers to learn. Help desk is responsive and attentive. I wish the driver payroll feature was a bit more robust, but I feel they are very close to getting it right."
The CCJ Innovators program is brought to you by Comdata, Freightliner Trucks, Omnitracs and EOX Vantage.