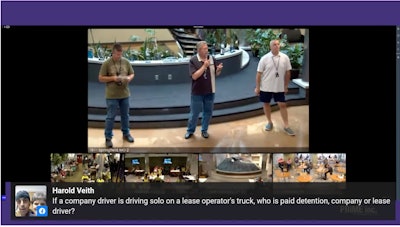 CCJ Innovators profiles carriers and fleets that have found innovative ways to overcome trucking's challenges. If you know a carrier that has displayed innovation, contact CCJ Chief Editor Jason Cannon at jasoncannon@randallreilly.com or 800-633-5953.
YouTube can be a handy resource for many things, from learning how to change the engine oil in a 1997 Honda Civic to the basics of karate. For the drivers for Prime, Inc., (CCJ Top 250, No. 14) YouTube has become an invaluable enabler of staying connected with their company and fellow drivers.
Driver meetings aren't a new concept, especially at Prime, where they have taken place for more than 25 years. Former longtime Director of Safety Don Lacy, who retired in 2014, instituted safety meetings one Saturday per month, but with more than 2,000 drivers at the time, a large in-person turnout couldn't be expected. In order to reach drivers who couldn't attend, Steve Field – who now serves as Prime's director of safety – recorded them on cassette and had copies distributed at truck stops across the country for drivers to pick up.
Over the years, the meetings transitioned to every Friday morning. The cassettes evolved to CDs, and eventually were distributed through the company's app. Regardless of delivery method, the meetings have been a staple of Prime, Inc.'s culture since day one ... until the world was blindsided by a global pandemic.
"Until March 13, 2020, we had never missed a Friday meeting," Field said. "We've had tornado warnings, bad weather, the day after Thanksgiving … and then COVID hit and we worked our way back to weekly face-to-face meetings."
The pandemic shift
Rather than allow the meeting to become a COVID casualty, Field and Prime's social media team – spearheaded by Prime's Media and Onboarding Manager Andrea Mueller – sought to figure out a new path, and turned to live videos hosted through Facebook and YouTube.
"We did pretty well on those because we could get questions from our drivers," he said. "That really just progressed, so when we went back to the full meetings, we said, 'Let's keep that going and make it so our drivers that can't attend can attend through technology – and hear and see the speakers and ask questions in real time.'"
Departmental leaders are regularly featured during the meetings, giving drivers access to key decision-makers that they may otherwise never see.
"Just for example, maybe we have our leasing department talking about what's going on in leasing and they just have a few points they want to cover and then we open it up for questions," Field said. "'Are we going to get any Kenworths?' 'When are the new Petes coming in?' 'Can I lease more than one truck?' It's just those questions that if we were in-person they'd be raising their hands and asking, but now we've cast the net so wide that anyone that has the opportunity to log in when we start at 8 o'clock Central on Friday can ask a question."
Field emphasized that Prime's meetings are "extremely transparent," as evidenced by the fact that anyone with an internet connection can watch them. The company also posts minutes from each meeting on its website.
"It's unscripted. Sometimes they go a little sideways, but that's what makes them a better meeting. That's what makes us a better company – when someone does stand up and is legitimately mad about something. Let's hear it. It's not going to do any good to not listen," Field said. "If it's a tough question, we want it. If it's something we're doing wrong … that's good for us to hear.
"I think what takes us over the top is that probably out of the 52 weeks we have [the meetings] at least 45 of those weeks Robert Low, our founder and president, is at the meetings and he closes it out. I don't think there's many large trucking companies where the owner – the founder – stands up in front of his drivers and says 'what can I do to help you?'"
Field said the live-streamed meetings have also helped to cement the importance of drivers' role in the success of the company across all departments, because "if it's important enough for Robert to be there, I'd better be there, too."
A five-fold increase in driver participation
In the days since the meetings first kicked off more than a quarter-century ago, Prime's driver force has more than doubled, but attendance at in-person meetings, Field said, was generally about 50 people. Live streams, on average, reach about 250 drivers. Where the impact really compounds is via YouTube, where views of the recorded weekly meetings generally hover around 2,000 before the next meeting is posted, and countless views and shares via Facebook.
"Our challenge is to keep it interesting. To not be repetitive," Field said. "We really try to make it a give and take."
For viewers of the recorded session, Prime's social media team will follow up with answers to questions posted after the live broadcast has concluded, and often those questions are used to help drive topics for future driver meetings because, Field said, "it tells us which topics are the most interesting for our drivers."
The weekly meetings have also become a marketing tool, even if by accident.
"We've noticed that we're picking up a lot of non-Prime folks watching them, which we're fine with. We've got nothing to hide," Field said. "I think in a way it's a recruiting tool. People go, 'This company I'm driving for, they don't share anything with us and here they're doing this every Friday and taking questions and making the department heads available."
Original broadcasts started with a cell phone recording, but have since evolved with authentic production equipment and feeds are simulcast live to the company's Springfield, Missouri, headquarters and terminals in Salt Lake City and Pittston, Pennsylvania. "We can see them and they can see us," Field added. "When I think back to 25 years ago with me and cassette player trying to record, it's just incredible what's happened in a quarter century."
As pandemic restrictions eased and drivers could gather in-person again as of May, the online streaming component of the meetings remained and Field said it's a permanent fixture.
"It's here to stay. It's not going away," he said. "It just gives us another way to communicate with our drivers – two-way communication. It's part of our culture now. I think everyone in trucking talks about communication – how important it is – but we're doing a lot more than lip service with it here. When you're a long-haul fleet, like the majority of ours is, it's tough to see guys face to face, see women face to face. This kind of gives us that opportunity."
The CCJ Innovators program is brought to you by Comdata, Freightliner Trucks, Omnitracs and EOX Vantage.