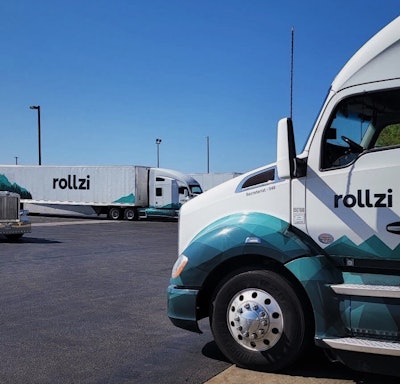 Rollzi
CCJ Innovators profiles carriers and fleets that have found innovative ways to overcome trucking's challenges. If you know a carrier that has displayed innovation, contact CCJ Chief Editor Jason Cannon at jasoncannon@randallreilly.com or 800-633-5953.
Driver one, starting in Oregon, will bring a Central California-bound load from Oregon to Northern California. A second driver arrives from Central California with an Oregon-bound load. The two drivers will swap trailers halfway and return to where they started so the loads can carry on to their final destination.
That's how truckload carrier Rollzi operates.
For the small Seattle-based carrier, the Interstate 5 corridor that runs the length of California and beyond to the Canadian border is a running track, and its drivers and trucks are the track team.
Boosted by its proprietary technology, its single-lane relay strategy allows multiple drivers to combine to deliver loads along the corridor across California, Oregon and Washington rather than a single driver traveling the full distance. This approach allows the company to increase utilization and drive more revenue per truck than a traditional carrier, while improving efficiency for shipping customers and offering better pay and quality of life for drivers, said Rollzi Co-founder and CEO Damien Hutchins.
"The strategy and the technology go hand in hand; you can't have the strategy without the tech, and the tech is not as valuable without the strategy," he said. "I get this question a lot where they ask, 'What tool would you buy to be a tech forward trucking company?' I think what's missing in that question is, 'What is the strategy you're going to marry to it?"
The company's approach focuses on one lane at a time.
It recently completed an $8 million funding round with near-term plans to expand its fleet, refine its relays and support hiring. Part of that includes extending its operations toward the East Coast, focusing on other specific lanes like Interstate 10 from Los Angeles to Atlanta.
Each lane has its own customers and dedicated trucks and drivers.
When a shipper hires Rollzi, the technology considers dozens of data points to model the most efficient relay to match the right driver, truck and trailer to each load. These data points can include live data from telematics, market inputs, service activity, driver location and hours of service, fuel prices, traffic data, weather data and more.
From there, each trip is broken into relay segments.
Relays ensure that Rollzi trucks are being used efficiently and that drivers are limiting wasted time.
For example, a driver that has a load going 1,000 miles south swaps trailers with a driver carrying a northbound load after 200 miles and turns around to return to their home terminal. At the home terminal, they park the truck for their required 10-hour break. Instead of the truck sitting for 10 hours, another driver that has just completed their break gets in that truck and completes the same 200 mile out-and-back trip, increasing the truck's utilization. This is replicated during the course of a load's journey to ensure trucks are being used efficiently and that loads keep moving.
"Maybe a driver that's local to LA and a driver that's local to Seattle meet in the middle; they can trade trailers, and that load can keep moving, eliminating some nights of sleep where that load is just sitting in the truck stop while the driver rests," Hutchins said. "It's great for drivers because they get to stay closer to home. They get a lot more predictability not only in their routes, but also in their personal lives. They know where they're going to be each day of the week as well as when they're going to be at home."
While the strategy benefits the carrier and its drivers, it also benefits shippers because Rollzi has more flexibility with high truck density. If a shipper has a hot load that needs to be moved immediately, the chances Rollzi has an available truck in the area are much higher. If a driver is delayed to their next pickup location, it's easier to send another driver in their place. And it also benefits shippers' relationships with their customers as the Rollzi model cuts down on transit time so freight arrives at its destination faster.
"Decision making across so many parameters at scale, considering the dynamic nature of trucking, has not been possible until recently," Hutchins said. "With our relay model we could rival the largest asset-based carriers with a fraction of the trucks. For us, it's all about how we can be more efficient and effective for our shipping customers and for our drivers."
"With our relay model we could rival the largest asset-based carriers with a fraction of the trucks. For us, it's all about how we can be more efficient and effective for our shipping customers and for our drivers." – Rollzi Co-founder and CEO Damien Hutchins
Hutchins said it does create complex dispatching logistics when it comes to switching a load multiple times throughout a shipment, but that's where the strategy benefits the technology.
It feeds the software a steady baseline of data because Rollzi trucks run up and down the same highway multiple times a week.
When Rollzi began developing the technology, Hutchins said the company took a different approach compared to most tech companies. He said Rollzi started with the operations piece, while most start by writing the code with an idea of what they want the end platform to look like and then fit the operations into it.
Throughout 2021, Rollzi began collecting data from its trucks – a lot via manual processes.
"At the beginning of 2022, that's when we said 'Okay, we have the bones; we have the right tools in place and the right data collection structure, so let's go ahead and build the platform to put all that data into our own data warehouse and start getting those insights," Hutchins said.
He said the company chose to develop its own technology because it wanted the flexibility to control the code in the future.
There also wasn't anything available on the market that could manage the complexity of Rollzi's system, which breaks a traditional load into four nodes (shipment, driver, truck and trailer, individually because they are interchangeable throughout the life of the load) while traditional carriers typically have one or two nodes.
"Our telematics system is a great Internet of Things company that has about 25 different API's that we can utilize for all different kinds of things, and rebuilding that ourselves probably doesn't make sense," Hutchins said. "But building the system that ingests that and then makes sense of it and takes action on that is really what made sense to us."
Starting the 'recommendation engine'
He said Rollzi built its software to gather numerous, specific data points from different areas: some public data like traffic, weather or fuel cost information; some industry data available via subscription like volume data by market or spot rates by market; and then internal data, from a driver's hours of service to something as granular as what the fuel level is at any point in time in a particular truck.
Here are a couple of examples of how the data and resulting recommendations from the system work:
Rollzi's model, which provides fairly standard fuel programming with a few additional data points, considers the fuel level of the truck and current and forecasted truck MPG. Because the trucks do not go off route, the only variable is which fueling stations along the route will be used – and price can be one factor. Sometimes the resulting recommendation from Rollzi's system is to top off fuel well before it's necessary so the driver can delay or avoid fueling the truck in an area that might be more expensive.
Another example is Rollzi's use of weather data.
"Foul weather typically means a delay, and our technology factors this into its recommendations," Hutchins said. "We handle all delays in a similar way in that the system will recommend rescheduled load handoffs. When optimizing for utilization, our technology aims to keep all tractors moving on either side of the event (wildfire, major accident, weather) until it has cleared. Loaded trailers that need to cross the impacted segment of the route can be held on either side at a hub – depending on location – until the event is over."
The drivers on those loads would then be redispatched to alternative pre-loaded trailers that can continue to move on their respective sides to keep those tractors moving.
The Rollzi platform – what Hutchins called a recommendation engine – connects the multitude of data to create the most efficient trips, pairing a load to the best driver, truck and trailer during each segment of the trip. This combination of data allows the company to tweak the relays for different optimizations.
"Maybe we want to optimize one week for revenue, or maybe we want to optimize for getting a specific driver to a specific destination maybe because of another load or maybe because they have a birthday party they need to get to at the end of their trip," Hutchins said. "So we have these different levers we can pull on for optimization."
Prior to launching Rollzi, Hutchins ran the brokerage operations team at digital brokerage Convoy. That's where he said he realized the need for further optimization that could reduce costs while driving revenue up and still satisfying shipper customers and drivers.
"I realized there are a lot of inefficiencies Convoy had already solved, but there were still more there," he said.
The same goes for Rollzi; Hutchins said the company will never be done developing its technology – continuously adding to its capabilities.
A load booking and dispatching revolution
Looking forward, he said Rollzi envisions a platform that will not only offer recommendations but one that will take action by booking that recommended load and automatically assigning the truck and trailer to a driver.
"The end goal is to get this really complex network to operate as autonomously as possible with little or no human interaction in the service of that load," Hutchins said.
That will result in cost savings, though he couldn't offer an estimated amount.
He said with the system handling a lot of the traditional planning, booking and dispatch duties once it becomes autonomous, the company can reduce back-office headcount. The technology will enable drivers to perform some of that back-office work instead.
He said he expects to see revenue per truck increase significantly as well.
"We think it'll depend on how far we can bring that utilization metric up; what I mean by that is all time is our denominator with rolling and loaded miles as the numerator. So how much of the time is the truck moving with the load?" he said. "I look at efficiency in terms of asset utilization, and what a lot of companies will say is, 'Hey, we're reducing empty miles.' I actually don't look at miles as a denominator. I look at all time as a denominator."
That includes the time a driver spends asleep in an idling truck that isn't being used and is incurring expenses. He said the relay strategy can eliminate some of those nights that an asset goes unused, increasing utilization.
Shippers schedule their loads with the assumption that drivers will be stopping every 11 hours for a 10-hour break.
"I thought if you could keep that truck going for all 24 hours or as close to 24 hours as possible, you'd really start to see a lot of efficiencies; you'd start to change the cost structure of the carrier," Hutchins said. "Some carriers have solved this by running teams or putting two people in the truck. That comes with its own limitations; drivers don't love it, and you still have the same driver problem that you have with a solo driver. You still have high turnover, and drivers are still away from home for a really long time."
Hutchins said Rollzi has about a 16% churn rate, which is far below the industry standard. In addition to the relay strategy, which allows for more home time, Rollzi pays drivers by the hour – as well as overtime – for all on-duty time, including fueling, waiting at facilities and during breakdowns. The company also provides late-model trucks with technology and amenities that Hutchins said helps drivers switch from truck to truck easily.
While many major trucking companies have dedicated lanes, they also have assigned trucks per driver. With Rollzi's relay model, Hutchins said he thinks the company will be able to rival some of those major carriers but with far fewer trucks.
"Having fewer trucks on the road to service the same number of shipments is good for the highways, and it solves some of the parking issues and some of the waste issues," Hutchins said.
Rollzi currently has 12 trucks and 12 drivers, including Hutchins. He said the company is onboarding 10 additional trucks right now and is adding drivers rapidly.
The CCJ Innovators program is brought to you by Comdata, Freightliner Trucks, Omnitracs and Valvoline.