Trucking news and briefs for Thursday, July 29, 2021: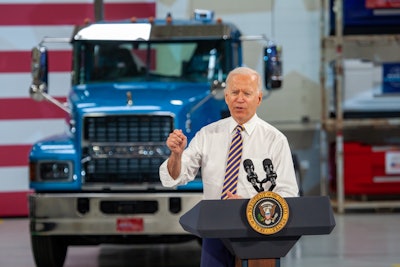 President Biden touts Buy America reform at Mack Trucks
President Joe Biden, on a tour of Mack Truck's Lehigh Valley Operations (LVO) truck plant Wednesday, revealed proposed changes to the Buy American Act that would increase U.S. content in the products the federal government buys, thereby supporting the domestic production of goods.
Mack Trucks President Martin Weissburg noted that this week marks the 121st anniversary of Mack Trucks, "and we are very pleased to celebrate this milestone with the President." The Volvo Group, which includes Mack Trucks, is the only heavy-duty truck manufacturing group to assemble all of its trucks exclusively in the U.S. for the U.S. market.
With $600 billion in annual procurement spending – almost half of which goes to manufactured products like trucks – the Federal government is the single largest purchaser of consumer goods in the world.
The Buy American statute currently requires for "substantially all" of a product bought with taxpayer dollars to be made in the U.S. Products currently qualify if just 55% of the value of their component parts were manufactured stateside. Wednesday's Notice of Proposed Rulemaking (NPRM), revealed by President Biden at Mack's Pennsylvania plant, would immediately increase the threshold to 60% and phase-in an increase to 75% by 2029.
The NPRM proposes applying enhanced price preferences to select critical products and components identified by the Critical Supply Chain review, mandated under E.O. 14017, and the pandemic supply chain strategy called for under E.O. 14001. These preferences, once in place, would support the development and expansion of domestic supply chains for critical products by providing a source of stable demand for domestically produced critical products.
The NPRM also proposes to establish a reporting requirement for critical products, requiring the disclosure of the total domestic content they contain. The new reporting requirement would bolster compliance with the Buy American Act and improve data on the actual U.S. content of goods purchased, President Biden said.
During Wednesday's visit, Biden met with employees, including those represented by United Auto Workers Local 677, and toured LVO, learning about Mack's assembly process, its supply chain, and Mack's commitment to battery-electric vehicles. Biden was able to see firsthand the Mack LR Electric battery-electric refuse vehicle, Mack's first fully electric Class 8 truck.
Mack emphasized to Biden the importance of robust funding investments in infrastructure for zero-emissions vehicles (ZEV), as well as for all types of transportation.
"We need these types of investments to support American manufacturing's competitiveness in the global economy and to prepare for innovative technologies like the Mack LR Electric," Weissburg said.
"President Biden's visit to Mack Trucks spotlights the importance of manufacturing and good-paying jobs to the U.S. economy, and we are pleased to have hosted him at our facility," said Gunnar Brunius, vice president and general manager of LVO.
Bipartisan infrastructure deal struck among senate negotiators
President Biden and a bipartisan group of Senate negotiators announced Wednesday they had reached an agreement on a $550 billion infrastructure investment deal, which includes $110 billion in new funds for roads, bridges and major projects.
In addition to the 20% of funds dedicated to roads and bridges, another $11 billion would be dedicated to highway safety, which, according to a White House fact sheet, includes truck safety – though no specifics are mentioned.
The American Trucking Associations lauded the effort by the Senators to get the deal done.
"It's refreshing to see Congress do its job and address national problems facing businesses and families," said ATA President and CEO Chris Spear. "Americans, and the hardworking men and women who carry this economy on trucks, have waited long enough for Washington to act on our decaying infrastructure. We cheer this bipartisan breakthrough and hope it helps elected officials find more areas where they can work together to actually get things done."
The deal would also invest $39 billion in public transit, $66 billion in freight and passenger rail, $7.5 billion in electric vehicle infrastructure, and more.
Wildfires prompt FMCSA to extend HOS waivers in three states
The emergency declarations previously issued by governors in Oregon, Idaho and Montana have been extended by the Federal Motor Carrier Safety Administration's Western Service Center. The extensions waive hours of service regulations for truck drivers hauling relief supplies related to the wildfires in the states.
The waivers apply to drivers providing the transportation of supplies; goods; equipment; fire retardants; and fuel for generators, equipment, vehicles and aircraft related to fire suppression activities, including aviation fuel.
As FMCSA recently clarified, truck drivers can continue operating under the waiver as long as they are providing direct assistance to the emergencies, which includes backhauls to other states to pick up more goods to bring to the affected states.
Following FMCSA's extension of the waivers, the declarations in Oregon, Idaho and Montana are now in effective through Sept. 30.
I-40 bridge in Memphis set to partially reopen
The Tennessee Department of Transportation announced Wednesday that the I-40 Hernando DeSoto Bridge over the Mississippi River will reopen to limited traffic while contractors finish the work.
Contractors will have completed all of the phase three plating by Friday, July 30, TDOT says, at which point crews will begin removing equipment and barriers.
As of July 28, the reopening plan is as follows:
Monday, Aug. 2 by 6 a.m. – All I-40 Eastbound lanes will open
Friday, Aug. 6 (time to be announced) – All I-40 Westbound lanes will open
The reopening schedule is barring any complications, and another update will be issued Friday, July 30.