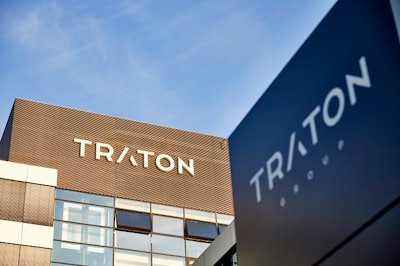 Trucking news and briefs for Thursday, July 1, 2021:
Regulators give final approval for Navistar, Traton merger
Navistar on Wednesday said it has received all regulatory approvals needed to proceed with a previously announced merger with Dusk Inc., a wholly owned indirect subsidiary of Traton SE. The closing date of the merger is expected to be on July 1, subject to the satisfaction of customary closing conditions.
Navistar, the manufacturer of International Trucks, and Traton, Volkswagen's commercial truck arm, in November entered into a merger agreement in which Traton would acquire all of the outstanding common shares of Navistar for $44.50 per share in cash. Traton previously held 16.7% of Navistar, which it acquired via a procurement joint venture and strategic technology and supply collaboration in 2016. Navistar stockholders approved the buyout deal at its annual meeting in March.
Traton CEO Matthias Gründler noted the closing of the buyout, which has been on the table in some form since January 2020, combines Traton's strong position in Europe and substantial presence in South America with Navistar's complementary footprint in North America, and form a global company.
Once the merger with Traton is complete, Navistar will be part of the Traton Group, and thus support Traton in its aim to become "a global champion of the transportation industry." Navistar will be delisted from the New York Stock Exchange and deregistered with the SEC this month.
"Over the past five years, Navistar and the Traton brands have worked very well together and it is exciting to become now part of the global Traton Group," said Navistar President and CEO Persio Lisboa. "Our common understanding of the future of transportation and our joint heritage create a very solid basis for our common way forward. The transport industry is changing rapidly. And together we will shape this change – for the sake of our customers. The Navistar team is ready for the next step of collaboration."
FMCSA finalizes driver training rule delay
The Federal Motor Carrier Safety Administration on Wednesday finalized a delay it announced last February to the Entry-Level Driver Training rule.
The final rule published Wednesday in the Federal Register finalizes an interim final rule published Feb. 4, 2020, that delayed the effective date of the ELDT rule from Feb 7, 2020, to Feb. 7, 2022. The agency says the delay "provides FMCSA additional time to complete development of the Training Provider Registry and provides State Driver Licensing Agencies time to modify their information technology systems and procedures, as necessary, to accommodate their receipt of driver-specific ELDT data from the TPR.
The agency notes in the final rule that, while it has provided some guidance to the public, it plans to publish further guidance as the new compliance date nears.
Required training in the rule – both classroom and behind-the-wheel driving – includes the basic operation of a vehicle, vehicle control systems and dashboard instruments, pre- and post-trip inspections, backing and docking, distracted driving, roadside inspections, hours of service, driver-whistleblower protections and procedures, and more.
The rule requires training to be completed by an FMCSA-approved provider from the Training Provider Registry established by the rule, which remains at this date a work in progress.
For fleets to provide training to entry-level drivers, they must be in the registry and comply with the rule's required curriculum.
Medical solutions company kicks off eCascadia test with Penske
Owens & Minor, a global healthcare solutions company, has kicked off a new pilot program that uses an electric semi-truck to deliver large-scale medical products and PPE to hospitals in Southern California. In collaboration with Penske Logistics and Penske Truck Leasing, the seven-month pilot program will use a heavy-duty battery electric Freightliner eCascadia from Daimler Trucks North America.
The electric Freightliner eCascadia runs five days per week along a 152-mile total route making stops at five hospital locations throughout Southern California.
In 2018, Penske Truck Leasing and Daimler Trucks North America announced a partnership to test commercial electric trucks from their Freightliner brand in real-world situations and drive future improvements to the technology. The venture is supported by the South Coast Air Quality Management District (South Coast AQMD), whose $16.8 million grant helped fund the program. South Coast AQMD focuses on improving air quality in large portions of Los Angeles, Orange County, Riverside and San Bernardino counties, including the Coachella Valley.
Mullen Group sets sights on U.S. with acquisition of QuadExpress
Mullen Group has acquired QuadExpress, the non asset based third party logistics provider business of Quad/Graphics, Inc., for $40 million, the company announced Wednesday.
One of Canada's largest logistics providers (including TL and LTL services) Mullen Group said the acquisition will allow the company to tap into the U.S. market.
"There is no doubt the U.S. market is key to the North American supply chain and we need to be there," said Murray K. Mullen, Chairman and Chief Executive Officer. "With this acquisition we gain immediate access to one of the largest markets in the world."
QuadExpress, headquartered in Naperville, Illinois, is a global, technology enabled, non-asset based 3PL service provider focused on freight brokerage services across multiple modes of transportation. As part of the acquisition, Mullen Group acquired SilverExpress, the proprietary transportation management system technology platform that QuadExpress uses to align customer shipments with transportation carriers. QuadExpress provides 3PL service to a diverse group of 1,700 North American customers utilizing over 6,000 transportation companies.