Trucking news and briefs for Tuesday, Oct. 19, 2021:
Amazon looking to fill 150,000 jobs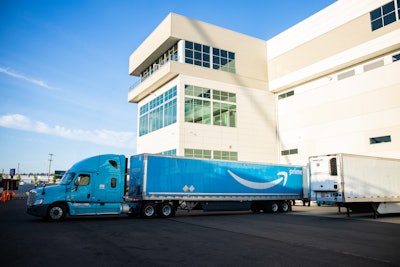 Amazon said Monday it is seeking to fill 150,000 seasonal jobs that are now available across the U.S.
Jobs in Amazon's operations network include stowing, picking, packing shipping and more. New hires will be fully trained and all facilities follow strict COVID-19 health and safety protocols, the company said.
States with the greatest number of seasonal roles include: Arizona, California, Colorado, Florida, Georgia, Illinois, Indiana, Maryland, Michigan, Minnesota, Nevada, New Jersey, New York, North Carolina, Ohio, Oregon, Pennsylvania, Tennessee, Texas, and Virginia.
All Amazon jobs in the U.S., including seasonal roles, have an average starting pay of $18 per hour, sign-on bonuses up to $3,000 and an additional $3 per hour depending on shifts in many locations.
XPO opens new LTL service center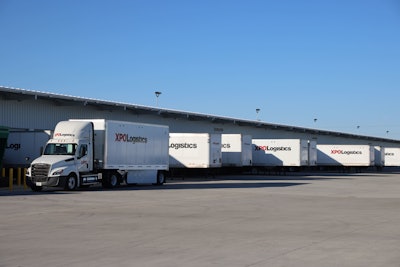 XPO Logistics (
CCJ
Top 250
, No. 6) christened its new state-of-the-art less-than-truckload (LTL) service center Sunday in Chicago Heights with a ribbon-cutting attended by state and local dignitaries. The 150,000-square-foot site includes 264 dock doors to accommodate high volumes and ongoing growth.
Mario Harik, acting president of XPO Logistics less-than-truckload said the strategic hub "will have a positive impact on customer service throughout our LTL network, as well as the Illinois economy."
The new facility is home to 200 employees including professional drivers, dockworkers, shop technicians, supervisors and customer sales representatives. Six drivers based at the site have driven more than two million miles accident-free, and an additional 19 drivers have driven more than one million miles accident-free.
AAA Cooper expanding into Missouri
AAA Cooper Transportation, a subsidiary of Knight-Swift Transportation Holdings (
No. 4
), is expanding its LTL capacity this fall with the opening of a St. Louis, Missouri, service center, connecting AAA Cooper's existing 15-state network with the largest metropolitan area in Missouri.
The company has long operated in the Chicago market, and the new St. Louis facility will extend the company's reach to an estimated 80% of the Illinois market. This expansion follows recent capacity additions and investments in the Dallas and Indianapolis Service Centers and is the first expansion since Knight-Swift acquired AAA Cooper in July.
With this expansion, the company, which services five states that share a border with Missouri - Illinois, Kentucky, Tennessee, Arkansas and Oklahoma, expands its service capacity for LTL and Dedicated Services in the Midwest.
St. Louis is home to one of the country's largest inland port operations by tonnage and one of the top railroad service hubs.
Ryder signs deal to partner with autonomous middle mile company
Ryder System (No. 14)
and autonomous middle mile logistics company
Gatik
have agreed to a multi-year partnership designed to establish
an autonomous logistics network for Gatik
customers nationwide.
Gatik's latest funding round totaling $85 million includes an investment from Ryder's corporate venture capital fund RyderVentures, which aims to invest in and partner with early-stage companies that are developing new technologies and business models that deliver advancements and automation in the logistics and transportation industries. The funding represents RyderVentures' first investment in an autonomous trucking company.
Through the broader partnership, Gatik will lease from Ryder a fleet of medium-duty, multi-temperature box trucks designed for transporting goods to retail locations from micro-fulfillment centers or dark stores (distribution centers that cater exclusively to e-commerce). Gatik will integrate its commercial-grade autonomous driving technology into the leased fleet, enabling Gatik to provide its Autonomous Delivery as a Service (ADaaS) model to its new and existing customers. In addition to providing the leased vehicles, Ryder will service and maintain the trucks, including calibration of autonomous vehicle sensors and the necessary pre- and post-trip inspections.
Going forward, Ryder and Gatik will explore opportunities for Ryder to manage the logistics operations of the autonomous fleet as well, allowing Gatik to focus on its unique, end-to-end ADaaS business model and manage long-standing relationships with its customer base.
Ryder last month announced it would partner with autonomous truck tech upstart Embark Trucks on the roll out a nationwide network of up to 100 Embark transfer points, where Ryder will provide yard operations, maintenance and fleet management to support a coast-to-coast autonomous network for Embark's fleet partners.