Trucking news and briefs for Wednesday, Oct. 26, 2022:
Saia LTL Freight opens new Indiana terminal
Saia (CCJ Top 250, No. 21) has opened of its new Saia LTL Freight terminal in Lafayette, Indiana – the fifth location for the carrier in the state, and the first terminal Saia has opened in Indiana since 2019 when it built one of its flagship facilities in Indianapolis.
"As we commence operations in Lafayette, Saia remains focused on providing great service. We continue to be excited about our expansion plans and offering existing customers direct service in new markets as well introducing our industry leading service to new customers," said Saia President and CEO Fritz Holzgrefe.
Situated between Indianapolis and Chicago, Lafayette is not only another important gateway to the Midwest, it is central to Saia's ongoing plans to expand its market opportunity and provide enhanced service to existing customers. Lafayette is a center of regional commerce with a diverse customer base in addition to having Purdue University nearby.
In 2022 alone, Saia has opened 11 new terminals across the country as it continues to invest in its operations with the purpose of offering shippers enhanced transit times and service.
J.B. Hunt driver hits 5 million safe miles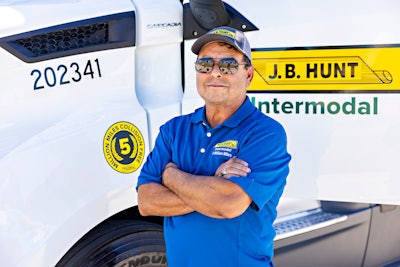 Tony Broussard, a J.B. Hunt (No. 3) Intermodal driver based in Haslet, Texas, recently became the second driver in company history to achieve five million safe driving miles.
Broussard, who started with the company in 1987, surpassed the career-defining milestone Oct. 21. As he pulled into the field office in Haslet to end the day, he was greeted with cheers from J.B. Hunt employees, company leadership and several family members, followed by a special ceremony highlighting his accomplishment.
He was part of the inaugural class of drivers in 1996 recognized for reaching one million-plus safe miles driven and participated in the company's first Million Mile Celebration in 2001. Tony will receive a $50,000 bonus for his achievement, bringing his career total in Million Mile safe driving bonuses to $125,000.
ATA honors Pennsylvania's Oyler with TAEC President's Leadership Award
Rebecca Oyler, president and CEO of the Pennsylvania Motor Truck Association, has been awarded ATA's Trucking Association Executives Council (TAEC) President's Leadership Award.
ATA President and CEO Chris Spear noted that when Oyler started at PMTC last year, the state was already moving forward with an initiative to fund the reconstruction of nine major bridges "via an aggressive tolling scheme," and took a leading role in opposing these tolls, both in the media and in the courts. This past summer a Pennsylvania court sided with the PMTA-led coalition and ruled that PennDOT failed to follow proper procedure in pursuing the bridge tolling initiative effectively killed the proposal.
Prior to joining PMTA, Oyler was legislative director for the National Federation of Independent Business, and had worked across a number of policy development, legislative advocacy, and project management roles in state government over roughly two decades.
TAEC is comprised of staff executives of state trucking associations and conferences affiliated with ATA. TAEC serves to promote the trucking industry; contribute to the improvement of the associations and organizations established to serve the industry; and advance the professional stature and capabilities of the managers and executives of such associations and conferences.
The President's TAEC Leadership Award was created in 2002 by ATA to honor a state trucking association leader and to create an enduring legacy for that leader and for the industry. The award comes with a $10,000 grant for trucking education or research cause chosen by Oyler.
In addition to Oyler, ATA honored a pair of state executives for their continued service to the industry: Rick Clasby, executive director of the Utah Trucking Association, for 10 years of service and Traci Nelson, president of the West Virginia Trucking Association, for five years of service.
Mike Card honored with Cathy Evans Highway to Victory Award
Past ATA Chairman Mike Card, president of Combined Transport Inc., of Central Point, Oregon, was awarded the federation's Cathy Evans Highway to Victory Award for his advocacy work on behalf of the trucking industry.
While serving as ATA Chairman from 2012-2013, Card was a driving force behind the creation of LEAD ATA, the Federation's leadership training program. He is currently chairman of the ATA Litigation Center and has also been a member of the American Transportation Research Institute's board of directors, chairman of the Oregon Trucking Association, a longtime and active support of TruckPAC.Named for longtime ATA lobbyist Cathy Evans, the Highway to Victory Award is presented annually to an ATA member who has made significant contributions to the Federation's advocacy efforts at the state and federal level.