Trucking news and briefs for Thursday, June 22, 2023:
NAPA Transportation drivers join Teamsters
NAPA Transportation (CCJ Top 250, No. 175) drivers in Richmond, Virginia, have voted to unionize, joining Teamsters Local 322 and become first group of workers at the company to join the Teamsters.
Founded in 1991 in Mechanicsburg, Pennsylvania, NAPA Transportation operates 445 trucks with nearly 400 drivers.
"This vote marks a significant milestone in the pursuit of fair treatment and representation for NAPA Transportation drivers. We are proud to welcome these new members to the Teamsters," said Local 322 President Brian Peyton. "Together, we will work tirelessly to negotiate a collective bargaining agreement that not only addresses our members' immediate concerns but also establishes a foundation for a better future."
Teamsters Local 322, the second-largest Teamsters local union in Virginia, represents over 1,600 members in various industries throughout Richmond, Virginia, and surrounding areas.
"By joining Local 322, we are standing together as a united force to bring positive change to our workplace," said Kevin Easley, a driver at NAPA Transportation. "I am confident that with the collective strength of the union, we can achieve the improvements we deserve."
ACT Trucking Index improved in May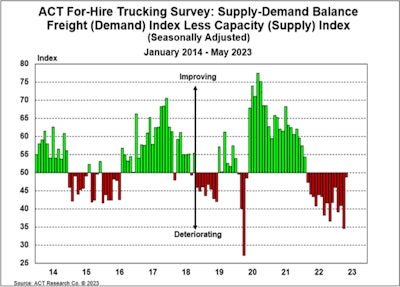 Freight volumes, rates, and supply-demand balance saw positive progress in May, according to the latest release of ACT's For-Hire Trucking Index.
The Trucking Volume Index jumped in May to 49.4 (seasonally adjusted) from 37.7 in April, as destocking began to slow. For context, destocking likely peaked recently, with March container imports down 30% year over year, versus April's decrease of 20% y/y and signs of further improvement in May.
"While demand remains soft, less destocking may be starting to add to freight available to haul," Tim Denoyer, Vice President & Senior Analyst at ACT Research. "Although volumes remain in a slight contraction, this large improvement in our fleet survey suggests we're in the later stages of the freight downturn."
The Pricing Index continues to contract but rose 5.1 points to 38.3 in May (SA) from the near record low of 33.2 in April.
The Capacity Index ticked down by 2.6 points m/m to 50.6 in April, still growing, but by very little. After 18 months of growth, ACT said capacity is quickly slowing, and some fleets are selling off older tractors or pausing hiring to manage capacity in the softer freight environment.
"Rates are beginning to stabilize, as marginal capacity continues to exit amid brutal conditions," Denoyer added. "Fleets are freezing hiring and selling equipment to manage utilization in this soft freight environment. Slowing capacity coupled with stabilizing volumes suggest, rates are likely near bottom, and the market is near balance, for now."
The Supply-Demand Balance showed a major rebalancing in May, improving to 48.8 (SA) from 34.6 in April.
"The large m/m increase in volumes was the primary factor, and the decrease in capacity also added to the more balanced, but still slightly loose reading," Denoyer said. "May marked the 15th consecutive underwater point in the series, but May's reading shows a cycle nearing a turning point."
FMCSA sets UCR fees for 2024
FMCSA announced in a Federal Register notice that will publish Thursday that it is reducing the fees for registration in the Unified Carrier Registration (UCR) Plan and Agreement for the 2024 registration year.
The fees for the 2024 registration year are approximately 9% less than fees for 2023, with varying reductions between $4 (for the smallest carriers) and $3,453, depending on the applicable fee bracket. The changes reduce the fees paid by motor carriers, brokers, freight forwarders, and leasing companies to the UCR Plan and the participating states.
The UCR Plan Board provides fee adjustment recommendations to the Secretary when revenue collections result in a shortfall or surplus from the amount authorized by statute. If there are excess funds after payments to the States and for administrative costs, they are retained in the UCR Plan's depository, and fees in subsequent fee years must be reduced.
The new fees for the 2024 registration year: