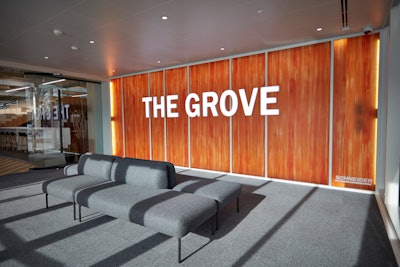 Schneider (CCJ Top 250, No. 9) on Wednesday opened a new 20,000 square-foot innovation center on the campus of its Green Bay, Wisconsin, headquarters.
A dedicated collaborative workspace for associates and customers, The Grove houses cutting edge technologies the company said will enable its teams to further drive innovation across the supply chain and logistics ecosystem.
"Our goal has always been to curate a space where we can sort of re-imagine and create the future of this industry. This building is a manifestation of our desires to continue to lead this industry in pragmatic innovation. That's what makes it so important," said Schneider Executive Vice President and Chief Innovation and Technology Officer Shaleen Devgun. "The Grove will play a crucial role in building the future. Our goal in opening The Grove is to provide access to state-of-the-art tools and spaces that spark creativity, fulfill our promise to always deliver and always be ahead, and lead to decades of innovative ideas and solutions across the industries we serve."
Devgun noted the building – which was born out of an idea in late 2018 – is flush with current technologies that allow teams to take ideas quickly into the prototype and testing phases.
"The ability to create something, rapidly destroy it to create something even better – that's what The Grove means to us," he said.
"I sincerely believe that we will define, here in Green Bay, the future of freight mobility, and The Grove is the first step in being able to set out on the journey," Devgun said, adding he expects The Grove to "make Green Bay the place you want to be if you want to work in freight tech and you want to work in freight. That's what The Grove does for us."
The company expects to hosts a variety of stakeholders at The Grove including associates, the community and industry allies. Customers will also have the opportunity to visit the space and co-create solutions to advance and improve business practices, allowing Scheduler, Degun said, to "forward integrate into [customers'] value chains."
"The Grove is an investment in breaking down barriers. It's where we will discover untapped potential and unearth solutions, which will drive our company and the larger industry forward," added Schneider President and CEO Mark Rourke. "We are thrilled to finally open our doors at The Grove, and we are excited about what this investment brings to our community. We are helping to put Green Bay on the map as an innovation hub for transportation and logistics."
The Grove also reflects best-in-class environmentally responsible building practices and has a minimal impact on the surrounding environment. In addition to being constructed from sustainable building materials, it features a geothermal heating and cooling system, solar technology, LED lighting, efficient plumbing fixtures, and glass windows that help regulate temperature.