Trucking news and briefs for Friday, May 19, 2023:
BP completes acquisition of TA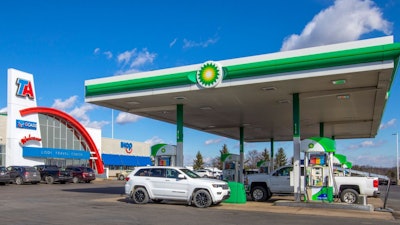 BP Products North America Inc., a wholly owned indirect subsidiary of BP p.l.c., completed its $1.3 billion acquisition of TravelCenters of America on Monday, May 15.
"We are thrilled to welcome the TravelCenters of America team to BP and give a turbo-boost to our convenience and mobility business in the U.S.," said Emma Delaney, executive vice president customers & products, BP. "Combining TA's sites on U.S. highways with our brilliant retail network off the highway immediately expands our offer and doubles our global convenience gross margin."
In February, BP announced it had agreed to acquire TA, subject to required approvals. Having received those approvals and with the transaction complete, TA's strategically located network of highway sites complements BP's existing predominantly off-highway convenience and mobility business in the U.S., enabling TA and BP to offer fleets and consumers a seamless nationwide service. With the close of the acquisition, TravelCenters of America common shares have been converted into the right to receive $86 per share.
[Related: BP acquiring TravelCenters of America for $1.3 billion]
Eagle Transport acquiring Georgia-based Bulk Carriers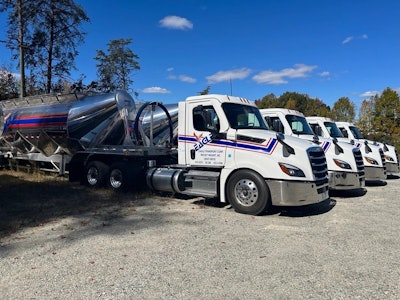 Petroleum and chemical hauler Eagle Transport Corporation (CCJ Top 250, No. 149) announced it is acquiring Dalton, Georgia-based Bulk Carriers. Since 1998, Bulk Carriers has provided quality dry bulk transportation services to a variety of regional industries.
Eagle Transport has continued to scale its company footprint, services and operational capabilities in recent years through a combination of strategic acquisitions and organic growth initiatives. Eagle continues to grow and deliver customer-focused transportation solutions within the petroleum, chemical and hazardous materials sectors.
"Bulk Carriers is a highly respected leader in the dry bulk logistics market, with a long reputation of service and safety," said Lance Collette, president & COO of Eagle Transport. "We are excited to welcome their team into the Eagle family. This acquisition supports our strategy of providing an even greater level of service to our growing list of dry bulk clients."
According to the Federal Motor Carrier Safety Administration's SAFER system, Bulk Carriers has 22 trucks and 22 drivers.
Kevin Brown, president of Bulk Carriers said his company is "excited to move into the next phase of high-quality customer service as we merge with Eagle Transport Corporation."
Roadrunner announces improved transit times across more lanes
Roadrunner (CCJ Top 250, No. 100) has announced improved transit times across its network in 149 major lanes, representing its fifth round of transit time improvements in just 21 months.
The enhancements encompass more than 14 million zip-to-zip combinations and involve 33 origin markets and 39 destination markets. Roadrunner accomplished this by continuing to invest in its "Smart Network" through team service and direct routing, as well as by leveraging a machine-learning algorithm to optimize its less-than-truckload network operations.
"We review data in real-time and seek out every opportunity to optimize our network," said Shari Leon, Vice President of Linehaul Operations for Roadrunner. "On average, we are providing one-day faster service in these 149 lanes when shipped on Wednesday, Thursday, or Friday. Our 'Weekend Plus' service is expedited service at LTL rates – it's an advantage that we can offer due to our direct routing over long distance."
To complement its existing service from Southern California to Denver, Roadrunner now offers service to Denver from Chicago, Cleveland, Detroit, Kenosha, Milwaukee and Philadelphia. The company also launched one-day service between Southern California and Chicago, if the freight is dispatched on Friday.
The Roadrunner team utilizes proprietary technology to optimize volume to build direct loads and eliminate rehandling, ensuring freight runs over the road (and rail free) via the most direct route possible with the least amount of handling.
Roadrunner has spent the last two years optimizing its network, building industry-leading technology tools, and assembling a diverse and talented team. It previously reduced transit times in 130 lanes by one to four days, which translated to over 12 million zip code combinations.
[Related: Roadrunner expanding to first new market in years]
MHC opens new leasing facility
MHC Truck Leasing (MHC) has opened a newly constructed facility in Tulsa, Oklahoma, to better serve its customers and employees.
MHC says the more than 11,000 sq.-ft., facility sits on five acres with three acres dedicated to parking. There are three pull-through service bays for up to six trucks, a wash bay and a full-service diesel/DEF fuel island. Additionally, MHC invested significantly in electric vehicle charging infrastructure at the facility.
"MHC Truck Leasing has been proudly serving the Tulsa community for nearly 30 years. As our customer base and teams have grown, it was clear that we needed to expand as well," said Regional Vice President Brian Hall. "This new, modern facility is unmatched by any other in this area and allows us to better accommodate growth and easier access to our services."
The facility is located directly off Interstate 44 on East Skelly Dr., making it easily accessible for tractor-trailers, MHC said. The gated property is also well-lit and secure.
As part of the 2022 PacLease North American Franchise of the Year, MHC Truck Leasing – Tulsa offers superior solutions for full-service leases, short- and long-term rentals and contract maintenance programs.