Trucking news and briefs for Thursday, July 20, 2023:
UPS to return to negotiating table with Teamsters
UPS (CCJ Top 250, No. 2) announced Wednesday it will be back at the negotiating table with the Teamsters union next week in another attempt to avert a strike.
"We are pleased to be back at the negotiating table next week to resolve the few remaining open issues," the company said in a statement. "We are prepared to increase our industry-leading pay and benefits, but need to work quickly to finalize a fair deal that provides certainty for our customers, our employees and businesses across the country."
UPS is locked in a battle with the International Brotherhood of Teamsters (IBT) over the renewal of a labor agreement that expires July 31. Teamsters represent more than 340,000 full- and part-time UPS workers and the union has made clear that its UPS members will not work beyond the expiration of the current contract. Union members have already authorized a strike.
UPS last week began training its non-union employees to "help them safely serve customers if there is a labor disruption."
[Related: UPS strike could 'fuel intense competition for any additional capacity']
Truck tonnage increased year over year in 2022
Trucks moved more than 11.4 billion tons of freight in 2022, generating more than $940 billion – both increases from the previous year, according to the latest edition of American Trucking Associations' American Trucking Trends 2023.
"While 2022 was a challenging year for trucking in many respects, the industry still posted growth in revenue, tonnage, employment and several other measures," said ATA Chief Economist Bob Costello. "In addition, by share of freight revenue and tonnage, trucking remained by far the dominant mode of transportation in the country."
Some findings from the report include:
Trucks moved 11.46 billion tons of freight -- up from 10.93 billion tons in 2021.
The industry collected 80.7% of the nation's freight bill, generating $940.8 billion, ATA found.
Trucking employed 8.4 million people in industry-related jobs, up 405,000 from the previous year, including 3.54 million professional truck drivers.
Women made up 8.1% of the nation's drivers – an all-time high and the seventh straight annual increase. This is contrary to a recent Women in Trucking report that found fewer women in commercial driving positions in 2022 than the prior year.
Trends also detailed the racial/ethnic background of drivers, with 18.3% of drivers identifying as Black, 4% as Asian and 23.3% as Hispanic or Latino.
Trucking remains a small business industry: 95.8% of fleets operate 10 or fewer trucks, and 99.7% operate 100 or fewer.
Trucks moved 61.9% of the value of surface trade between the U.S. and Canada and 83.5% of cross-border trade with Mexico, for a total of $947.92 billion worth of goods.
This year's expanded edition of Trends includes several new datasets and topics, including annual data about America's household goods movers, new chapters on the broader macroeconomy with a focus on drivers of freight volumes, and an overview of ATA's driver compensation data.
"As government and business leaders make choices that determine the trajectory of our economy, the data found in these pages can help drive those decisions – that's why Trends has a place on the most influential desks, providing actionable insights to elected officials, regulators, industry insiders, and economic analysts," said ATA President and CEO Chris Spear. "This is your guide to an industry that embodies the true meaning of essential."
Tonnage also up month over month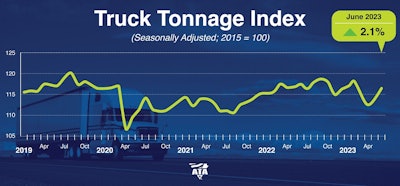 ATA also reported this week that its advanced seasonally adjusted (SA) For-Hire Truck Tonnage Index rose 2.1% in June after increasing 1.2% in May. In June, the index equaled 116.5 (2015=100) compared with 114.1 in May.
"While the tonnage index increased in both May and June, it remains in recession territory," said ATA Chief Economist Bob Costello. "The index continues to fall from a year earlier and is off 1.9% from its recent peak in September 2022."
Costello attributed the recession in freight to a number of factors, "including stagnant consumer spending on goods, lower home construction, falling factory output, and shippers consolidating freight into fewer shipments compared with the frenzy during the goods buying spree at the height of the pandemic. However, the magnitude of the year-over-year declines is improving, perhaps pointing to a bottom in the freight market."
Compared with June 2022, the SA index decreased 0.8%, which was the fourth straight year-over-year decrease. In May, the index was down 2.4% from a year earlier.
The not seasonally adjusted index, which represents the change in tonnage actually hauled by the fleets before any seasonal adjustment, equaled 120.8 in June, 1.8% above the May level (118.7). In calculating the index, 100 represents 2015. ATA's For-Hire Truck Tonnage Index is dominated by contract freight as opposed to spot market freight.
CountryWide Transportation acquired by entrepreneurs
Female entrepreneurs Denise Press and Marcy Robbins announced this week their recent acquisition of CountryWide Transportation, Inc., a logistics and transportation company established in 1985.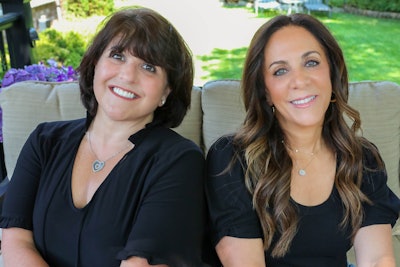 Recognized for their track record of success, Press and Robbins plan to lead CountryWide into a new era of growth and innovation. The company is widely regarded as a leader in providing comprehensive transportation solutions nationwide, with an established reputation for excellence, reliability, and customer satisfaction, the company said. By acquiring CountryWide, Press and Robbins aim to leverage their strengths and capitalize on new expansion opportunities.
"CountryWide has long been recognized for operational excellence and a commitment to customer service," Press said. "We are excited to build upon this foundation and take the company to new heights."
Robbins added that the pair is "confident that our combined expertise, resources, and industry insights will enable us to enhance CountryWide's offerings, improve operational efficiencies, and provide even greater value to our customers."
The acquisition aligns with Press and Robbins' broader vision to modernize the transportation sector through cutting-edge technologies, sustainability practices, and digital transformation while maintaining the level of service their customers are accustomed to.
Leveraging their extensive networks and fostering strategic partnerships, they aim to position CountryWide as an industry leader, driving innovation and customer-centric solutions.
Under the new leadership of Press (CEO) and Robbins (President), CountryWide will continue operating from its Hinsdale, Illinois, headquarters. They are committed to preserving existing relationships with clients, employees, and partners while fostering a culture of innovation, collaboration, and growth.