Trucking news and briefs for Thursday, Sept. 7, 2023:
Schneider names new executive VP, CFO
Schneider National (CCJ Top 250, No. 6) announced Darrell Campbell will join the company on Sept. 30 as Executive Vice President and Chief Financial Officer (CFO).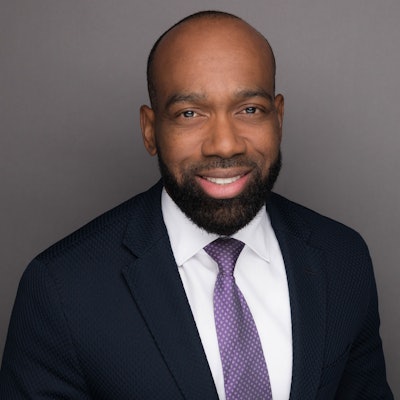 He will be responsible for the company's financial strategies, planning and reporting, as well as all finance operations and investor relations. Campbell will succeed Steve Bruffett, who announced his retirement earlier this year. Bruffett will remain with the company until the end of the year to ensure a smooth transition.
"Darrell is an excellent addition to the company and the executive team," Schneider President and Chief Executive Officer Mark Rourke said. "He brings a rich set of senior-level finance experiences spanning public accounting as well as the public and private company sectors. I also want to express my appreciation for Steve's contributions in helping steer the organization through our early years as a public company and for his commitment to stay on in support of a seamless transition. I wish him all the best in retirement."
Prior to joining Schneider, Campbell served as Group Vice President for JM Family Enterprises where he oversaw enterprise strategy, strategic planning, treasury and tax activities for this private enterprise with $18 billion in revenues.
Before working at JM Family Enterprises, Campbell served as CFO of Carnival Cruise Line of the Carnival Corporation & PLC, leading all finance functions, as well as sourcing, supply chain and risk management. Campbell also served as Corporate Treasurer of Carnival Corporation, managing global treasury and tax functions
Tyson adds autonomous box trucks in Arkansas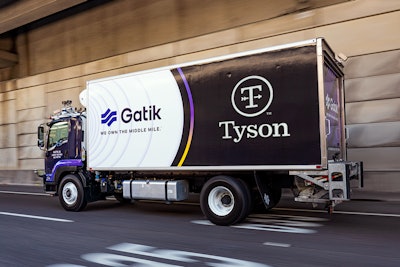 Tyson Foods and autonomous middle mile logistics firm Gatik AI have announced a multi-year collaboration to deploy autonomous refrigerated box trucks to bolster Tyson routes in Northwest Arkansas.
Operating 18 hours a day, trucks will deliver Tyson, Jimmy Dean and BallPark products, among others, to the company's distribution and storage facilities in the Rogers and Springdale, Arkansas, areas.
The deployment will introduce Gatik trucks equipped with commercial-grade autonomous technology to the Tyson supply chain, operating on predetermined short-haul, repeated routes to support fast and efficient product flow from plant to storage facilities. The companies said the autonomous trucks are an innovative and safe way to add resources that will allow the Tyson to elevate drivers to other transportation positions in the business, while ensuring continuous supply chain reliability.
The collaboration, which begins this week, will include multiple trucks with the potential for future expansion at other Tyson locations. The autonomous trucks are equipped with a 26-foot temperature-controlled box purpose-built to transport refrigerated and frozen goods.
A safety driver will initially be present in the cab to monitor the autonomous system and take command of operating the truck if required.
"At Tyson Foods, we are innovating and using automation throughout our business, including in transportation," said Patrick Simmons, vice president of transportation for Tyson Foods. "This partnership allows us to strategically place our drivers where they are needed most while still reliably and safely transporting protein from the plant to distribution centers."
Transition Trucking veteran rookie trucker semi-finalists named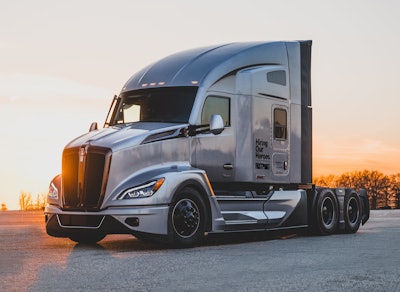 After a record number of nominations for the 2023 "Transition Trucking: Driving for Excellence" award, Kenworth, Fastport, and the U.S. Chamber of Commerce Foundation's Hiring Our Heroes initiative announced the semi-finalists for the ultimate prize: a Kenworth T680 Signature Edition truck.
Launched in 2016 as part of an overall plan to recognize the achievements of veterans transitioning into the transportation industry, this year's program semi-finalists represent each branch of the United States Military, including the National Guard and Reserve.
The semi-finalists for this year's award are:
Andre Matthews, U.S. Army, Melton Truck Lines
Anthony Nelson, U.S. Air Force, Roehl Transport
Brandon Meredith, U.S. Army, Slay Transport
Christian Slingerland, U.S. Army, Paschall Truck Lines
James Ferrante, U.S. Navy, Epes Transport System
James Smith, U.S. Army, Viking Electric
Jeffrey Pitts, U.S. Air Force and Air Force Reserve, NFI Industries
Jessica White, U.S. Army, Stevens Transport
Kareem Isaac, U.S. Army National Guard, Ryder
Joseph Harmon, U.S. Marine Corps, USA Truck/DB Schenker
Larry Todd Kraus, U.S. Army, Werner Enterprises
LaTravis Wilcox, U.S. Marine Corps, Prime Inc.
Ondrae Meyers, U.S. Marine Corps, CRST
Ryan Buttenob, U.S. Air Force, Schneider
Tameca Dale, U.S. Army Reserve, U.S. Army/Kingdom Message Carriers
Tobie Myers, U.S. Army and Army Reserve, Putnam Trucking
William "Bill" Masters, U.S. Air Force and Army National Guard, Veriha Trucking
In recognition of Kenworth's 100th anniversary, this year's award is the T680 Signature Edition truck, equipped with a 76-inch sleeper and the Paccar Powertrain featuring the Paccar MX-13 engine rated at 455 horsepower, Paccar TX-12 automated transmission and Paccar DX-40 tandem rear axles.
As part of the eighth annual award program, the semi-finalists will be honored throughout the month, and each will attend a ceremony at the National Veterans Memorial and Museum on Sept. 21 in Columbus, Ohio. The following day will include a tour of the Kenworth Chillicothe manufacturing plant and a ceremony at the MHC Road Ready Center, where semi-finalists will be recognized and finalists continuing in the program will be announced.
Those select finalists and the ultimate winner will be part of a greatly expanded veteran-focused week that includes a Veteran-Ready Summit on Dec. 15, the Transition Trucking: Driving for Excellence Award announcement on Dec. 16, Employment Support of the Guard and Reserve (ESGR) Statement of Support Signing Ceremony later that afternoon, and Wreaths Across America on Dec. 17.
A public vote will occur online from Nov. 1 until Veteran's Day. This voting is an important determiner for the award's Selection Committee, which makes the ultimate choice for the next Transition Trucking award winner.