Trucking news and briefs for Monday, Sept. 4, 2023:
TA names new CEO following BP acquisition
TravelCenters of America announced that Debi Boffa began her tenure as Chief Executive Officer Friday, Sept. 1.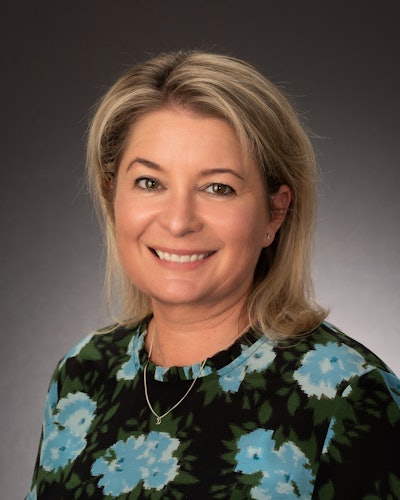 Boffa was appointed TA's CEO-Designate in May 2023 upon the acquisition of TA by BP. She succeeds Jonathan Pertchik, who served as TA CEO since 2019 and led the company through a period of transformative financial growth and positioned TA for the future of alternative fuels.
Boffa is a seasoned management executive, with over 25 years of experience with BP. She has worked across many sectors, including engineering, retail, sales, marketing and operations. Most recently, she served as President of both BP's Retail Operating Organization and Thorntons LLC, leading the integration of BP's ampm business with Thorntons while concurrently overseeing the operations of more than 1,200 convenience stores nationwide.
"Debi brings a wealth of experience in the retail convenience space with a proven ability to integrate businesses while driving growth," said Greg Franks, senior vice president, mobility & convenience Americas, BP. "TA has a national footprint that provides fuel and services for both professional drivers and passenger car guests while on the road. This network will be critical as we adapt to meet customer's evolving needs for electric vehicles, biofuels and hydrogen. Debi is a trusted leader, and I look forward to her leading TA into the future as part of BP."
BP closed on its acquisition of TA on May 15. Its more than 280 travel centers will keep the TA, Petro and TA Express brand names.
"I am excited to lead TA through its next chapter as a new member of the BP family of brands," said Boffa. "We have strong growth opportunities and I look forward to working with our team members to provide guests with the fuel, food, truck maintenance and other expert services they are accustomed to, while adapting to their changing needs and supporting them at every stage of their decarbonization journey."
[Related: BP completes $1.3B acquisition of TA]
Penske partners with Wawa to provide electric truck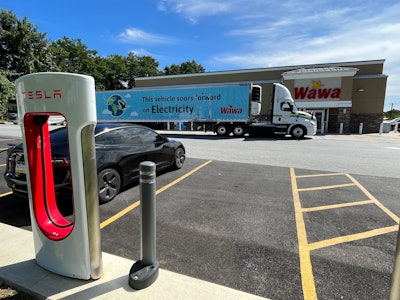 Penske Logistics has partnered with convenience store chain Wawa to provide the company with a battery-electric truck, as Wawa also opened its 150th location offering electric vehicle charging.
The Penske partnership will allow Wawa to operate a Freightliner eCascadia as part of a six-month pilot program. The truck will be the first battery-electric truck used in Wawa's history. The companies said they will "test and learn more about this emerging new technology to consider future application or expansion to its delivery fleet."
"It gives us great pride to cut a ribbon on our 150th store offering EV charging, faster than we anticipated, and to continue to grow the number of stores we have hosting EV charging," said Brian Schaller, President, Wawa. "We're also thrilled to spread our wings in the electric vehicle space by testing our first electric truck with Penske that will allow us to learn more about our continued efforts to have a positive impact on our EV journey."
Hino names new president, CEO
Hino Motors Manufacturing U.S.A. (HMM) has appointed Davey Jung to the position of President and CEO, and Chairman of the Board for HMM, effective Sept. 1.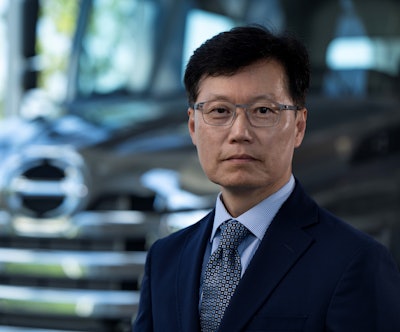 Jung succeeds Masamichi Mizukoshi, who retired from Hino. The company said it's thankful to Mizukoshi for his service and leadership of HMM.
Jung joined HMM in 2007 and led the effort to strengthen and grow HMM while serving across a spectrum of leadership roles including Purchasing, Sales, Corporate Strategy, R&D, HR, Legal, IT, and Supplier Preparation & Development.
His grasp of the industry, coupled with his strategic acumen, Hino said, uniquely positions him to guide HMM into the next phase of innovation and success. Most recently, Jung served as Chief Operating Officer and Executive Vice President for Toyota Business for HMM.
As President and CEO, Jung will focus on advancing manufacturing and supply chain efficiency while driving the company forward with continued success and innovation.
Simultaneously appointed to Chief Operating Officer was Masaki Hanayama. Most recently, within HMM, Hanayama served as Executive Vice President and oversaw the Truck Business, Production Management, and R&D.