Trucking news and briefs for Thursday, Aug. 10, 2023:
Nasdaq begins delisting process of Yellow stock
Yellow Corp. this week received notice that the Nasdaq Stock Market has commenced proceedings to delist the company's common stock due to its Chapter 11 bankruptcy filing Sunday.
The notification is a formality, and Yellow said Wednesday that does not intend to appeal the determination and, therefore, "it is expected that its common stock will be delisted, which would not affect any actions it may take in bankruptcy and does not change its reporting requirements under the rules of the Securities and Exchange Commission (SEC)," the company said in a Form 8-K filing with the SEC Wednesday.
Trading of Yellow common stock will be suspended by Nasdaq at the opening of business Aug. 16.
[Related: Union calls for workforce reforms post Yellow bankruptcy]
Peterbilt's new 589 available for order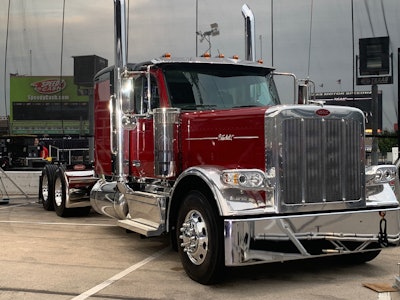 Peterbilt has announced its new Model 589 is now available for customer orders. The Model 589 was introduced in May and is the successor to the iconic Model 389.
"Anticipation for this truck is running high," said Jake Montero, Peterbilt assistant general manager -- sales & marketing. "Customers are eager to experience first-hand the premium features and unmistakable presence of the Model 589. The 589 will be the top choice for customers in this segment."
The 589 features classic Peterbilt styling, including a wrap-around aluminum grille crown, stainless steel grille, an aluminum hood with 121-inch or 131-inch BBC, dual stainless steel external air cleaners and pod-mounted headlights. It can be configured as a day cab or a sleeper in 44-inch, 58-inch, 72-inch or 80-inch options.
[Related: Peterbilt retiring its 389 for new, wider model]
The interior of the first 589 units produced of the Model 589s will be enhanced with an individually numbered commemorative plate installed on the passenger side dash.
A distinctive Legendary package is also available, which showcases Peterbilt heritage. It includes the original script logo from 1939, along with bright spears on the side of the hood, polished fenders and bright rocker panels.
"The Model 589 represents the essence of the Peterbilt brand in terms of styling and driver appeal," added Jason Skoog, Paccar vice president and Peterbilt general manager. "The enhanced comfort, technology and performance of the Model 589 will benefit owner-operators, as well as help our customers recruit and retain drivers. I look forward to seeing the Model 589 on the roads of North America."
Customers can place orders for the Model 589 through any of Peterbilt's 425-plus dealer locations in North America. Production begins January 2024 at Peterbilt's factory in Denton, Texas.
[Related: Watch: Test drive and walk around of Peterbilt's new Model 589]
Cox Automotive acquires Corcoran's Mobile Services
Cox Automotive announced Wednesday the acquisition of onsite fleet maintenance provider Corcoran's Mobile Services (CMS).
The acquisition expands Cox Automotive's nationwide fleet maintenance coverage, underscoring its continued commitment to safely servicing trucks and trailers, the company said.
"We thrive on delivering a seamless experience 24/7, powered by our more than 1,400 elite technicians ensuring customers' fleets keep moving," said Ted Coltrain, VP of Operations, Cox Automotive Mobility Fleet Services. "Our purchase of Corcoran's Mobile Services reinforces our promise to show up as the Trusted Partner for our customers."
Mobile maintenance for light-, medium- and heavy-duty trucks and trailers are a cornerstone of Cox Automotive Mobility Fleet Services. This includes 24/7 emergency repair and towing service. With the acquisition of CMS, which offers mobile services in 30 states, Cox adds to its mobile workforce of technicians.
"We're proud to join Cox Automotive Mobility Fleet Services," said Ron Corcoran, founder of Corcoran's Mobile Services. "Corcoran's Mobile Services has been a staple in the fleet maintenance industry for more than 35 years, and we look forward to continuing to provide maintenance excellence under Cox's leadership."