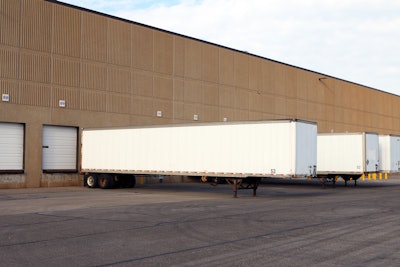 Net trailer orders for the U.S. reached 30,000 units in January, according to preliminary data released by FTR, a 34% drop from December but 83% higher than January 2020.
Trailer orders for the past 12 months total 313,000.
January trailer order activity met expectations, as most of the large fleets had already placed their 2021 requirements orders previously.
"Fleets are expecting 2021 to continue to be a great year for freight and have placed a hefty number of orders in the last five months," said Don Ake, FTR vice president of commercial vehicles. "Replacement demand is solid because carriers are profitable. Expansion demand is growing due to the capacity constraints that emerged after the economic startup. Orders should continue to ease down due to the lack of available build slots."
A couple of OEMs "are booked solid for dry vans," Ake said, for the rest of the year and have limited capacity to book additional orders.
Orders for refrigerated vans have been robust for the last four months, "so the pace here is moderating also," Ake said. "Orders for flatbeds have risen noticeably over the last two months and are expected to continue to improve in January.
The challenge currently facing trailer OEMs in the near-term is a raw material and component shortage.
"The good news about January orders is that flatbed orders continue to recover," Ake said. "This will allow OEMs to raise build rates through the first half of the year. Dump and tanker orders are also expected to show gains. This means the manufacturing and the industrial sectors are showing strength, and this should translate to lower unemployment and GDP support later in the year."