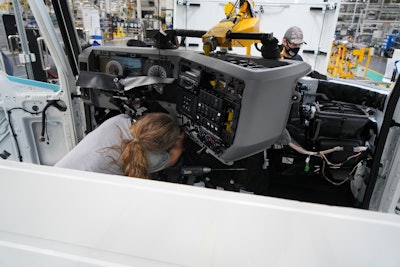 Heavy truck orders last month exceeded 40,000 units for the sixth consecutive month, despite supply headwinds that have already led to slowdowns in truck production. 
Net orders for March came in at 40,800 units, down 9% from the month before, but up more than 33,000 units over March 2020, which was crippled at the early onset of the pandemic. Class 8 orders now total 372,000 units for the past 12 months.
[Related: More truck OEMs feeling pangs of semiconductor shortage]
ACT Research President and Senior Analyst Kenny Vieth said every indicator used to track the heavy-duty truck market points to "extraordinarily strong demand conditions. So much so that sales volumes this year will be determined on the supply side – by the ability of the manufacturers to keep up with customer demand for product."
Many OEMs are already struggling to keep up with demand as a global shortage of semiconductors and supply limitations of various other components have crimped production plans for Volvo, Mack, Kenworth and Peterbilt to-date – woes that are unlikely to be fully resolved in the coming few months. 
"There is tremendous pent-up demand being generated due to the constrictions on supply. The pressure in the market is building, as orders continue to flow into OEMs at a record pace," said Don Ake, vice president of commercial vehicles for FTR. "To have this level of orders roll in for half a year is impressive and unprecedented."
According to a recent CCJ survey, just more than 11% of respondents bought more equipment in 2020 than in years prior, a holding pattern that nearly 77% percent expect to be only temporary. 
There are no clear indications of when the supply-chain issues will be resolved, Ake said, adding he expects computer chips to be in short supply for at least a few more months. "Worker shortages at key suppliers should get alleviated some by the vaccines," he added. "The backup at the ports will also take a few months to resolve."
[Related: Volvo, Mack join automakers feeling the squeeze from semiconductor shortage]
Even with supply chain challenges that Ake suggested could have the industry "playing catch-up well into the first half of next year," orders are expected to reach upwards of 250,000 units this year. 
"Barring an adverse surprise on COVID or some other front – a possibility that can't be dismissed – even at this early stage of the year," Vieth said, "significant growth from last year is assured."