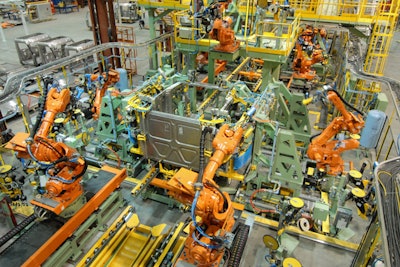 Trucking is hot and demand continues to rise for trucks, including those with zero emissions and crash avoidance technologies. A semiconductor shortage is a problem that continues to hinder manufacturing efforts, and the anemic supply also impacts the availability of aftermarket parts that experts say has also reduced vehicle repairs.
To help bring an end to the global chip shortage, engine and vehicle manufacturers have asked the Biden administration to focus more on addressing their needs for semiconductors. This would make it possible for them to step up and meet increased demand for commercial trucks, vans and engines at a time when freight levels continue to rise as the nation recovers from the COVID-19 pandemic.
In recent letters submitted to the U.S. Bureau of Industry and Security on the risks posed by the chip shortage, The Truck & Engine Manufacturers Association (EMA), Cummins and the American Automaker Policy Council jointly asked the Biden administration to concentrate on helping to keep the wheels of U.S. auto and engine manufacturing turning.
[Related: Trucking hits highest mark in over a year]
In a two-page letter, EMA points out how demand for medium and heavy-duty trucks continues to grow in a freight-heavy market that includes vital shipments of COVID-19 vaccines.
"We urge immediate action to alleviate the current semiconductor supply crisis that threatens the ability of the commercial trucking industry to deliver critical goods and services—and keep our economy moving—and long-term measures to ensure the global semiconductor supply chain can meet the medium- and heavy-heavy truck industry's future needs," EMA writes in a letter posted on regulations.gov.
Trucks with crash avoidance safety technologies and zero emissions "will require significantly more semiconductors," EMA points out.   
To help manufacturers meet growing demand for trucks and vans, EMA recommends "a prioritization of automotive grade semiconductors for medium- and heavy-duty truck components and aftermarket parts."
In a two-page letter, Cummins Vice-President of Government Relations Catherine Van Way goes a step further and suggests that the Biden administration "encourage other users of semiconductor wafers/chips that currently have excess supply or stockpiles to temporarily reduce orders to allow the automotive sector to obtain the chips necessary to avoid manufacturing slowdowns or complete shutdowns due to lack of semiconductor supplies."
[Related: Truck orders strong as manufacturers battle production slow downs]
Near the top of a 12-page letter, the AAPC, which represents Ford, GM and Stellantis (formerly FCA), asks the administration to help increase chip manufacturing in the U.S. AAPC President Matt Blunt points out that while semiconductor demand is greatest in the U.S., it only accounts for roughly 10% of global production while the remaining 90% occurs in China, Japan, South Korea and Taiwan.
"To avoid future shortages, AAPC therefore proposes that at least 25% of any federal funding for the construction of semiconductor wafer/chip production facilities must go to U.S. facilities that commit to allocating 25% of their capacity to producing automotive grade wafers/chips," Blunt writes.
On the topic of chip production, EMA notes that the Biden administration should include provisions to enhance domestic production of automotive grade semiconductor chips amid "a competitive global supply network."
Any increase in domestic chip production should consider the specific needs of the auto industry, suggests Way.
"We believe that any funds or incentives directed towards increasing domestic manufacturing of semiconductors must specify that a portion of the new capacity go the manufacture of legacy designs and larger format chips that can supply the automotive and commercial vehicle markets," Way writes.
Comments submitted to the Biden administration may help craft policy changes that could help end the chip shortage. Congress weighed in with a bill introduced in the House last summer dubbed the CHIPS for America ACT (H.R.7178). According to congress.gov, the bill "establishes investments and incentives to support U.S. semiconductor manufacturing, research and development, and supply chain security."
Blunt suggests that "U.S. taxpayer's investment made through the CHIPS for America Act (CHIPS ACT) be reserved for automotive applications. We believe that such an investment would help maximize the CHIPS Act impact on U.S. economic and jobs growth."