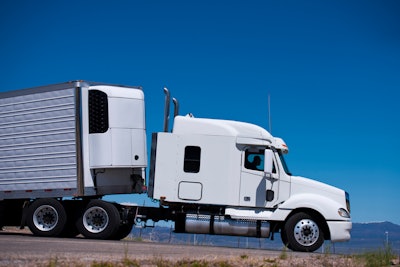 Data from Truckstop.com and FTR Transportation Intelligence for the week ending August 27 shows that the refrigerated segment posted its strongest weekly spot volume ever, surpassing a mid-February spike related to extreme winter weather.
Daily load data shows a surge in load volume on Friday, suggesting that much of the week's gain likely is tied to the impending landfall of Hurricane Ida on the central Gulf Coast over the weekend and early this week. Refrigerated load postings were roughly three times the five-year average volume for the week and about 73% above the same week last year. Historical patterns would suggest that the current week heading into Labor Day will represent a peak for refrigerated until just before Thanksgiving, but ongoing disruptions in the supply chain and consumer spending could keep at near-record levels.
The number of loads posted to the DAT load board network surged during the week ending August 28 as shippers anticipated the approach of Hurricane Ida in the South, wildfires in the West, a wave of imports, and a nationwide annual brake-inspection campaign. The number of van, refrigerated, and flatbed loads posted to the DAT network increased 10% while truck posts trucks fell 4.3% compared to the previous week. The national 7-day average spot line-haul van rate hit $2.44 per mile (line-haul rates do not include a fuel surcharge), up 7 cents week over week. The average reefer rate also jumped 7 cents to $2.80 per mile.
Total load volume continues to outpace seasonal expectations, even in flatbed, which, according to Truckstop.com and FTR, has shifted from declining volume to mostly stable volume in recent weeks. The spot market is not reflecting any notion that the recent rise in the Delta variant is hurting the freight market. However, as noted, stronger demand in the latest week potentially is linked – at least in part – to Hurricane Ida.
Hurricane Ida's forecast affected freight in and out of New Orleans last week, according to DAT. Inbound van volumes increased 5% week over week while outbound volumes jumped 19%. Outbound spot rates from New Orleans averaged $2.44 per mile excluding fuel, a 5-cent increase. The average spot rate for van loads on the 348-mile run from New Orleans to Houston rose 26 cents to an average of $2.65 per mile.
The increase in total spot rates in the latest week was not especially strong, but it is the first notable gain since late June. Rates technically did rise during the final week of July, but only by a tenth of a cent, according to Truckstop.com. Total rates are about 9% lower than the record level posted in May, but they are still 20% higher than the same 2020 week. Dry van rates are about 12% higher year over year, while flatbed rates are up about 21% and refrigerated about 24% higher.
With a solid gain in load volume, a decline in truck postings resulted in the Market Demand Index rising to 155.8, which is its highest level since early July. As was the case with volume, the refrigerated MDI was the strongest on record in the latest week, surpassing Week 7 of this year. The dry van MDI was not a record, but it was the strongest since Week 8. The flatbed MDI barely moved at a level that is very strong by historical standards but far below the mid-May record.
Load posting volume on Truckstop.com and Outbound Tender Rejections increased from last week, and both metrics remain elevated. Load volumes increased slightly week-over-week as normalization slowly continues. The daily high point for last week was 1,067,000 and there were three days of over one million loads posted (Normal load volumes are 400,000 per day.)
Outbound Tender Rejections increased again week-over-week to 22.48 from 21.56 – still significantly elevated against a market normal of 5%.
Capacity remained constrained at 37.28 week-over-week. The 5-year average is 93.89
Rates increased 4 cents to $2.95 per mile. Rates have spent 50 weeks above $2.40, and the 5 year average is $2.11. Van rates increased 8 cents to $2.74 and reefer increased 2 cents to $3.35, while flatbed remained flat at $2.90.
Reflecting strong demand, the national average van load-to-truck ratio increased from 6.4 to 7.5 last week, meaning there were 7.5 available van loads for every van posted on the DAT network. The reefer ratio was 16.3, up from 14.2 the previous week.
For-Hire Trucking Index shows uptick in volume, pricing stabilization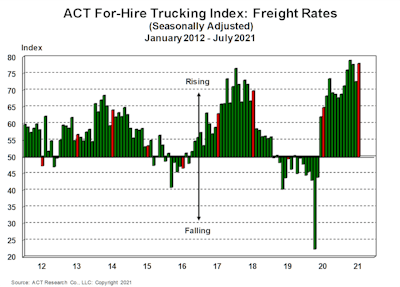 The latest release of ACT Research's For-Hire Trucking Index, which includes July data, reflect an uptick in volumes and pricing moderation, with a still-strong supply-demand balance.
ACT Research Vice President and Senior Analyst Tim Denoyer noted the re-acceleration in truck volume is consistent with strong demand for inventory restocking ahead of the holidays, along with network congestion on the railroads. "With tight inventories, strong U.S. consumer balance sheets, improving capex, and infrastructure stimulus in the pipeline, the fundamentals of the freight cycle remain clearly positive," he said.
As volume growth reaccelerated, ACT's For-Hire Pricing Index increased, making July's reading the second best since the survey's inception in June of 2009, Denoyer added. "With the driver market still tight, new equipment production still challenged and demand still strong, the recipe is right for record rate increases," he said. "However, driver hiring has begun to improve since the extended unemployment curtailments started in June, and response to higher driver pay rates should lead to more gradual progress."
July's 67.6 reading reflects tightness in the current freight environment, with capacity remaining constrained and the increase from June primarily due to higher volumes, Denoyer said, adding that Class 8 retail sales – which are constrained by tight inventories and unmet production demand due to parts shortages – means "equipment capacity is behind demand. With some structural driver issues likely to outlast the pandemic and a positive freight demand outlook, we do not expect the market balance to move quickly," he said.