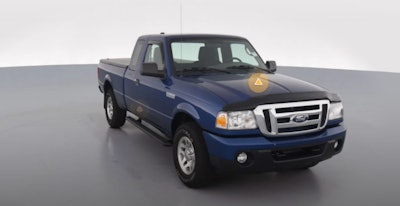 Carvana
I got a surprising text message last night that really made me smile. My teen daughter, who's currently shopping for a used car along with her teen brother, sent me a picture of a restored 1965 Mercury Comet that's currently up for sale.
Hannah loves classic cars—not that the Comet is a big headliner at Mecum's and Barrett-Jackson's—she was just excited to find a great example of my first car and thought I'd appreciate taking a look. She was right.
Putting the $24,000 price tag aside, what really dawned on me is that this car, in its original state, has no microchips. I'd bet that most, if not all, of the parts used to build it were sourced in the U.S.
Outsourcing is a controversial topic, particularly now as the level of scarcity for one of the most important parts in a vehicle, the microchip, has idled vehicle production and sent used vehicle prices soaring.
A recent story posted by CCJ Chief Editor Jason Canon bears a headline that probably left you shaking your head like me: Used truck prices at post-Recession high with appreciation climbing.
Of course, it's not just Class 8 truck prices that warrant concern—it's every vehicle class as auto journalist Joel Feder at Internet Brands Automotive reminded this week after commenting on a 142,000-mile 1994 Toyota Landcruiser that sold for $78,777 on Bring-a-Trailer.
"What world are we living in?" Feder Tweeted.
So true. As I guide my two young drivers through various websites for an ultra rare bargain, it's not uncommon to find me with mouth agape and uttering much to my kids dismay, "Does everybody think they're selling gold?" My jaw's still on the floor after coming across 2011 Ford Rangers selling for over $20K.
But my kids are resourceful. As they pan through pages of used vehicles looking at mileage, accident histories, etc., etc., they'll occasionally come running to me with a nugget or two—or at least what they believe could be a 24 karat find.
A lot of it is fool's gold, but they're learning so much in the interim about stacking up their humble budgets against the best possible used vehicle they can find during one of the most strained auto markets in history.
How strained? The Biden administration is now threatening to invoke the Defense Production Act to force manufacturers to hand over data regarding how they've been using semiconductors so that the administration might intervene to introduce a more equitable approach to the chip feeding frenzy.
Much like the toilet paper hoarding craze that swept across the U.S. at the start of the pandemic last year, some manufacturers are being accused of chip hoarding, Commerce Secretary Gina Raimondo told Bloomberg this week. The result? Chip suppliers in Asia reportedly strained by COVID shutdowns are telling Raimondo that because of this alleged hoarding they can't accurately determine how many chips manufacturers truly need to overcome production bottlenecks.
Manufacturers, on the other hand, are complaining that chip suppliers are not completely fulfilling orders as promised. Further stress comes from a 4% price hike on chips that ACT Research reported Tuesday.
In a controversial attempt to get a better grip on the semiconductor crunch, Raimondo is giving companies 45 days to voluntarily provide data on their chip supplies versus their actual production needs. That's the kind of information that companies typically keep close to the vest in a very competitive market and is akin to having Uncle Sam poke around in your closet, attic and the trunk of your '65 Comet for stashes of toilet paper.
If companies don't respond, Raimondo said she could turn to the Defense Production Act to get the information she's after.
"What I told them is, 'I don't want to have to do anything compulsory but if they don't comply, then they'll leave me no choice,'" Raimondo told Bloomberg. "I said today we're evaluating all of our options right now, all the tools. I hope not to go there but we need to see some progress and we definitely need compliance."
With the crisis actually being a chip shortage brought on various factors, including a woeful imbalance of outsourcing as it relates to critical components, I'm not so sure that having a chip czar will make much difference.
If anything, crises like these prompt companies to become even more resourceful, much like my kids searching for that prized first car where a constrained market is further hampered by a constrained budget.
Speaking of which, Hannah landed on a 1965 Mercury Monterey last night that she absolutely adores. Priced at roughly $6,000, the big red boat is a time capsule of sorts that got me thinking about those American relics that the very resourceful and tragically oppressed Cuban people have kept running for generations.
Hannah and others in the U.S. still have more options at their fingertips but with some forecasters pointing to longer chip production shortages than originally anticipated, those options will continue to be snatched up fast.