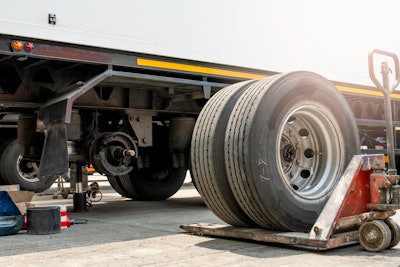 Yokohama announced a price hike today amid surging costs for freight, operations and raw materials. The news comes as industry insiders warn of "no relief in sight" at the nation's ports where unprecedented price jumps in container costs and congestion continues to cause concerns.
For the second time in roughly three months, Yokohama announced another price increase for an increasingly strained trucking industry that's grappling with labor shortages while watching prices rise for trucks and components that are in increasingly short supply.
"In response to the unparalleled rise of freight and operational costs, as well as the continued increase in the cost of raw materials, Yokohama Tire Corporation announced it will implement a price increase on its consumer replacement tires and commercial truck tires sold in the U.S., effective November 1," a company statement reads.
Yokohama issued a similar statement in early July for a price hike that took place August 1.
[Related: Used truck prices at post-Recession high with appreciation climbing]
Rising prices comes as no surprise for industry experts familiar with unprecedented challenges at the ports. While the historically tight, and expensive, market for moving freight across land regularly makes headlines in the trucking community, the situation at ports and at sea threatens to send tidal waves through prices for businesses and consumers alike.
The rules in the import game have changed, an administrator with a major trucking supply company recently told Commercial Carrier Journal on condition of anonymity. This means no more COD payments for imported containers and no more guarantees of getting a spot on a freighter. The source has seen an 445% uptick in import container costs, which will be passed along to customers. The equipment his company imports is used by trucking companies throughout the U.S.
"The only way the forwarder says they can get space on the ship is to prepay, and the prepaid rate right now they're quoting me is about $30,000," the administrator said. "That same container 10, 11, 12 months ago was about $5,500."
[Related: Looming vaccine mandate, port backlog on collision course with holiday shopping crush]
With demand soaring for new and used trucks, companies that support that equipment with products like spare parts, radios, ELDs, tires and floor mats have little choice but to pony up and pay historically high container prices.
"Personally, I don't see any relief in sight and there are rumors that maybe even a number of $40,000 per container is on the table," said Siegfried Adam Jr., director of business development at Peter Wittwer North America, a customs house broker in Largo, Florida.
"There's no global governing body that would put the kibosh on this," Adam continued. "There is nobody that says, 'Okay. This is enough.'"
Adam said some of his customers in the parts business have been feeling the pinch.
"We have quite a few customers [importing] aftermarket parts for heavy earth-moving machinery like dozers and excavators," Adam said. "These containers that we bring in have an average value of $45,000. So all of a sudden 60% to 75% of that is your logistics costs. And, you know, these price increases have to be handed down to everybody."