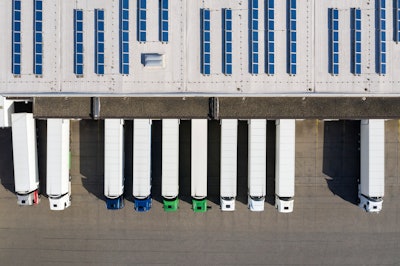 Data from Truckstop.com and FTR Transportation Intelligence for the week ending October 29 showed spot market strength for truck freight during a time of year when it usually is flat. From 2015-2019, rates on average fall during that week of October.
Total spot rates including fuel were up 5 cents – the largest gain since the week before Labor Day. Only once before during that period have rates increased week-over-week. Spot rates were 21% higher than the same week last year, mostly due to diesel prices, which are more than $1.30 a gallon higher than they were during the same period last year. Excluding fuel surcharges, spot rates were about 13% higher year-over-year.
The 1.8% increase in total load postings on Truckstop.com also was stronger than seasonal expectations, which is a decline of 1.5%. Total volume is about 28% higher than the same 2020 week. Given ongoing supply chain disruptions and the need to bolster retail inventories as the holidays approach, Truckstop.com and FTR noted they would expect volume in the van markets, at least, to remain robust even if those disruptions lead to some week-to-week volatility.
The number of loads posted to the DAT load board network jumped 15% during the week ending Oct. 31, while truck posts were almost unchanged.
Truck capacity in the system has been volatile in the past couple of weeks, but truck postings to Truckstop.com in the latest week were down about 5% from two weeks earlier. The Market Demand Index – the ratio of loads to trucks in the Truckstop.com system – rose to 136.4, which is just slightly below its level three weeks ago. Daily high point for load volume last week was 1,026,000 and two days saw a million loads posted in 24 hour period (Truckstop.com normal load volumes are 400,000 per day). Capacity remained constrained at 41.38 week-over-week, against a five-year average of 95.38.
The number of available dry van loads on the DAT network increased 16% last week and was 34% higher compared to the same period in 2020. The national average van load-to-truck ratio was 6.0, up from 5.1 the previous week. Spot reefer volume increased 17% and the reefer load-to-truck ratio rose from 10.8 to 12.6. Flatbed volume increased 12%, bucking a seasonal trend of gradual declines. The flatbed load-to-truck ratio was 47.8, up from 42.6 the previous week.
Truckstop.com rates increased 5 cents to $2.92 per mile. Van rates increased 8 cents to $2.82. Flatbed was up 4 cents to $2.87 and reefer jumped 2 cents to $3.22. Outbound tender rejections dipped to 19.98 from 20.53 the week before but remains elevated against a market normal of 5%. Rejections have been around 20% since July.
The 7-day national average line-haul rate for van freight increased 3 cents to $2.48 per mile, according to DAT (line-haul rates exclude fuel surcharges). Flatbed freight averaged $2.58 a mile, unchanged from the previous week. Reefer freight averaged $2.84 a mile, an all-time high, although the average line-haul rate has been in the $2.80 to $2.84 range for nine straight weeks.
Load-post volume jumped 14% week-over-week in the combined Los Angeles and Ontario markets, where capacity remained tight, according to DAT. The van rate out of Los Angles averaged $3.41 a mile while Los Angeles to Stockton set another weekly high at $4.34, excluding fuel. Reefer freight from Los Angeles to Las Vegas averaged more than $6 a mile excluding fuel. In McAllen, Texas, the number of available loads was up 30% last week on the strength of produce imports. The average outbound spot line-haul rate was up 15 cents to $2.55 per mile, with McAllen to Hunts Points, N.Y., gaining 5 cents to an average of $3.19 a mile. With Thanksgiving less than a month away, volume is on the rise from turkey-producing states including North Carolina, Minnesota, Arkansas, Missouri and Indiana. Reefer rates out of St. Cloud, Minnesota are up 23 cents to an average of $3.90 a mile, with peak volumes likely next week.