Trucking news and briefs for Thursday, Oct. 21, 2021:
Transervice launches new LTL service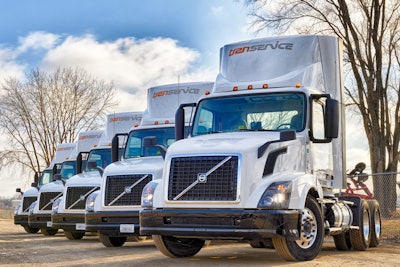 Transervice Integrated Solutions (TIS) has launched a less-than-truckload (LTL) division to support shippers across North America.
TIS was formed in 2015 through the acquisition of Logistadvise Inc., a logistics software company founded by Eric Spearin and Lionel Bao, and its new LTL division complements the existing full truckload service while rounding out the company's freight management offering. The company's proprietary transportation management system, ShipTIS, emphasizes automation and complete data visibility for shippers.
Spearin said TIS customers have been leveraging the company's dedicated fleet capacity on a full truckload basis, "but we continued to hear the requests for a true LTL solution. In addition to adding a dedicated LTL team, we also have integrated an LTL portal into ShipTIS where customers can book, quote and track their own LTL shipments."
Delivering both 3PL and 4PL logistics solutions, TIS has leveraged its purchasing power by contracting with both premium and economic carriers on a national, regional and local level – a vast network the company says will create cost-saving opportunities for customers and ensure the right carrier is assigned for every shipment's unique requirements.
TravelCenters of America unveils site upgrade plans, new travel center design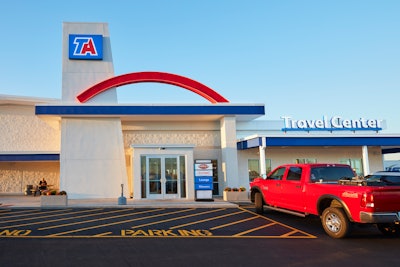 TravelCenters of America unveiled Wednesday its nationwide site upgrade plan and new travel center design concepts at the grand re-opening of the TA in Seymour, Indiana. The site upgrade and grand re-opening is among the first of more than 100 travel center refresh projects expected to be completed during the next 18 months. TA also announced the launch of "The Kitchen," a new fast casual dining experience to be rolled out at select locations nationwide.
The Seymour travel center is a remodeled site that showcases TA's new design plans featuring renovated restrooms, upgraded showers, comfortable driver lounges and repaved parking lots. New lighting fixtures, new flooring and paint add cosmetic elements and improved signage and new store flow creates an easy-to-navigate travel center experience.
TA is also introducing "The Kitchen," a dining experience offering Fresh Food Fast, at its Seymour travel center and expects to introduce this concept to select locations across its network. At "The Kitchen," guests can receive freshly prepared food for sit down dining in a fast casual environment, as well as packaged meals and snacks for grab and go. TA is focused on providing a food variety with well-balanced and healthy options, regional inspiration and trending flavors that appeal to both professional drivers and motorists. TA is also implementing state-of-the-art hot and cold beverage technology that offers bean-to-cup coffee, iced coffee, frozen beverages and sodas. New standalone heated and refrigerated displays will offer guests a more seamless shopping experience.
Hino delivers first Cummins-powered L Series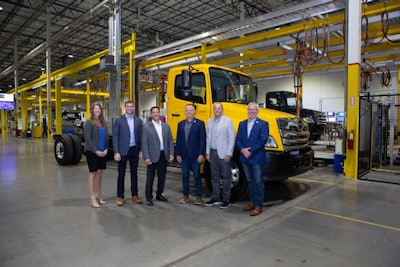 Hino announced earlier this year
intent to produce medium- and heavy-duty trucks with Cummins engines
for sale in North America by the end of 2021 and has
delivered it's first unit to Penske Truck Leasing.
The truck delivered is a model year 2022 L Series, powered with a Cummins B6.7 engine and is part of Hino's line-up of Class 6 & 7 conventional trucks. Hino's L Series also has an entire suite of safety systems including Electronic Stability Control (ESC), Collision Mitigation System (CMS) Lane Departure Warning (LDW), Active Cruise Control (ACC) and a driver's seatbelt sensor to protect customers mile after mile.
United Road guarantees pay for all drivers
United Road, the largest provider of finished vehicle transport logistics in North America, is expanding its Guaranteed Pay Benefit to all company drivers, including first year, tenured and rehires.
For drivers in their first year Guaranteed Pay is $2,300 per pay period which over the course of a year equates to a pay of at least $60,000. Tenured drivers, those with one year-plus of employment, will earn a minimum of $2,500 per pay period, at least $65,000 annually. Typically, United Road company drivers earn well-above these thresholds with the top quartile of tenured drivers earning an average of over $100,000 annually.
To qualify for Guaranteed Pay a driver must be an active employee and operate a seven-car hauler or larger truck; be available for and accept all assigned work within a current two-week pay period; and work a minimum of 100 hours during a pay period.
"We piloted the benefit earlier this year with first year drivers and saw a dramatic increase in driver satisfaction and retention," said Mark Anderson, president and CEO of United Road. "It was a natural to take this pay stabilization benefit company-wide with our tenured and returning drivers."
TCA opens Fleet Safety Awards entry period
The Truckload Carriers Association is now accepting nominations for its annual Fleet Safety Awards contest, which recognizes fleets based on their accident ratios in a given year.
Carriers placing first, second and third in each of six mileage-based divisions are honored.
Division winners are subject to an audit for ratio accuracy and invited to compete for one of two grand prizes. Fleets with annual mileage of 25 million or fewer miles vie for one, while companies with more than 25 million miles compete for the other.
The grand prize winners are announced each year at TCA's Annual Convention. Applications for the awards will be accepted through Nov. 1.