Trucking news and briefs for Wednesday, May 18, 2022:
Trucking conditions turn negative for first time in two years
FTR's Trucking Conditions Index (TCI) for March was negative for the first time since May 2020, plunging to a reading of -7.38 from February's positive 12.06 reading.
As expected, surging diesel prices in March primarily caused the index's fall, but a weaker positive contribution from freight rates also was a factor.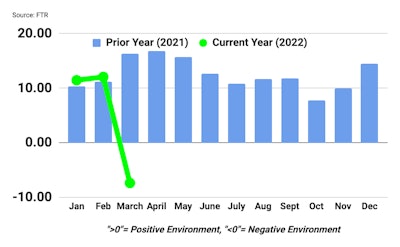 Although the outlook for trucking conditions generally is for modestly positive conditions, uncertainty is rising in several key areas, including fuel costs, capacity utilization and rates. "Given the unprecedented surge in diesel prices during early March, a negative reading for the Trucking Conditions Index was hardly surprising," said Avery Vise, FTR's vice president of trucking. "Fuel costs apparently will represent a big negative factor for May as well."
Vise added that while the conditions for carriers have fallen, it's not necessarily all bad.
"A stronger supply of drivers is enabling a shift of activity back to the contract environment from spot, but overall freight volume so far has remained strong," he said. "Consumer spending is still robust even when adjusted for inflation, and industrial activity is growing."
Vise said the pandemic-related lockdowns in China and the fate of small carriers seeing weaker spot rates and rising fuel costs are the biggest uncertainties in the near-term. A flood of drivers who started their own trucking businesses back to being company drivers "might accelerate a market normalization, although equipment availability could limit a downside on utilization and rates," Vise concluded.
Diesel prices see slight decrease
Diesel fuel prices across the United States leveled off during the week ending May 16 after two weeks of significant increases, according to the Department of Energy's Energy Information Administration.
According to EIA, diesel's national average dropped by 1 cent to $5.61 per gallon. The decrease was spurred by a 4-cent drop in prices in the Midwest, a 4.4-cent decrease in the Gulf Coast region and a nine-tenths of a cent decrease in the West Coast less California region.
All other regions saw increases during the week, with the most significant being seen in New England, where prices increased by 9.2 cents.
The nation's most expensive diesel can be found in California at $6.48 per gallon, followed by New England at $6.43 per gallon.
The cheapest fuel can be found in the Gulf Coast region at $5.30 per gallon, followed by the Midwest region at $5.34.
Prices in other regions, according to EIA, are:
Central Atlantic -- $6.36
Lower Atlantic -- $5.61
Rocky Mountain -- $5.47
West Coast less California -- $5.62
ProMiles' numbers during the week ending May 16 saw fuel prices increase by 5.8 cents, bringing its national average to $5.49 per gallon.
According to ProMiles' Fuel Surcharge Index, the most expensive diesel can be found in California at $6.42 per gallon, and the cheapest can be found in the Gulf Coast region at $5.27 per gallon.
Used truck sales tumbled in April
Preliminary used Class 8 volumes (same dealer sales) in April fell 40% month-over-month and were 33% lower compared to April of 2021, according to the latest preliminary release of the State of the Industry: U.S. Classes 3-8 Used Trucks, published by ACT Research.
ACT's preliminary report also showed that the average retail price rose 10% month-over-month, as average miles and age were both lower, down 5% and 6%, respectively, from March. Compared to April of 2021, the average retail price was 77% higher, with average miles and age by 3% and 7% higher, respectively.
"In the inventory-challenged world used truck buyers and sellers find themselves these days, it should come as no surprise that sales volumes fell in April," said Steve Tam, Vice President at ACT Research. "March's gains (+53%) came on the heels of the strong December new truck sales market (+49%). Looking back at January new truck sales (-39%), is it any wonder that April preliminary used truck sales were off a corresponding percentage (-40%)?"
Tam added that the preliminary average retail sales price for used Class 8 trucks "eked out another record in April."
"Looking ahead, if April is not the peak for prices, then the zenith cannot be far off," he said. "Slowing freight and freight rates confirm the assertion."
Yokohama increasing tire prices
Yokohama Tire Corporation announced this week it will implement a price increase on its commercial truck tires and consumer replacement tires sold in the U.S., effective July 1.
The increase is in response to "the unparalleled rise in costs associated with materials and operations," the company said.