Trucking news and briefs for Thursday, Aug. 25, 2022:
Truck tonnage dipped in July after June gain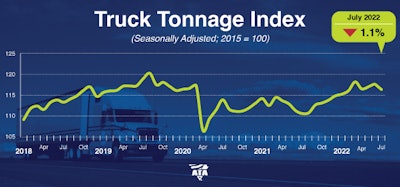 American Trucking Associations' advanced seasonally adjusted (SA) For-Hire Truck Tonnage Index fell 1.1% in July after rising 0.5% in June. In July, the index equaled 116.2 versus 117.5 in June.
"Tonnage declined sequentially in July for only the second time during the last 12 months. Despite the dip from June, tonnage remains at elevated levels and increased significantly from a year earlier," said ATA Chief Economist Bob Costello. "While tonnage is much stronger than a year ago, the monthly gains have moderated as the year has gone on. The combination of softer consumption of goods, home construction falling and slower manufacturing activity are the main reasons."
Compared with July 2021, the SA index increased 5.1%, which was the 11th straight year-over-year gain. In June, the index was up 5.6% from a year earlier. Year-to-date, compared with the same period in 2021, tonnage was up 3.4%.
The not seasonally adjusted index, which represents the change in tonnage actually hauled by fleets before any seasonal adjustment, equaled 115.5 in July, 5.2% below the June level (121.9). In calculating the index, 100 represents 2015. ATA's For-Hire Truck Tonnage Index is dominated by contract freight as opposed to spot market freight.
Universal Logistics Holdings subsidiary partners with Teamsters
Southern Counties Express, a subsidiary of Universal Logistics Holdings (CCJ Top 250, No. 26) has announced a new partnership with the International Brotherhood of Teamsters Local Unit 848 providing drayage services in-and-out of the Southern Californian ports of Los Angeles and Long Beach.
In a careful negotiation, the parties reached a "best in class" arrangement that is firmly anchored by a strong labor agreement. The agreement will provide the local membership with great benefits, and Universal's customers with AB 5-compliant and reliable services in the Los Angeles and Long Beach drayage market.
The partnership between Southern Counties Express and the Teamsters Local 848 will add hundreds of good paying, union jobs to the southern California economy, ULH said.
"We are extremely excited to extend our relationship with the Teamsters to the Los Angeles/Long Beach drayage market," said Universal's Chief Executive Officer Tim Phillips. "Universal has been in partnership with the Teamsters for over 20 years, and our nearly 2,000 current Teamster members have long provided our many customers with superior service and trustworthy capacity."
Orange EV expands electric yard tractor rental program
Electric yard tractor manufacturer Orange EV has expanded its yard truck rental program to offer the largest electric spotter rental fleet across the United States, the company announced this week.
The all-electric rentals are now available in 48 states, providing increased uptime and reduced costs.
Founded in 2012, Orange EV was the first US-based manufacturer to offer 100% electric Class 8 vehicles and the first to offer electric yard truck rentals. The company now has more than 450 electric yard trucks — with more than 40 in its growing yard truck rental fleet — operating in all sectors of trailer and container handling operations while meeting the most rigorous duty cycles and 24×7 shift schedules.
Orange EV rental customers are up and running quickly utilizing a proven, hands-on launch process honed over six years and hundreds of successful electric truck deployments. Site personnel receive onsite driver's training, adapting quickly to familiar yard trucks. Charger installation is straightforward since most sites already have the electrical capacity needed for Orange EV's "matched pair" solution: portable charging cabinets and unique low-voltage trucks, all designed and manufactured by Orange EV.