A railroad strike or lockout that could take effect Friday has put on deck the potential for historically significant supply chain upheaval that would affect every trucking mode to some degree.
The trucking industry is freight rail's largest customer and rail moves more than 40% of all long-distance freight in the U.S. As such, a nationwide shutdown of rail service "could be a polar vortex-level shock to the freight market, where supply chains are disrupted over a wide geographical area like we saw in March 2021," said Dean Croke, principal industry analyst at DAT Freight & Analytics.
"I would say polar vortex 2021 bad if the strike lasts about a week," added Jason Miller, Interim Chairperson and Associate Professor of Supply Chain Management in the Department of Supply Chain Management, Eli Broad College of Business at Michigan State University, referencing the particularly harsh winters last year. "But," he added, "COVID-19 bad if we get to two-plus weeks."
Work on a new labor deal has been ongoing for more than two years. Rail providers and 12 employee unions are currently warring over new contracts that call for wage increases and quality of life improvements, among other concessions. The majority of the union groups have agreed to a tentative deal but it will take all 12 to formally stand down a strike.
The Association of American Railroads projects lost economic output due to a national rail shutdown could be more than $2 billion per day, and more than 460,000 additional long-haul trucks would be needed every day to offset the loss of rail capacity – a scenario that is impossible on almost every conceivable level.
There's some good news in that, particularly for spot market carriers. "Today, spot rates have been falling for eight months," Croke said. "A prolonged strike could send spot rates back upward as shippers scramble to move their freight. Given that it's RFP season, the tail end of peak shipping season, harvest season and there's a lot of uncertainty over consumer spending during the holiday season, a strike would be more devastating to shippers than anyone. If I'm a carrier, I'd be communicating with customers and evaluating their exposure to service slowdowns and a potential strike right now."
Dry van
Some national rail service providers and a number of regional railroads began reducing service as of Monday, and the loss of rail capacity for an extended period will spur a "sharp increase in dry van long-haul shipments from both coasts inland," Miller said.
"The West Coast to Chicago lane is the one I would expect to see the most disruption on given the magnitude of railroad movements coupled with the fact that haul is so long it will cut into the overall dry van capacity," Miller added.
That lane reached its peak in mid-December averaging $3.70 per mile, according to DAT. It's cooled over the past eight months and settled in a range around $2.30 per mile, but a breakdown in rail transport is likely to drive these rates back skyward.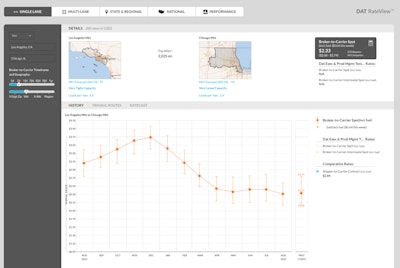 "As in 2020 and 2021, we will see a surge of spot demand because many shipments whose previous routing guide waterfall was first intermodal will now switch to truck," Miller said. "Where we have an open question is how many carriers want those loads, especially if they are unsure about finding loads back to the West Coast. Given high diesel prices make deadheading a margin killer, this could place more upward pressure on those spot rates."
A segment of dry van that Miller said is of particular interest is hauling paper and allied products. "Each week sees about 11,600 carloads of that commodity category across all Class 1 railroads," Miller said, "which would suggest about 40,000 additional truckload loads a week. We also need to consider grain mill products – 14,300 carloads a week – as well as stone, clay and glass products – 12,400 carloads a week – though some of this could move on flatbed."
Dry bulk and tank
The railroads haul about 27,700 carloads of crushed stone, sand and gravel, as well as 27,700 carloads of grain each week, and Miller said he sees "little chance that this capacity can be made up by trucking firms."
Similarly, there's not enough tanker truck capacity to handle the 55,000 carloads of chemicals moved on rail each week, and another 19,100 of petroleum products, which "amounts to needing about 300,000 additional tanker loads a week," Miller said. "Again, I don't see how this gets made up by existing [truckload] capacity."
Flatbed and reefer
Approximately 13,000 carloads of metals each week are hauled by train, plus another 8,100 carloads of lumber and wood products, Miller said. Assuming one railcar hauls the equivalent of four semis, "that is about 88,000 additional flatbed loads a week," he added, "and that isn't counting all the additional equipment that will need hauled by flatbed."
Roughly 13,600 carloads per week of food and kindred products are moved via refrigerated rail. Therefore Miller said he does expect "some spike" in refrigerated truckload spot prices, however, he doesn't see the dynamics being as extreme as with dry van.
"Reefer and flatbed imports mostly come in at specialized ports like San Diego or Philly for South American produce or Baltimore for [roll-on/roll-off] machinery," Croke added. "I'm sure reefer and flatbed would be impacted, but nowhere near the impact on dry van this close to the holiday season."