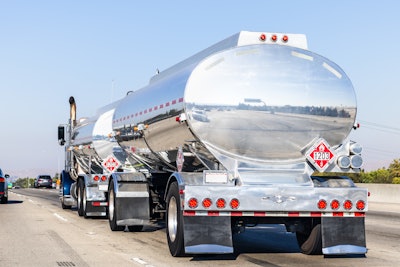 While the overall effect a national railroad strike might have on the supply chain could mirror that of a natural disaster or another pandemic depending on how long it lasts, its influence on road freight is likely to be swift and variable by lane and commodity type.
Railroads have already taken preliminary action to wind down shipments of hazardous and bulk materials to avoid those loads being left unattended or unsecured in the event of a work stoppage Friday, but as of Wednesday morning, "we're not seeing any noticeable impact on hazmat load posts or load posts in general," said Dean Croke, principal industry analyst at DAT Freight & Analytics.
Heniff Transportation (CCJ Top 250, No. 71) President and Chief Commercial Officer Wes Stone said Wednesday that even if a strike does not materialize, "the railroads' preliminary actions to halt hazmat and food products will be extremely disruptive for our company and its many customers," adding Heniff – one of the nation's largest liquid bulk haulers – has already initiated contingency discussions with its customers.
Croke said there has been some truckload rate movement on Norfolk Southern lanes, like Norfolk to Chicago, adding that "if we get to 12:01 a.m. this Saturday, we'll see an immediate impact on the spot market regarding load posts and rate movement."
With a potential strike kicking off headed into a weekend, Jason Miller, Interim Chairperson and Associate Professor of Supply Chain Management in the Department of Supply Chain Management, Eli Broad College of Business at Michigan State University, said a widespread truckload impact could be muted for the time being.
"Luckily, Friday through Sunday are days with fewer shipments than Monday through Thursday," he said, "so if we can get things worked out before Monday, I don't see much effect happening."
When the calendar turns to next week and the duration of a work-stoppage begins to become more clear, Miller added, "I would think we would see dry van rates start to go up pretty quickly from the ports as shippers transition freight from intermodal to dry van. My hunch is we won't see other shippers start to make the transition to truck, to the extent they can, until it becomes obvious we are in for a substantial strike."
How hard shippers are hit will depend on the lessons they learned from the pandemic, "and whether they have increased their safety stock levels, improved their agility and developed a strong plan for disruptions," said Tim Kraft, Associate Professor of Operations and Supply Chain Management at the Poole College of Management at North Carolina State University. "The challenge of a railroad disruption will be bigger for some industries than others. For example, the agriculture industry is in a very difficult spot with harvest season coming up for many goods and most of the goods having perishability concerns."
The Association of American Railroads projects lost economic output due to a national rail shutdown could be more than $2 billion per day, and – impossibly – more than 460,000 additional long-haul trucks would be needed every day to offset the loss of rail capacity.
Political pressure mounting
Pressure is mounting on the White House to help side-step a potential nationwide railroad strike Friday morning that could have a polar vortex-like effect – or worse – on the U.S. supply chain.
The rail industry last went on strike in 1991, a national work stoppage that lasted a day before Congress intervened. The following year, a walkout at USX by members of the International Association of Machinists spread nationally and lasted about two days before Congress, again, intervened.
A President Joe Biden-appointed presidential emergency board earlier this year was charged with helping rail service providers and the 12 unions representing their workforce end a contract negotiation standoff that's been ongoing for more than 2 years. However, the 119-page report released last month and its recommendations, which included pay raises, failed to check all the boxes sought by the various unions that were in search of more pay and improved working conditions, among other items.
Most of rail's dozen labor unions, as of Wednesday, have agreed to tentative labor deals largely based on those recommendations, but rail unions have what is generally referred to as a "me too" agreement where the terms agreed to by the last holdout will trickle down to all the others, and if all 12 unions don't agree, then all 12 could potentially strike.
While the government has the authority to stop a rail strike and enforce the recommendations put forth by the presidential emergency board under the Railway Labor Act, the political climate today is markedly different than that of the early '90s. The Biden administration is currently grappling with record inflation and strong-arming a strike solution through a partisan divided Congress is not only problematic, it also risks alienating largely pro-union Democrats from a powerful voting base less than two months before mid-term elections.