Trucking news and briefs for Wednesday, Oct. 25, 2023:
Tonnage hauled by trucks dipped in September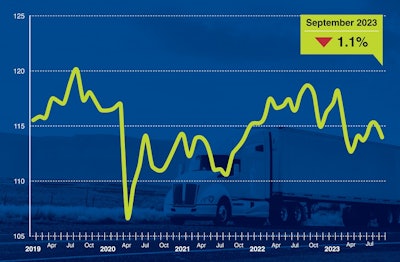 The American Trucking Associations' advanced seasonally adjusted (SA) For-Hire Truck Tonnage Index decreased 1.1% in September after rising 0.2% in August. In September, the index equaled 113.9 (2015=100) compared with 115.2 in August.
"After hitting a bottom in April, tonnage increased in three of the previous four months, gaining a total of 2.2% before September's drop," said ATA Chief Economist Bob Costello. "However, this freight market remains in flux, and the index contracted by 1.1% in September, which erased half of those gains."
Costello also noted that a 4.1% year-over-year decrease from September 2022 "was the largest drop since November 2020." Last September, however, was the previous cycle high, he added. "While it is likely a bottom has been hit in truck freight tonnage, there could still be choppy waters ahead as the freight market remains volatile."
The year-over-year decrease in September was the seventh straight for the index and was the largest over that period. In August, the index was down 2.4% from a year earlier.
The not seasonally adjusted index, which represents the change in tonnage actually hauled by the fleets before any seasonal adjustment, equaled 112.5 in September, 6.8% below the August level (120.7).
[Related: ATA economist issues dire prediction for spot market carriers]
ATA announces changes to senior leadership team
The American Trucking Associations on Monday announced several updates to senior leadership positions within the organization.
The new alignment, ATA said, will enable greater collaboration and a streamlined reporting structure among ATA's leaders, departments, and staff, demonstrating ATA's commitment to providing maximum value to its wide-ranging, growing membership base and the overall federation.
The changes include:
Bill Sullivan will assume the role of Chief Public Affairs and Advocacy Officer, overseeing legislative affairs, regulatory policy, and the Office of Public Affairs.
Megan Masitto will continue to serve as Chief Financial Officer. In addition to financial oversight, Masitto will now oversee Transport Topics.
Rich Pianka will assume the role of Chief Legal Officer & General Counsel. Pianka will continue to oversee ATA's Legal Affairs, Litigation Center, and Board Governance, and he will remain Assistant Secretary of ATA.
Sarah Rajtik will assume the role of Chief Operating Officer, overseeing industry affairs, human resources, MIS, events, creative services, and membership.
"Over the past seven years, we have built a first-class advocacy association by aligning our team with member priorities, being strategic and transparent, and ultimately putting wins on the board that deliver measurable returns on investment for our membership," said ATA President and CEO Chris Spear. "With an eye on future growth and success, these changes to our senior leadership team will further enhance our ability to win."
Logistics One expands brokerage, opens repair shop
Logistics One, a provider of warehousing, trucking and 3PL management headquartered in Saratoga Springs, New York, is opening a new office in Kansas City, Missouri, to expand its freight brokerage division.
Logistics One said it intends to increase its reach to new customers and expand its staff in an area that is home to an abundance of high-quality talent with experience in the logistics industry.
"Our 3PL division has been the focus of our company's growth over the last decade and this expansion is the next step in that strategic plan," said CEO Bill McNeary. "We are very excited to announce that George Meier, formerly Director of Freight Brokerage at Freightquote by CH Robinson, has been hired as our new Chief Logistics Officer and will be spearheading the opening of the new office as well as directing all logistics operations here in Saratoga Springs."
With 25 years of experience in the freight industry, Meier will use his talents to increase opportunities with existing clients and expand the company's national carrier network, ensuring efficient and cost-effective transportation solutions.
In addition to expanding its 3PL operations, the company has successfully launched its newest division, Logistics One Truck and Trailer Repair. Located in Saratoga Springs, the full-service vehicle maintenance facility is staffed by ASE-certified technicians who can handle everything from scheduled maintenance to emergency, on demand repair needs. Additionally, Logistics One has been named an authorized ThermoKing dealer affiliate for the area including the Capital District, Northern New York, Western Vermont and Western Massachusetts.
NMFTA names new COO
The National Motor Freight Traffic Association (NMFTA), a cybersecurity industry leader within the supply chain, announced the appointment of Joe Ohr as Chief Operating Officer.
Ohr brings to the organization over 20 years of experience in engineering product software, gained from roles at Omnitracs, Qualcomm, and Eaton.
Throughout his career, Ohr has provided strategic guidance, vision and a roadmap for addressing long-term customer challenges. He has played a key role in accelerating revenue growth and has collaborated closely with IT, product, and engineering teams to foster stronger partnerships with strategic customers and peers. Additionally, he has overseen post sales customer support and service teams, as well as operations, managing a workforce of over 400 individuals.
"In securing a COO for NMFTA, we discovered that we needed someone that creates commercial-level, user-friendly products that can translate into our specific set of products and services," said Debbie Ruane Sparks, executive director for NMFTA. "What NMFTA is being called upon to do with digitization, classification and cybersecurity demands the sharpest and best deliverables. An individual who came from the trucking industry but also possessed extensive tech skills for the creation of elite software was a priority, and Joe Ohr is that expert."
J.B. Hunt awards 100 scholarships
J.B. Hunt Transport Services Inc. (CCJ Top 250, No. 3) announced it awarded scholarships to 100 new recipients of the J.B. Hunt Scholarship for Families program. Since launching the program in 2022, J.B. Hunt has provided a total of $687,500 in educational financial assistance for the families of J.B. Hunt employees.
"We really love this program because it provides an opportunity to help our employees support the dreams of their children and grandchildren," said Brad Hicks, president of highway services and executive vice president of people at J.B. Hunt. "We are very proud of this year's class and excited to see the future they create as part of the J.B. Hunt family."
Based on the success of the first two years, J.B. Hunt will renew the program in 2024, with applications expected to open in the first quarter of 2024. The scholarships provide $2,500 in financial aid each school year and are renewable for up to four years. In the second year of the program, J.B. Hunt awarded a total of $437,500 in new and renewed scholarships. This year's class of recipients represents more than 50 locations throughout the country.
The application-based scholarship program was available to dependent children or grandchildren of J.B. Hunt employees who currently attend or plan to attend an accredited two- or four-year college, trade school or vocational school. Awards are renewable each year for up to four years, and students must maintain a 2.5 GPA and full-time enrollment for renewal.
The J.B. Hunt Scholarship Program for Families is supported by Scholarship America, an organization that works to enrich education by assisting individuals, corporations and communities with fundraising and awarding scholarships to students. J.B. Hunt plans to continue the program for a third consecutive year.