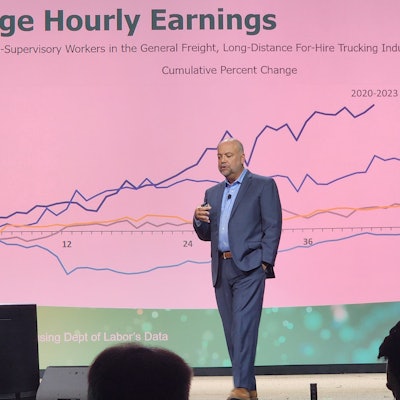 Any prospects for climbing out of the freight recession hinge on a supply-side correction rather than an increase in freight demand. Bob Costello, chief economist for the American Trucking Associations, told fleet attendees Monday at the at the American Trucking Associations Management Conference and Exhibition in Austin, Texas, that carriers and new entrants heavily exposed to the spot market will be exiting the market at a higher rate.
"We are going to continue to see more supply leave this industry, and even though demand is not going to pick up much, I think come a quarter or a couple quarters from now, things are definitely going to start to feel a little bit better for you," Costello said. "The people that play in that [spot market] sandbox are in big trouble."
Spot market load postings have dropped 78% since the market peaked in early 2022. By comparison, contract loads are down by 3.3% since last year. A major driver in the downturn in freight is a shift in consumer spending from goods purchasing during the pandemic to experiences such as vacation travel, concerts, amusement parks and sporting events. After a sharp drop at the beginning of the pandemic, experience spending growth has outpaced goods spending 33.6% to 17.5%.
"There are only so many washing machines you can buy and everybody was doing things to their homes," said Costello about consumer spending during the beginning of the pandemic. "And so eventually when things were getting better, people started going back to experiences and they were cutting back on what they were spending on goods, and that's one of the reasons the freight economy hit a recession."
Costello said many of the small fleet operations that depend on spot market freight are particularly susceptible to a number of cost pressures and market forces, including rising driver wages. Average hourly earnings for truck drivers have risen more than 20% in the last three years.
"We have seen the largest cumulative increase in driver pay that we've ever seen," said Costello, noting that driver wages are far outpacing earnings for the overall U.S. job market, as well as the rate of inflation in the economy. "This is difficult. This is a big weight on a lot of small fleets."
Fuel costs, while down from last year, still remain high with crude oil prices nearing $90 per barrel, cutting into carrier profitability. Razor-thin margins in a weakened spot market make it even more difficult to survive.
"I actually think [small carrier failures] would've happened sooner except fuel prices dropped a bunch in the spring and it saved a bunch of fleets," said Costello. "But now that fuel prices are up again, I think this is a big cost pressure on these folks."
Many new entrants that started business in the mid-pandemic freight boom paid historic premiums for used equipment. Used truck prices skyrocketed 205% from the start of the pandemic to the beginning of 2022, forcing small businesses to buy three- or four-year-old used equipment close to the initial purchase price.
"I don't know how they're making it," Costello noted. "You limit supply and demand goes through the roof and prices go up. But the people that bought that equipment, that's a tough place to be. So all of this is leading to show you there's going to be more and more folks going out of business."