Trucking news and briefs for Thursday, May 25, 2023:
Truck tonnage index hits lowest level since September '21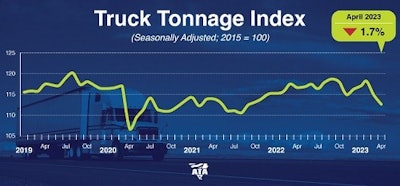 For-hire trucks across the U.S. hauled less freight in April than in March, continuing a recent downward trend.
The American Trucking Associations' advanced seasonally adjusted (SA) For-Hire Truck Tonnage Index fell 1.7% in April after decreasing 2.8% in March. In April, the index equaled 112.7 (2015=100) compared with 114.7 in March.
"While the broader economy continues to surprise and thus far stave off an expected recession, the freight economy is starkly different," said ATA Chief Economist Bob Costello. "The goods-portion of the economy is soft and as a result, even contract truck freight is now falling, albeit not nearly as much as the spot market. The tonnage index hit the lowest level since September 2021 in April and has now fallen on a year-over-year basis for two straight months."
Compared with April 2022, the SA index decreased 3.4%, which was the largest year-over-year decrease since February 2021. In March, the index was down 2.4% from a year earlier.
The not seasonally adjusted index, which represents the change in tonnage actually hauled by the fleets before any seasonal adjustment, equaled 109 in April, 9.5% below the March level (120.4). In calculating the index, 100 represents 2015. ATA's For-Hire Truck Tonnage Index is dominated by contract freight as opposed to spot market freight.
FedEx launches new sustainability tracking tool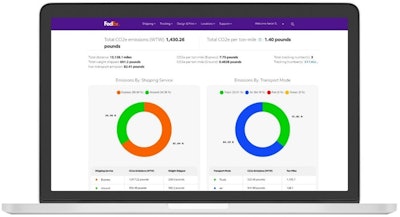 FedEx Corp. (CCJ Top 250, No. 1) is harnessing scan data from its global logistics network to enhance customer access to emissions information with the U.S. launch of a new tool, FedEx Sustainability Insights.
Created by FedEx Dataworks, the cloud-based engine uses near-real time FedEx network data to estimate carbon dioxide equivalent emissions for both individual tracking numbers and FedEx.com accounts. Users can view historical emissions data by account, as well as search by tracking number with their free FedEx.com login. Data is displayed in a variety of metrics, such as mode of transport, service type, and country or territory for all eligible FedEx Express, FedEx Ground, and FedEx Freight shipments.
Through an application programming interface (API), FedEx customers can transfer their historical and predictive emissions data to their own internal systems.
"We've heard from our shippers that they need more data on their shipping footprint as consumers increasingly weigh sustainability as a factor in purchasing decisions," said Executive Vice President and Chief Customer Officer, Brie Carere. "Through innovations like FedEx® Sustainability Insights, FedEx is empowering customers to access the information they need as part of our mutual pursuit of a more sustainable future."
These new offerings complement FedEx's efforts to reduce emissions in its worldwide operations in pursuit of a goal of global carbon neutral operations by 2040. As the company optimizes its operations, FedEx Sustainability Insights will support this goal by providing insights into further opportunities for network efficiency with data-backed predictive insights and modeling, the company said.
Convoy joins Volvo autonomous program
Digital freight network Convoy is collaborating with Volvo Autonomous Solutions (V.A.S.) to secure autonomous freight capacity for customers once it becomes available on select routes in Texas.
Through the partnership, Convoy and V.A.S. aim to drive better efficiency into the supply chain while allowing shippers in Convoy's network to take advantage of autonomous transport offerings and be a part of the industry shift.
The reservation program will use the hub-to-hub model. Convoy's carrier network of small fleets and owner-operators will gain access to lucrative opportunities to deliver customer loads to the pick-up hub in Texas, and then V.A.S.' autonomous fleet will execute the long-haul to the next hub. A carrier in Convoy's network would then deliver the load to its final destination.
"We are excited to add Convoy to our growing list of early reservation customers and work together to bring all the benefits of autonomous trucking technology to shippers on the Convoy network," said Nils Jaeger, President of Volvo Autonomous Solutions. "This collaboration underlines the growing interest in autonomous technology as the industry looks for ways to increase freight capacity, improve efficiency and safety."
Under the hub-to-hub model, autonomous trucks will operate on highways, providing continuous service between transfer hubs throughout the day and night. By improving the safety and efficiency of freight corridors, autonomous trucks will contribute to the growth of freight volume, increasing demand for truck drivers to deliver goods from the transfer hubs to their final destinations. This approach enhances the work-life balance of professional truck drivers by enabling local drivers to transition into short-haul jobs, granting them more time at home and improving their overall quality of life.